Jobs Page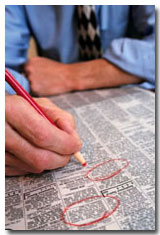 This page was last updated:
Free Ads: Any job announcements submitted to MSDIS directly from not for profit organizations, local/state/federal government and educational institutions will be added to this page free of charge.
Paid Ads: A listing fee of $40 per job ad applies to for profit organizations (private companies, recruitment agencies - or any third party acting as a recruitment agency on behalf of any organization eligible for free ads - and government or military subcontractors) to post a job vacancy on MSDIS jobs page. Paid job ads must be faxed to MSDIS using the official job ad order form (http://www.msdis.missouri.edu/community/jobadreq.pdf) . Only payment by credit card is accepted. Advertising on MSDIS jobs page is a great way to fill your vacancies. MSDIS jobs page receives 1500 - 2000 unique visitors per month and is consistently the 3rd most popular page on the MSDIS web site.
MSDIS RSS Jobs Feed and MSDIS Twitter Feed. For an additional fee of only $10 per service, for profit organizations posting paid job ads can opt to have their posting added to the MSDIS RSS Jobs feed or Twitter feed. If you would like to take advantage of these services just check the appropriate box(es) on the job ad request form.
We will not search the web, etc. for jobs. If you would like to take advantage of this medium, please submit your job announcements to:
MSDIS email:
Fax: 573-884-4239
Announcements with no closing date will remain on this page for three months from the posting date.
Announcements with a closing date will remain on this page until one week after the closing date.
Quick Jobs Index (click the title for detailed job description)
Available Positions



Position Title
Location
Organization
Salary Range
Closing Date
Engineering Tech I – GIS/CAD Tech
St. Charles, MO
City of St. Charles
$41,717.50
Until Filled
Geospatial Technical Support
St. Louis, MO
Seiler Instrument Company
?
Until Filled
GIS Manager
Kansas City, MO
Mid-America Regional Council (MARC)
$74,195 to $94,598
Until Filled
Senior Programmer Analyst
Columbia, MO
Boone County
$51,750 - $54,995
Until Filled
GIS Specialist II
St. Louis, MO
Cole and Associates
?
?
Other Employment Resources
The GIS Jobs Clearinghouse: http://www.gjc.org/
---
Engineering Tech I – GIS/CAD Tech
Posted 06/25/2015
The City of Saint Charles Public Works Department is currently recruiting for the position of Engineering Tech I. The purpose of this position is to operate and maintain the City's Geographic Information System (GIS), assist in the maintenance and improvement of the City's Enterprise Asset Management System (EAMS), assist in Computer-Aided Drafting (CAD) production on City public work projects, and provide technical engineering design information for plans, specifications and contract documents on City public work projects.
Essential Duties and Responsibilities
The following duties are normal for this position. These are not to be construed as exclusive or all-inclusive. Other duties may be required and assigned.
• Operate and maintain GIS information for infrastructure systems.
• Incorporate as-built information from private development constructed infrastructure into GIS.
• Assists in the design, preparation of plans, specifications, cost estimate and all other aspects of proposed improvement projects under the guidance of a Project Manager (Civil Engineer) or Sr. Project Manager.
• Manage contracts for the design of capital projects under the supervision of a Project Manager (Civil Engineer) or Sr. Project Manager, including the attainment and negotiation with design firm completing design.
• Prepares exhibits for right-of-way/easement acquisitions, public information, and project maps.
• Assists contractors/citizens in locating City facilities (including occasional utility locator duties).
• Responds to questions, comments and/or requests from citizens, contractors and staff that involve city infrastructure / facilities.
• Updates and maintains GIS Standards, Policies, and Procedures for perpetuating knowledge of the City's infrastructure GIS.
• Collects field survey data of infrastructure using surveying techniques and/or GPS.
• Manages interfacing between the EAMS and GIS.
• Administers and maintains database information within EAMS, assists in establishing EAMS workflows, performs various queries/analyses of GIS and EAMS data, and prepares requested performance and management reports from GIS and EAMS data.
• Assists other Departments and Divisions as necessary regarding GIS and EAMS practices.
• Performs plan reviews under the guidance of a Project Manager (Civil Engineer).
• Maintains licenses and software for GIS, EAMS, AutoCAD and Microstation.
• Maintain City details for infrastructure in CAD.
• Performs all job duties in compliance with the City of St. Charles Public Works Department's Project Management Manual (PMM).
Minimum Training and Experience Required to Perform Essential Job Functions
Associate's degree in Geographic Information Systems or similarly related field. Two years experience with a civil engineering CAD software preferred. GIS Certificate from an accredited higher education institution or the ability to obtain such certification within one year with the intent to pursue certification as a GIS Professional (GISP) by the GIS Certification Institute (GISCI).
Two years experience in public works inspection or project management is preferred. Ability to research and apply engineering specifications and standards to the technical review and execution of public works projects. Valid motor vehicle operator's license required. Proficient use of standard office software (MS Word, Excel, PowerPoint, etc.).  Experience with MicroStation and Geopak or AutoCAD Civil 3D software for design of engineering projects preferred. Any combination of education and experience that provides equivalent knowledge, skills, registrations and abilities
Miscellaneous Information
Interested applicants should submit an application/resume by 5:00 pm on the closing date to: The City of Saint Charles Human Resources Department, Suite 301, 200 North Second Street, Saint Charles, MO 63301. Hours of operation are Monday through Friday 8:00 am to 5:00 pm. Employment applications can also be downloaded from the City's website and faxed to Human Resources at 636-940-4606 or e-mailed to : humanresources@stcharlescitymo.gov. Website address for the employment application is: www.stcharlescitymo.gov
The City of Saint Charles is an Equal Opportunity Employer and participates in E-Verify
---
Geospatial Technical Support
Posted 06/01/2015
Seiler Instrument Company, headquartered in St. Louis, Missouri, is an authorized Trimble Reseller. We offer sales consulting, training and support for Trimble products and solutions.
We are currently seeking a motivated, success-oriented technician to provide support for our Geospatial/Survey Division in the St. Louis, MO area.
This position's primary responsibilities include providing technical support and training for Trimble Geospatial/Survey products and software solutions, such as Trimble Access and Trimble Business Center software, GNSS receivers, robotic total stations and digital levels. Duties include providing technical support, supporting the sales initiative, and teaching training classes as needed. Significant local travel and some long distance travel will be required for this position.
The candidate should have a background in Civil Engineering or Surveying with excellent customer service. Candidates should also possess strong computer skills with experience in tech support. Public speaking ability and organizational skills are a must for this position.
1-2 years experience in training and supporting Trimble Geospatial software and hardware is required and a Bachelor's Degree in a related field is strongly preferred. Experience with technical training and help desk experience a plus. Additionally, a strong background in the field usage of Trimble Geospatial products is preferred.
Seiler Instrument offers a healthcare plan, life insurance, dental insurance, 401(k), profit sharing, and more!
For more information on Seiler Instrument, please visit our website: www.seilerinst.com.
To play a key role in this exciting opportunity, please email your resume with salary requirements to hr@seilerinst.com or fax (314) 218-6192. If you need assistance applying for this position, you may also contact Kurtis Schaper at 314-968-2282.
Seiler Instrument is an Equal Opportunity Employer and shall abide by the requirements of 41 CFR §§ 60-1.4(a), 60-300.5(a) and 60-741.5(a). These regulations prohibit discrimination against qualified individuals based on their race, color, religions, sex, or national origin. Moreover, these regulations requires that covered prime contractors and subcontractors take affirmative action to employ and advance in employment individuals with regard to race, color, religion, sex, national origin, protected veteran status or disability.
This position requires access to export controlled articles, technical data, technology and services. U.S. citizenship, U.S. legal permanent resident status, protected person status under 8 U.S.C. § 1324b(a)(3), or a U.S. government export authorization is required. Any offer of employment is contingent upon Seiler Instrument & Manufacturing Co., Inc. obtaining the necessary export authorization, including, if required, an export license from the U.S. Department of Commerce, Bureau of Industry Security, the U.S. Department of State, Directorate of Defense Trade Controls, or other applicable government agency.
---
GIS Manager
Posted 05/22/2015
The Mid-America Regional Council (MARC), the association of city and county governments and metropolitan planning organization serving the bi-state Kansas City metropolitan area, is seeking a full-time GIS Manager to:
Lead the organization's work to identify GIS opportunities and solutions to meet the regional and local planning and policy needs.
Lead a five-person GIS team, providing strong project management, sound guidance and supporting professional development.
Be a key participant in an agency-wide leadership team in an on-going effort to better organize, streamline and make accessible the organization's data resources, both internally and externally, as well as improve access to and the usefulness of the tools needed to analyze, visualize, understand and communicate it.
Serve as expert to agency staff and managers on the uses of GIS technologies to enhance data access and improve analytical capabilities; and
Support and facilitate KC MetroGIS, the Kansas City area's consortium of local government GIS managers, and its associated projects.
Description
The delivery of GIS services is a key component of the Research Services department at MARC, requiring a manager with strong service-orientation who can consistently exceed expectations regarding the timely delivery of high-quality geographic data and analysis to MARC's other departments and the Greater Kansas City community. Work requires an expert knowledge of the uses and operations of GIS technology and solutions. Further, it requires the capacity to use this knowledge to develop and implement plans and procedures that meet user needs in a highly effective manner.
Illustrative examples of work
The following represents the essential functions of this position. Additional duties may also be assigned and be essential to the successful performance of this position.
Determines the geographic information needs of users and how best to meet them. Works closely with MARC's departments – especially the Community Development department (which includes 9-1-1 and Emergency Services) and the Transportation and Environment department – and external customers to identify specific requirements for projects and products and to establish project and assignment priorities; develops cost estimates for customer product and service requests. Works with departmental users and directors in planning, design, development, configuration, testing, implementation and maintenance of large-scale GIS applications and web portals, backend processing modules and associated data layers and databases. Serves as a technical expert to department directors and program managers and advises on the design and uses of GIS technologies and products that will enhance business processes and support for decision and policy-making.
Manages the delivery of geographic information and analysis to users. Manages the design, development, enhancement and delivery of GIS products and services to meet on-going and ad-hoc business and information needs. Oversees and participates in the design, development, integration and maintenance of GIS database architectures, data layers and databases; manages and participates in the design and development of GIS applications and tools to automate processes and facilitate analyses and reporting; performs highly complex analytical projects, including spatial and other analyses and forecast modeling; writes reports and prepares complex maps and other GIS products.
Supervises a team of GIS professionals to deliver high-quality geographic information and analysis. Supervises and oversees development, implementation and evaluation of programs, work processes, systems, policies and procedures to achieve annual goals, objectives and work standards. Manages a staff of four professionals to deliver spatial data and spatial analyses to satisfy the needs of MARC departments. With staff, develops, implements and monitors work plans to achieve goals and objectives; reviews the work of staff to ensure requirements and standards have been met; reviews GIS products for accuracy, completeness and aesthetics and for compliance with customer requirements.
Ensures staff is well trained. Guides and mentors other GIS professionals; develops training materials and conducts training for GIS professionals; May conduct technical training for GIS staff and other departmental or community users on the methods and operations of GIS systems and databases.
Develops and implements plans to improve MARC's GIS program. Analyzes, researches, develops, implements and maintains processes for enhancing the utilization of GIS technologies and solutions to support agency business requirements and GIS initiatives. Stays abreast of new and emerging GIS and data management technologies and participates in evaluating and recommending on their potential and compatibility with agency GIS needs and technology environment. Analyzes and evaluates technology solutions to ensure their consistency and integration with agency technology standards; participates in developing enterprise GIS policies, standards and procedures. Serves as an expert resource and provides advice to other departments or agencies on complex technical GIS issues.
Performs necessary program administration functions. Plans, organizes, controls, integrates and evaluates the work of the assigned division or section. Develops or contributes to development of the GIS budget and monitors expenditures against budget; participates in the development, implementation and evaluation of departmental goals and objectives. Prepares and evaluates proposals, bids, contracts and service agreements for GIS software, equipment and consulting services or participates in doing so; administers contracts.
Facilitates KC MetroGIS to promote progress on common GIS issues and opportunities faced by area local governments. Provides staff support to this consortium of GIS managers, including issue identification, work program development and meeting facilitation. May serve on steering committees and advisory groups to foster cooperation and ensure consistent and cost-effective practices for developing, storing and sharing of geospatial data.
Other Skills/Abilities
Excellent organizational, administrative skills; written and verbal communication skills
Extensive knowledge and experience using ArcGIS 10 product line including but not limited to ArcGIS Desktop, ArcGIS Server, and SDE.
Knowledge and experience managing multi-user geodatabases stored in MS SQL Server.
Knowledge of policies, procedures, and strategies important to the integration and implementation of GIS within an organization and among regional governments, organizations and agencies.
Ability to effectively manage and support committees and teams, and to plan, arrange, and conduct meetings.
Ability to travel throughout the KC metro region.
Qualifications
Minimum requirements are a Bachelor's degree in Geography, Urban Planning, Public Administration or related field plus 5-6 years of successful and progressively responsible related work, including supervisory experience. A Master's degree plus 4 years of successful, progressively responsible and related work including supervisory experience, is highly preferred.
Salary Range
Starting salary for the position is $74,195 to $94,598, depending upon qualifications. MARC offers an attractive team-oriented work environment along with a competitive fringe benefit package. EOE Employer /M/F/V/D
---
Senior Programmer Analyst Information Technology
Posted 04/27/2015
Responsibilities: Perform software development, assists in feasibility studies, cost/benefit analysis, and end user training in response to user requests. Perform as team lead for projects involving multiple developers; Manage deadlines; Provide status reports; Facilitate testing and project quality control. Define, analyze, design, develop, test, and implement software applications with accuracy and timeliness; follow development standards, create application support documentation along with end user documentation; provide end user training as needed. Ensure base level software applications are maintained as highest priority; Assist in testing upgrades to existing applications; Assist the team in solving software failures. Analyze user department needs and assist in eliminating redundancy and improving efficiency and effectiveness of operations. Review literature and other resources in order to keep informed of new software/hardware products and technology advances that may have a positive/negative effect on base level support and/or development. Work extra hours when needed. Respond to on-call request as required.
Status: Full Time, Exempt
Working hours: Primarily Monday – Friday, 8:00 am – 5:00 pm
Qualifications: Bachelor's degree in Computer Science or related field with a minimum of three years' experience in computer systems analysis and programming; or equivalent combination of education and experience.
Preferred Skills: Software development and project management. Experience or training in COBOL, SQL, DB2, MSSQL, SQL, jQuery, JavaScript, HTML and CSS are all a plus.
Starting Annual Salary Range: $51,750.40 - $54,995.20
Deadline for Application: Applications will be accepted until the posting is removed.
Apply online at www.showmeboone.com or call (573) 886-4128 if you have questions. Please call in advance if special accommodations are required in order to apply. Benefits include 100% County paid medical and dental employee insurance premium, pre-tax savings program, 2 weeks' vacation, 13 paid holidays, matching deferred compensation plan and retirement plans. To see a complete list of posted positions, submit an online application or to download the application, log on to www.showmeboone.com.
An Affirmative Action/Equal Opportunity Employer
---
GIS Specialist II
Posted 04/22/2015
Under general supervision from Director of Technology, manage GIS program and staff  and perform skilled technical and professional work in the design, development, and maintenance of Geographical Information System (GIS) graphics and mapping applications.
Responsibilities
The list of essential functions, as outlined herein, is intended to be representative of the tasks performed within this job classification.
Enhance, expand, manage and direct Geographic Information System (GIS) program
Perform advanced GIS functions including models, scripting and application development
Utilize GIS and associated software to produce, display, and analyze geographic information; creates case maps to internal customers in various departments
Develops ArcMap projects/layouts for the fulfillment of data requests as necessary; designs cartographic and other visual graphic output.
Assist with GIS mobile data collection processes such as ArcPad, Arc GIS for iOS or other related data collection technologies.
Prepare, update, and maintain graphic displays databases, reports, statistical information and maps as requested.
Assists in the collection of mapping of land use, environmental and other types of data for comprehensive plans.
Interpret various information from applications to GIS files, e.g. survey drawings, site development plans, subdivision plans, plats.
Assist various employees with map production and analysis of spatial database information; provides technical support to train and assist system users in new and existing GIS applications.
Organizes, creates, manipulates, enters and retrieves GIS data for reporting, analysis, and presentation purposes.
Manage and coordinate GIS subconsultant work
Serve as GIS liaison for ADA and other related programs within the firm
Performs related duties as directed.
Education and Experience
Bachelor's Degree in Geography, Computer Science, Planning, Engineering, Surveying or related field. Minimum of five years experience in GIS; or an equivalent combination of education, training, experience.
Special Requirements:
A minimum of five years of experience in the use and Administration of Advanced GIS function including models, scripting and application development
Skill in researching, compiling, and summarizing statistical data and information materials.
Ability to effectively communicate both orally and in writing.
Ability to establish and maintain effective working relationships and communications with project consultants, private contractors, City employees, and the general public.
Ability to organize work, establish priorities, meet established deadlines, and follow up on assignments with a minimum of direction
Interested applicants should send resume and cover letter to hr@colestl.com