Jobs Page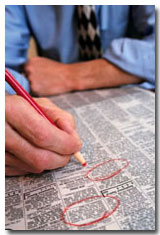 This page was last updated:
Free Ads: Any job announcements submitted to MSDIS directly from not for profit organizations, local/state/federal government and educational institutions will be added to this page free of charge.
Paid Ads: A listing fee of $40 per job ad applies to for profit organizations (private companies, recruitment agencies - or any third party acting as a recruitment agency on behalf of any organization eligible for free ads - and government or military subcontractors) to post a job vacancy on MSDIS jobs page. Paid job ads must be faxed to MSDIS using the official job ad order form (http://www.msdis.missouri.edu/community/jobadreq.pdf) . Only payment by credit card is accepted. Advertising on MSDIS jobs page is a great way to fill your vacancies. MSDIS jobs page receives 1500 - 2000 unique visitors per month and is consistently the 3rd most popular page on the MSDIS web site.
MSDIS RSS Jobs Feed and MSDIS Twitter Feed. For an additional fee of only $10 per service, for profit organizations posting paid job ads can opt to have their posting added to the MSDIS RSS Jobs feed or Twitter feed. If you would like to take advantage of these services just check the appropriate box(es) on the job ad request form.
We will not search the web, etc. for jobs. If you would like to take advantage of this medium, please submit your job announcements to:
MSDIS email:
Fax: 573-884-4239
Announcements with no closing date will remain on this page for three months from the posting date.
Announcements with a closing date will remain on this page until one week after the closing date.
Quick Jobs Index (click the title for detailed job description)
Available Positions



Position Title
Location
Organization
Salary Range
Closing Date
GIS Specialist
Columbia, MO
Missouri Dept. of Conservation
$40548 - $71532
April 27, 2015
Transportation Transit/Research Planner II
Kansas City
Mid-America Regional Council (MARC)
$44,015 to $55,018
Until Filled
Various Internships
Columbia, MO
Renew Missouri
?
04/17/2015
Geographic Information System (GIS) Technician (Temporary)
St. Charles, MO
Alliance Water
$13 per hour
Until Filled
GIS Programmer
St. Louis, MO
Washington University, St. Louis,
$3,630 to $4,719
Until Filled
Post Doctoral Research (two positions)
Maynooth, Ireland
National University of Ireland, Maynooth
33,975 to 43,643 Euros
03/30/2015
GIS Specialist
Springfield, MO
Greene County
$19.39/hour
Until Filled
Intern(s) - Information Systems
St. Charles, MO
St. Charles County
$10.82, $14.40 or $15.72 per hour
03/29/2015
GIS Technical Lead (Information Systems Coordinator)
Kansas City, KS
Unified Government of Wyandotte County/Kansas City
$4,302.13 - $5,642.00/mo.
4/1/2015
GIS Coordinator / Manager of Technical Services
Topeka, KS
City of Topeka
$54,394 - $68,016
Until Filled
Part-time Asset Management Technician
Lenexa, KS
City of Lenexa
$16.87 to $17.55 per hour
Until Filled
Stormwater Intern
Wentzville, MO
City of Wentzville
$10/Hour
April 03, 2015
Other Employment Resources
The GIS Jobs Clearinghouse: http://www.gjc.org/
---
GIS Spacialist
Posted 03/24/2015
GIS Specialist, Missouri Department of Conservation
DUTIES AND RESPONSIBILITIES:
Under the supervision of the Resource Science Supervisor in the Resource Science Division, works with staff to support a number of geospatial information functions including spatial analysis and modeling, development and implementation of research projects, and creating and managing geospatial databases. Works with staff to design and implement advanced geospatial models to assist in the analysis of spatial data derived from staff research projects and to provide predictive analysis. Works with programmers to create and implement mobile GIS applications that assist with geospatial data collection. Assists in the Department's migration to an Enterprise Geospatial Solution, teaches staff how to use and implement the geodatabase. Works closely with Information Technology Section staff to ensure good coordination on Geospatial issues; serves as a co-investigator on research projects helping to integrate geospatial solutions. Project work can include the development and use of predictive spatial models, cartographic requests, writing project documents and/or documentation of information; designs, initiates and implements projects with input from staff to aid in their day to day activities; evaluates spatial data needs for a project (which may include utilization of existing data, acquisition of non-MDC data, or data creation.) Designs and builds custom GIS applications for Department staff using GIS functionality; duties include: creating custom graphical user interfaces (buttons and tools) to enhance the use of GIS in completing the assigned task; developing menu-driven systems to allow staff to access, attribute, query and update GIS data and external databases; writing programs in various languages (Python, Visual Basic) to automate GIS processes and simplify tasks for the end user.
Strong oral and written communication skills are essential.

QUALIFICATIONS:
Graduation from an accredited college or university with a Bachelor's Degree in GIS, Geography, Natural Resources or closely related field and three years of GIS experience with an emphasis on geospatial database design and implementation. Preference will be given to candidates with a strong background in fisheries, aquatic and terrestrial ecology and ecological principles, research study and sample design with emphasis on temporal and spatial sampling, computer science, GIS and statistics.
Educational background in both natural resources and GIS are highly desirable.
CORE COMPETENCIES AND SPECIAL ABILITY REQUIREMENTS:
Ability to:
Accept all responsibilities of the job and assigned tasks.
Use provided computer technology to enhance the quality of work and programs.
Keep focused on understanding, anticipating and responding to the needs of customers.
Administer financial resources in a manner which instills public trust and accomplishes the Department's mission.
Accept constructive criticism and supervisory oversight on projects that are multi-divisional and involve many stakeholders.
Accept change and new information and cope with job pressure and stress.
Identify internal and external politics that impact the work of the Department.
Define a problem, analyze relevant information, develop solutions and solve problems.
Maintain focus and intensity, and remain optimistic and persistent even under adversity.
Develop and sustain cooperative working relationships.
Demonstrate technical proficiency in areas of responsibility.
Create and sustain an atmosphere in which timely, quality information flows between self and others and express facts and ideas in a convincing manner whether one-on-one or within or before groups.
Take a long-term view of the Department's or Unit's direction and articulate a vision which integrates key program goals, priorities, values and other factors.
Demonstrate regular and predictable attendance.
Be proficient in technical and administrative competencies.
Operate a motor vehicle and have or obtain a valid Driver License.
Express oneself clearly and concisely, both orally and in writing.
Provide quality customer service in a courteous and professional manner.
Travel and stay overnight.
Exercise independent judgment and take action on it.
Be self-motivated.
Work in a team-oriented collaborative environment.
Exhibit excellent analytical, mathematical and problem-solving skills.
Effectively prioritize and execute tasks while under pressure.
CONDITIONS OF EMPLOYMENT:
This position has been determined to be exempt according to the Fair Labor Standards Act. Employees must agree to accept compensatory time off in lieu of cash payments in accordance with the Department's Compensatory Time Off and Overtime policy.
Smoking is prohibited in all owned, rented or leased Department of Conservation offices, buildings, and similar facilities, in Department aircraft, and in vehicles.
The Department of Conservation will hire only United States citizens and aliens authorized to work in the United States. All new employees will be required to complete an "Employment Eligibility Verification" (Form I-9) and produce requested documentation after employment.
Candidates seeking initial or re-employment must submit to a drug screen following offer of employment.
All persons employed with the state of Missouri shall file all state income tax forms and pay all state income taxes owed.
How to Apply:
All applications must be received by April 27, 2015. Apply online at https://mdc5.mdc.mo.gov/recruitment/JobDetail.aspx?intPstID=1627
---
Transportation Transit/Research Planner II
Posted 03/23/2015
The Mid-America Regional Council (MARC), the metropolitan planning organization and association of city and county governments serving the bi-state Kansas City region, is seeking a Transportation Planner II to emphasize in short- and long-range transit planning and analysis.
Description
In 2014, MARC was awarded a USDOT Transportation Investments Generating Economic Recovery (TIGER) grant to support implementation planning related to increased job access and transit in the Kansas City region. This Planner II position will directly support this complex project by performing a broad range of functions involving transit service analysis, transit service scenario development and testing, calculating transit operating and service costs, plan development, and other tasks as assigned.
The Planner II will also support ongoing stakeholder and community engagement and the development of the region's long-range transit plan. This position is two-year grant-funded position expected to last through Jan 31, 2017. This position may be renewed as funding is identified to support ongoing regional transit planning.
Illustrative examples of work
The following represents the essential functions of this position. Additional duties may also be assigned and be essential to the successful performance of this position.
Analyzing and effectively communicate transit needs and gaps at a regional and sub-regional level.
Developing transit service scenarios and analyze capital and operating financial needs to fill identified gaps.
Supporting the ongoing engagement of community and employer stakeholders.
Assisting in reviewing and managing consultant work related to regional transit planning, land use and housing policy development, and public engagement.
Writing technical and policy reports as required.
Supporting agency and community committees, boards, and groups as assigned.
Managing project work and the corresponding budget, schedule, communications, and invoicing responsibilities as required.
Compiling and presenting data on various aspects of transit and transportation planning using a variety of computer software including databases, spreadsheets, geographic information systems, graphics and statistical software.
Conducting research and policy analyses using multiple methods of inquiry and research techniques.
Responding to questions from internal staff, the general public, government employees, elected officials, committee and board members, and others regarding agency activities and initiatives.
Attending, participating in and organizing meetings during office hours, evenings and weekends as needed.
Representing MARC at local, regional and community meetings and functions.
Additional Functions Beyond Life of Grant
Supporting the management of regional transit committees and technical teams.
Supporting the implementation of the regional long-range transit plan.
Undertaking, with minimum supervision, major projects, such as passenger surveys, fare study analysis, transit service reviews, major corridor studies, and passenger amenity studies.
Providing technical assistance and represent the Authority's interests on BRT, streetcar, light rail, commuter rail and related transit studies.
Providing technical assistance on identifying, studying and coordinating transit center, park and ride lots, bus stop improvements and passenger amenity siting and deployment.
Providing community liaison for contract communities as assigned.
Researching service modification inquiries as assigned.
Assisting in ridership and revenue projections for budget purposes.
Qualifications
This position requires a master's degree in transportation planning, regional planning, geography, or closely related field and at least two years of related work experience. AICP certification preferred. This position requires an individual with competence in the following:
Knowledge of the principles and practices of: urban and regional planning, transportation planning, community planning, transit planning, transit service design, financial analysis, and knowledge of public transit operations.
Thorough knowledge of the principles of research, standard statistical procedures, sources of planning information, and techniques used in the preparation of materials for presentation.
Analytical abilities required to integrate and interpret data from various sources, to produce information and reports, and to develop, evaluate, and present planning information and analysis.
Interpersonal skills necessary to effectively interact and communicate with internal staff, the general public, outside organizations and stakeholders, and elected officials.
Excellent written and oral communication skills and an exceptional ability to interact positively with diverse residents and stakeholders.
Skills in operating computer programs using spreadsheet, database, word processing, and other planning-specific programs.
Skills and demonstrable experience in using geographic information systems.
Skills in managing projects and the corresponding budgets, schedules, and general communications.
Knowledge of federal and local processes, planning requirements and grant programs.
Ability to work without supervision on major studies or projects and meet deadlines.
Ability to work as part of a team-oriented environment.
Ability and experience in supporting and facilitating committees, boards, and project teams.
Skills in grant research and writing preferred.
How to Apply
Starting salary for a Planner II is $44,015 to $55,018, depending upon qualifications. MARC offers an attractive team-oriented work environment along with a competitive fringe benefit package. For more information about the program and to apply please visit our website at www.marc.org/jobs.
The Mid-America Regional Council is an Equal Opportunity Employer /M/F/V/D.
---
Summer 2015 Internships
Posted 03/16/2015
Internships at Renew Missouri provide students and community members with an inside look into how a non-profit works, while educating them on statewide and national energy policy. Internships are unpaid, however they have the opportunity to turn into part-time or full-time positions. Check out the descriptionsbelow and apply by emailing a resume, cover letter and writing sample in PDF format to apply@renewmo.org. The deadline is April 17, 2015.
•Event Organizer Internship
•Social Media Internship
•Public Relations Internship
•Finance Internship
•Non-Profit Development Internship
•Policy Internship •Legal Internship
More information http://www.renewmo.org/internships.html
---
Geographic Information System (GIS) Technician (Temporary)
Posted 03/09/2015
Alliance Water Resources is a professional contract operations, maintenance and management firm specializing in municipal and district water and sewer utilities in Missouri, Iowa, and Tennessee. As a part of our utility management services, we provide accounting, billing, and financial management services to our local operations and client communities. We are currently seeking applicants to assist with technical and training responsibilities for data acquisition and integration with in an enterprise GIS database at our St. Charles County, Missouri division. This position will be tasked with acquiring data utilizing a GPS field unit, data entry, and analysis. The successful candidate must possess a HS diploma or GED; and will be required to use and maintain tools, equipment and computers associated with the work. Preferred qualifications include knowledge of the principles and practices of Geographic Information Systems (GIS), Geography, Civil Engineering, or a closely related field; knowledge of computers and job related software programs (ArcMap, word processing, spreadsheet, and database applications); and the ability to read maps and navigate. Applicant must possess and maintain a valid Missouri driver's license.
This position is expected to start mid-May and end in mid-August. Salary is $13.00 per hour.
Application can be submitted on Alliance Water Resources' website at www.alliancewater.com/careeropportunities
---
GIS Programmer, Olin Library
Posted 03/09/2015
Location: Danforth - Main Campus. Job ID 30167
Essential Functions
Reporting to the Director of Data & GIS Services, this position is responsible for providing GIS programming and analysis support to the University community. Typical duties include scoping, designing, development and delivery of GIS solutions in support of faculty led research and student academics.
Perform assigned programming tasks, including working with faculty and staff on a variety of projects related to GIS implementation, projects range from coding to full programmatic implementation of applications and support.
Assist students, faculty and staff on GIS related projects.
Provide training and support to users. Instruct faculty and staff on how to use the software and how to utilize programming and GIS on their project.
Perform server Administration tasks including installation and maintenance of GIS server software, GIS webpage content updates, and working with University IT group on server related issue.
Works with development team in University Libraries on GIS and data related project tasks.
Required Qualifications
Bachelor's degree in information science, library systems, math, engineering, or closely related field; plus 2 years of demonstrated experience in GIS programming.
Experience in working with enterprise level database management systems.
Desire to work in professional service oriented role interacting with faculty and students on research projects.
Experience in contributing to fast paced teams and working with minimal direction. Ability to develop big picture ideas to concrete deliverables. Demonstrated success in complex systems and problem solving.
Energy, creativity, strong organizational skills, tolerance for occasional project ambiguity, and ability to work unsupervised or as a member of a team. Demonstrated ability to scope and meet project deadlines.
Preferred Qualifications
Advanced degree in in information science, library systems, math, engineering, or closely related field.
Demonstrated problem assessment, project scoping and operational problem solving skills, aptitude for assessing and incorporating new technologies.
Working knowledge of Windows, Linux, VMs, XML, Fedora, Python Javascript or similar environments a plus.
Salary Range
The hiring range for this position is $ 3,630 to $ 4,719 monthly.
Benefits
-Retirement Savings Plan
-22 vacation days
-8 Paid Holidays
-Sick Time
-Tuition benefits for employee, spouse and dependent children
-Free Metro Link/ Bus pass
-Free Life Insurance
-Health, Dental, Vision
-Health Savings Accounts (HSA)
-Long Term Disability Insurance
-Flex Spending Plan
-Other Benefits
Human Resources website (hr.wustl.edu)
EOE Statement
All qualified applicants will receive consideration for employment without regard to sex, race, ethnicity, protected veteran, or disability status.
---
Post Doctoral Researchers (two positions)
Posted 03/06/2015
National Institute for Regional and Spatial Analysis (NIRSA)
The Programmable City Project
Postdoctoral Researchers x 2
(Three Year Contracts)
The University
Formally established as an autonomous university in 1997, but tracing its origins to the foundation of the Royal College of St. Patrick in 1795, the National University of Ireland, Maynooth (Maynooth University) draws on a heritage of over 200 years' commitment to education and scholarship. The last two decades have seen the University grow rapidly in scale, strength and stature. Maynooth University is today a university of international standing, renowned for the quality and value of its research and scholarship, for its dedication to excellent teaching, for providing an outstanding learning experience for its 8,500 students, and as a uniquely collegial environment in which to pursue scholarly work.
Maynooth University is embarking upon a new and exciting phase of its development under the University Strategic Plan 2012-17 with a vision to consolidate the international reputation of Maynooth University "as a university known for outstanding teaching, excellent research, a global outlook, effective engagement with the society we serve, and our distinctive approach to the challenges facing modern higher education."
The University Strategic Plan 2012-17 sets seven strategic goals for the university:
to offer students an outstanding university education, the best available in Ireland, an education which challenges and supports all students to achieve their full potential, and prepares students for life, work and citizenship, and for complexity, diversity and change;
to be recognised by 2017 as playing a leading international role and being the clear national leader in a number of thematic areas of research that address the major societal challenges of the 21st century;
to achieve a step change in our international activities, doubling the number of international students on campus and doubling the number of domestic students spending time abroad, in order to create a truly intercultural and multilingual institution;
to strengthen our engagement with all stakeholders through sustained partnerships with enterprises, communities, civil society and public bodies, to build support for the mission of the university, to serve the needs of society, and to open new opportunities for research and learning;
to maximise our unique and distinctive contribution to the national system of higher education through a set of purposeful and sustained strategic partnerships at regional and national level, and to extend our international reach through a network of global partnerships;
to be an excellent place to work, known for a collegial ethos which empowers all staff to contribute fully to the development of the university;
to enable the achievement of ambitious strategic objectives in challenging circumstances through careful planning, excellent services and infrastructure, and sound governance and management.
The University has distinctive institutional strengths in six thematic priority areas:
People, Place and Environment;
Social and Economic Transformations;
Human Health;
Mathematics, Communications and Computation;
Humanities in Practice; Sources, Resources & Discourses;
Human Cultures, Experience & Creativity.
The University has 27 academic departments which are organised into three Faculties: Arts, Celtic Studies and Philosophy; Science and Engineering; and Social Sciences. The University is also home to a number of multi - and trans-disciplinary research institutes, including the Hamilton Institute, the National Centre for Geocomputation, the National Institute for Regional and Spatial Analysis, and Institute of Immunology.
In a pioneering recent development, Maynooth University, Dublin City University and the Royal College of Surgeons in Ireland have established the 3U Partnership, a new strategic association that brings together the distinctive and complementary strengths of the three institutions.
National Institute for Regional and Spatial Analysis Established as a University Institute in January 2001, NIRSA, centred in Maynooth University, is a collaborative partnership between scholars from a number of social science disciplines, located in four partner institutions : NUI Maynooth; Mary Immaculate College, University of Limerick; Institute of Technology, Sligo and Queen's University Belfast (http://www.nuim.ie/nirsa/). NIRSA's remit is to undertake fundamental, applied and comparative research on spatial proces ses and their effects on social and economic development in Ireland, and provide high quality graduate education to the nextgeneration of Irish social scientists. NIRSA's research is organized through three research clusters: Sustaining Communities, Building Knowledge Economies, and Planning Environments. These clusters are broadly conceived and are interdisciplinary and inter-institutional in make-up. To date,over 300 researchers have been affiliated to NIRSA, with over 150 of them receiving competitive funding from the Institute itself, and many others receiving smaller funds for travel and research expenses.
Over 200 projects have received external funding since 2001, totalling over €55m of which over €25m has come directly to NIRSA partners. The Institute has received Programme for Research in Third Level Institutions 2, 4 and 5 funding and is the recipient of two European Research Council Investigator Awards. The Institute has built up numerous national research platforms (for example, Irish Social Sciences Platform [ISSP, for which it is the lead administrative partner], the International Centre for Local and Regional Development [ICLRD], and Digital Repository of Ireland [DRI]) and international partnerships (European projects) and spawned the SFI - funded National Centre for Geocomputation (NCG). The Institute has also established two significant national research resources: the All - Island Research Observatory (AIRO) that produces all - island, spatial datasets and specialist tools to aid their analyses and undertakes academic and applied mapping research; and the Irish Qualitative Data Archive (IQDA) that archives social science data in media other than machine - readable datasets. The Institute has received extensive media coverage for its work, with well over 700 citations in newspapers and its members being regular contributors to radio and television.
The Programmable City Project: The role
Funded by a European Research Council Advanced Investigator Award to Prof. Rob Kitchin, we are seeking two postdoctoral researchers to work on The Programmable City project to (1) unpack data assemblages and (2) examine big data industry and smart cities.
The project will be based in the National Institute for Regional and Spatial Analysis (NIRSA) at Maynooth University.
Principal Duties
Administrative and other duties:
Applications are invited from researchers with an interest in software studies, critical data studies, urban studies, and smart cities to work in an interdisciplinary team. Applicants will:
have a keen interest in understanding data, data analytics and software from a social science perspective
be a proficient programmer and able to comprehend other developer's code
have a good, broad range of qualitative data creation and analysis skills;
be interested in theory building
have an aptitude to work well in an interdisciplinary team;
be prepared to undertake overseas fieldwork;
have a commitment to publishing and presenting their work;
have a willingness to communicate through new social media;
be prepared to archive their data for future re-use by others;
be prepared to help organise and attend workshops and conferences.
Selection and Appointment
Only shortlisted candidates will be invited to attend for interview;
Candidates invited for interview will be required to make a brief presentation;
It is anticipated that interviews will be held during the week of the 13th April;
The appointment is expected to be effective from 1st June
Salary
Postdoctoral Researcher Level 1 or 2 (Jan 2011)*: €33,975–€43,643p.a. (4 points)
Postdoctoral Researcher Level 1 or 2 (Jan 2010): €37,750–€43,643p.a. (4 points)
Appointment will be made in accordance with the Department of Finance pay guidelines.
*New entrants to the public sector will be appointed on the first point of the relevant pay scale.

Application Procedure
Please ensure that you USE THE FOLLOWING REFERENCE [PDx2_NIRSA] in the subject line of your application email. This will clarify which role you are applying for.
Applications should be made by sending the following information as attachments to recruitment@nuim.ie
A Curriculum Vitae, including all qualifications and experience, and a covering letter addressing your interest and suitability for the role;
The names, email addresses , correspondence addresses and telephone numbers of three referees whom the University may contact.
The completed application documents should be forwarded by email to arrive no later than midnight, Monday, 30th of March, 2015. Late applications will not be accepted.
Maynooth University is an equal opportunities employer
The position is subject to the Statutes of the University
http://humanresources.nuim.ie/vacancies.shtml
---
GIS Specialist
Posted 03/03/2015
Full-time Days $19.39 hourly rate.
The Greene County Information Systems Department is seeking a qualified individual for the position of GIS Specialist to develop and maintain computer hardware, software, data for Geographic Information Systems (GIS) use in assigned departments as well as provide cartographic and GIS support, under the direction of the Information Systems Director, of Greene County.
Essential Duties and Responsibilities:
Modifies existing GIS programs accordingly to accommodate County and GIS user's needs. Reviews and researches County's needs and potential software applications for GIS use. Consults with department heads and users regarding computer software needs, problem identification, data processing objectives and improving operational procedures. Recommends system improvements to meet the needs of proposed hardware and software updates. Draws maps of geographic areas to show various features using a GIS. Collects geographic data, defines problems, and derives conclusions based upon analysis of data. Analyzes survey data, source maps, photographs, computer mapping, products and other records to determine location and names of features. Analyzes information to determine, recommend and plan types of computers and related equipment, or modifications to existing equipment and software modifications. Consults with computer consultants regarding software and hardware limitations and capabilities. Duties and responsibilities may be changed, expanded, reduced, or deleted to meet the business needs of the County.
Minimum Experience and Training Qualifications:
Bachelor's degree in Cartography, Geographic Information Systems, Computer Science or related field, three years experience developing GIS software, procedures and administering GIS systems, or any combination of education and experience that provides equivalent knowledge, skills, and abilities. Must also have training or experience in the current version of ESRI's ArcGIS programs. Familiar with Windows, Microsoft Office, and database management.
A complete description of the physical and mental abilities required to perform the essential functions of the position is available at the Greene County Human Resources Office.
Special Requirements:
All candidates are required to undergo a post-offer screening for the presence of illegal drugs, background screenings and reference checks.
How to apply:
Interested individuals MUST submit a completed application to Human Resources, 940 N. Boonville Ave., Room 314, Springfield, MO 65802, or fax to 417.868.4811. Incomplete applications will not be given consideration. Position open until filled.
Greene County is an Equal Opportunity Employer. In compliance with the Americans with Disabilities Act, the County will provide reasonable accommodations to qualified individuals with disabilities.
---
Intern(s) - Information Systems
Posted 03/02/2015
St Charles County Information Systems
STARTING SALARY:
Hourly salary will be based on education and experience level and will be determined at the time of hire. Rates are $ 10.82, $14.40 or $15.72 per hour.
There are multiple positions available within different divisions in Information Technology. Hours and length of internship will vary dependent on student needs and department funding. Individual(s) selected will preferably be able to work between 20-40 hours per week. The work schedule will be flexible to accommodate school attendance and study requirements. Unpaid internships for work/study credit may be possible.
JOB DESCRIPTION:
Our intention is to provide a student with an environment which will reinforce their Information Technology course work and provide knowledge of networks, databases, Geographic Information Systems or PC hardware. This will allow the student the opportunity to experience a technical work environment, apply the knowledge they have, and also to learn new technical skills. The student will benefit from on the job training and mentoring along with participation in team projects, social events, and professional development. The candidate will maintain and enhance St. Charles County's Information Technology and support the IS staff and managers in the day-to-day operations. Key responsibilities include the development, maintenance, and quality assurance of information technology for St. Charles County.
REQUIREMENTS:
Successful candidates must have earned a minimum of 10 credit hours in Technology or Math related coursework with a GPA of 3.0 or higher. Individuals should be detail-oriented and understand the fundamentals of Information Technology. Major and/or coursework in Information Technology, Computer Science, Business, Math, Engineering, GIS or a related field. Possess a working knowledge of information technology concepts including but not limited to databases, networks, and application development. Minimum experience using MS Windows and MS Office Suite are required. Customer service skills are required. Additional experience with MS SQL Server, PC Hardware, BI/Analytics, ESRI's ArcMap or Business Analysis is a plus. Candidates should have a strong work ethic, a professional attitude, and a desire to excel in their chosen field.
TO APPLY:
All applications must be submitted only through our Self-Service Website at http://hr.sccmo.org/hr. We do not accept faxed, e-mailed or print applications. For your convenience, if needed, terminals are available on site at the HR Dept., 201 N. Second St., Room 519, St. Charles, MO 63301 Monday – Friday 8:00 am – 5:00 pm.
To assure consideration, applications must be received by March 29, 2015.
St. Charles County is an Equal Opportunity Employer. In compliance with the Americans with Disabilities Act, the County will provide reasonable accommodations to qualified individuals with disabilities and encourages both prospective and current employees to discuss potential accommodations with the employer. St. Charles County is a drug and alcohol free work place. A pre-employment drug screen is required for all positions.
---
GIS Technical Lead (Information Systems Coordinator)
Posted 02/19/2015
Unified Government of Wyandotte County/Kansas City, Kansas
Department of Technical Services
GeoSpatial Services (GIS) Division
http://www.wycokck.org/gss
POSTING BEGINS:  February 19, 2015
POSTING ENDS:  April 1, 2015
Location of Position: 710 N 7th St, Kansas City, KS 66102
The Unified Government's(UG) Department of Technical Services (DOTS) GeoSpatial Services (GSS) division is seeking an experienced GIS Technical Lead to support its enterprise GIS efforts.  GSS focuses on supporting local government operation with GIS.  The candidate will solve information technology and data-quality problems proactively and collaboratively with other UG staff.  The candidate should be a self-starter, motivated, able to manage multiple priorities and tasks in a dynamic environment with a good understanding of ESRI's GIS software suite.  The candidate should have demonstrable creative problem solving skills.
BRIEF JOB DESCRIPTION:  Design, develop and administer web mapping applications using Latitude Geocortex and/or ESRI's ArcGIS Server to meet customer specific requirements.  Design and implement solutions using Esri's ArcGIS suite: ArcGIS Server, ArcGIS Desktop, ArcGIS Online.  Manage GIS server environments.  Publish/Consume map services (REST, WMS, GeoRSS, KML/KMZ, etc).  Develop, maintain, administer and monitor ETL tasks for hosted data (Python, SSIS, FME).  Creation and management of spatial data schemas and metadata catalogs within geodatabases including ESRI's SDE, Microsoft SQL Server.  Provide technical direction in developing and sustaining a GIS program in the Unified Government.
MINIMUM QUALIFICATIONS:  Bachelor's Degree in Geography, GIS, Information Technology, Computer Science, Information Systems, or related field and 3 years of programming, system analysis, or work experience related to area of assignment (7 years of related GIS experience preferred) or an equivalent combination of education and experience. Strong aptitude for learning new skills, adapting to new technologies, and implementing new methodologies. Excellent analytical and problem solving skills. Ability to prioritize, plan and organize activities and develop realistic action plans and schedules. Extensive experience and understanding of the ESRI ArcGIS Suite of products. Advanced knowledge of geospatial and mapping concepts such as spatial analysis, map projections, location based services, cartography or similar. Experience with cadastral and land records applications a plus. Familiarity with managing relational multiuser spatial databases, consuming and publishing GIS web services, and common web mapping APIs and platforms. Strong data and information management skills. Experience developing with Microsoft technologies with focus on .NET (Visual Studio, SQL Server).
SUCCESSFUL APPLICANT IS REQUIRED TO TAKE PRE-EMPLOYMENT PHYSICAL AND DRUG SCREEN.
It is the policy of the Unified Government not to discriminate against any employee or applicant for employment because of race, color, national origin or ancestry, religion or creed, sex, age or disability. All applicants for this position who do not presently hold a safety sensitive position with the Unified Government will be required to submit to a drug test after successful bid and before actual appointment.
MUST BE A RESIDENT OF WYANDOTTE COUNTY, KANSAS OR WILLING TO RELOCATE.
PUBLIC LAW REQUIRES ALL NEW APPOINTEES TO SUBMIT PROOF OF IDENTITY AND EMPLOYMENT ELIGIBILITY
EOE
SALARY RANGE:$4,302.13 - $5,9642.00/mo.
HOW TO APPLY:
http://www.wycokck.org/hr/
Email  jobs@wycokck.org
In Person or by mail:  701 N. 7th Street, Rm. 646, Kansas City, KS 66101
By fax:  913.573.5006
Application: 
http://www.wycokck.org/WorkArea/DownloadAsset.aspx?id=39164
---
GIS Coordinator / Manager of Technical Services
Posted 02/11/2015
The City of Topeka's Public Works Department, nationally recognized through accreditation by the American Public Works Association, strives to meet our current and future needs. A well-run organization consisting of Engineering, Internal Services, Mapping, and Utilities ensures public funds are spent on projects and services approved by Topeka citizens through their City Council representatives.
The City of Topeka is seeking qualified applicants for the Manager of the Technical Support division of the Public Works Department. The position is responsible for the overall performance, integrity and operations of the City's Geographic Information System (GIS) and the "Cityworks" Maintenance System and employees. Duties include supervising technicians, coordinating resources, designing and implementing programs, monitoring system performance, maintaining system security and utilizing system to produce related products as needed.
Minimum qualifications include graduation from an accredited four year college or university with a Bachelor's degree in Business, Geography, Engineering, Construction Science, Information Systems or a closely related field. Must have five years of specific experience in GIS and database administration with related experience in areas of information systems management, SQL server administration, UNIX and Microsoft Windows operating systems, ArcInfo and ArcGIS. Must have and maintain a valid driver's license and city insurable driving record.
Annual Entry Salary: $54,394 - $68,016 DOQ
Full position description: www.topeka.org/humanresources/jobs/MANAGER-TECH-SUPPORT-1-2015.pdf
Located 60 miles west of KCMO on I-70, the City of Topeka is the municipal government for the capital city of Kansas and the seat of Shawnee County.
Topeka offers a quality living experience at a below average cost. In 2010 Topeka was named in "Kiplinger's Personal Finance list of Top Ten Cities for the Next Decade", citing the quality of schools, good hospitals, and low housing costs among the reasons for Topeka being included. Topeka's cost of living is attractive when compared to other mid-western cities. www.topeka.org
Public works Dept. http://www.topeka.org/PublicWorks/
To be considered for this position, please complete a City of Topeka electronic employment application available at www.topeka.org/jobs.shtml. Position open until filled, interested persons are encouraged to apply immediately.
---
Part-time Asset Management Technician
Posted 01/26/2015
The City of Lenexa, Kansas, a leader in the delivery of exceptional public service, is a growing, dynamic and progressive city due in large measure to its commitment to quality growth as a "planned community" in partnership with its citizens. Lenexa has a diverse population of approximately 50,000, with a similar number of people coming into the city each day for their jobs. Encompassing 34.40 square miles of land, Lenexa is located in the greater Kansas City metropolitan area, and recently was named as one of the best places in the country to raise children by Bloomberg Businessweek. The City of Lenexa employees are dedicated to providing exceptional public service to the community. We value integrity, service, teamwork, dedication, vision and employees who care. We are currently accepting applications to join our team as a Part-time Asset Management Technician within our Municipal Services' Department.
The Part-time Asset Management Technician is responsible for performing technical work to develop and maintain the City's asset management system. This position will work with various city departments to gather and compile information on our streets, lights, signs, sidewalks, storm infrastructure, hydrants and telecommunication components and develop standard procedures to collect and maintain this data. Incumbent will be responsible for generating reports from the data collected, by utilizing work records from asset inventories and inspections and ensuring the information is accurate and complete for data quality and reporting.
QUALIFICATIONS: Bachelor's degree in Geography, GIS, cartography, computer science or related field. One year related experience working with ArcInfo, ArcView, and/or AutoCAD MAP, Microsoft Office products and experience with using GPS and Lucity software preferred. . Must possess a valid driver's license with a clean driving record history. Must have a working knowledge of Trimble handheld units.
Successful candidates will be required to pass a pre-employment physical, drug screening and background investigation. Salary range is $16.87 to $17.55 per hour ( DOQ).  The City of Lenexa offers a competitive compensation package including health, dental, life, short term disability; both state and city retirement plans, wellness and on-site clinic, and much more.
TO APPLY for the above position please  complete an on-line application  or visit our website at  http://www.lenexa.com/hr/career.html.  Be sure to attach your cover letter and resume reflecting any work history you may have during the past 10 years. For best consideration apply immediately as applications are accepted only until filled.
---
Stormwater Intern
Posted 01/07/2015
Public Works Department
Starting Salary Range: $10 per hour Pay Grade: C
This is a paid internship not eligible for benefits. The assignment is scheduled to begin in May 2015 and will work no more than 440 hours over the duration of the internship. Successful candidates will have the opportunity to train and get hands-on experience in a variety of skill set areas including stormwater management, utility inspections, water quality and pollution prevention, GIS, planning, and program administration.
JOB DESCRIPTION: The stormwater intern assists with field inspecting infrastructure, construction, and municipal facilities and updating GIS mapping related to the Stormwater Management Program. The internship may include research and development of stormwater pollution prevention plans and materials. The internship culminates with the production of an inspection report, GIS data layers and corresponding maps.
REQUIREMENTS: Undergraduate degree or student pursuing a degree in environmental science, engineering, geography or related field; current valid motor vehicle operator's license.
Minimum Qualifications: Knowledge of Windows, Microsoft Office, and the Internet; knowledge and/or interest in stormwater management and emerging trends; able to read maps and navigate; able to operate a digital camera.
Preferred Qualifications: Experience editing ArcGIS data layers and maps; experience with engineering plans, data analysis, and/or water quality.
TO APPLY: Submit a letter of interest, resume and completed City of Wentzville employment application. The application and full job description are available online at http://www.wentzvillemo.org/job-listing.aspx. Deadline to apply is April 3, 2015.
The City of Wentzville is an equal opportunity employer. In compliance with the Americans with Disabilities Act, the City will provide reasonable accommodations to qualified individuals with disabilities and encourages both prospective and current employees to discuss potential accommodations with the employer. The City of Wentzville is a drug and alcohol free work place. A pre-employment drug screen and background check is required for all positions. Additional pre-employment testing may be required for certain positions. It is the policy of the City of Wentzville not to discriminate on the basis of age, race, color, marital status, national origin, political affiliation, religion, sex or disability except where specific requirements constitute a bona fide occupational qualification.