Jobs Page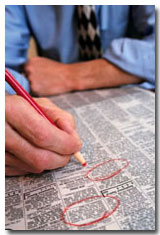 This page was last updated:
Free Ads: Any job announcements submitted to MSDIS directly from not for profit organizations, local/state/federal government and educational institutions will be added to this page free of charge.
Paid Ads: A listing fee of $40 per job ad applies to for profit organizations (private companies, recruitment agencies - or any third party acting as a recruitment agency on behalf of any organization eligible for free ads - and government or military subcontractors) to post a job vacancy on MSDIS jobs page. Paid job ads must be faxed to MSDIS using the official job ad order form (http://www.msdis.missouri.edu/community/jobadreq.pdf) . Only payment by credit card is accepted. Advertising on MSDIS jobs page is a great way to fill your vacancies. MSDIS jobs page receives 1500 - 2000 unique visitors per month and is consistently the 3rd most popular page on the MSDIS web site.
MSDIS RSS Jobs Feed and MSDIS Twitter Feed. For an additional fee of only $10 per service, for profit organizations posting paid job ads can opt to have their posting added to the MSDIS RSS Jobs feed or Twitter feed. If you would like to take advantage of these services just check the appropriate box(es) on the job ad request form.
We will not search the web, etc. for jobs. If you would like to take advantage of this medium, please submit your job announcements to:
MSDIS email:
Fax: 573-884-4239
Announcements with no closing date will remain on this page for three months from the posting date.
Announcements with a closing date will remain on this page until one week after the closing date.
Quick Jobs Index (click the title for detailed job description)
Available Positions



Position Title
Location
Organization
Salary Range
Closing Date
GIS Specialist II
St. Louis, MO
Cole and Associates
?
?
Information Technology Specialist (Systems Analysis) GS-2210-13
1 position in each location:
Denton, TX
Washington DC
Winchester, VA
Federal Emergency Management Agency
$88,228.00 to $118,069.00 / Per Year
Tuesday, April 21, 2015 to Monday, April 27, 2015
Engineering Tech I – GIS/CAD Tech
St. Charles, MO
City of St. Charles
$41,717.50
April 22, 2015
Web Administrator
Lees Summit, MO
City of Lees Summit
$42,865-$56,518
Until Filled
Systems Information Analyst
Columbia, MO
Boone County
$42,473.60 - $47,424.00
Until Filled
GIS Specialist
Columbia, MO
Missouri Dept. of Conservation
$40548 - $71532
April 27, 2015
Transportation Transit/Research Planner II
Kansas City
Mid-America Regional Council (MARC)
$44,015 to $55,018
Until Filled
Various Internships
Columbia, MO
Renew Missouri
?
04/17/2015
Geographic Information System (GIS) Technician (Temporary)
St. Charles, MO
Alliance Water
$13 per hour
Until Filled
GIS Programmer
St. Louis, MO
Washington University, St. Louis,
$3,630 to $4,719
Until Filled
GIS Coordinator / Manager of Technical Services
Topeka, KS
City of Topeka
$54,394 - $68,016
Until Filled
Other Employment Resources
The GIS Jobs Clearinghouse: http://www.gjc.org/
---
GIS Specialist II
Posted 04/22/2015
Under general supervision from Director of Technology, manage GIS program and staff  and perform skilled technical and professional work in the design, development, and maintenance of Geographical Information System (GIS) graphics and mapping applications.
Responsibilities
The list of essential functions, as outlined herein, is intended to be representative of the tasks performed within this job classification.
Enhance, expand, manage and direct Geographic Information System (GIS) program
Perform advanced GIS functions including models, scripting and application development
Utilize GIS and associated software to produce, display, and analyze geographic information; creates case maps to internal customers in various departments
Develops ArcMap projects/layouts for the fulfillment of data requests as necessary; designs cartographic and other visual graphic output.
Assist with GIS mobile data collection processes such as ArcPad, Arc GIS for iOS or other related data collection technologies.
Prepare, update, and maintain graphic displays databases, reports, statistical information and maps as requested.
Assists in the collection of mapping of land use, environmental and other types of data for comprehensive plans.
Interpret various information from applications to GIS files, e.g. survey drawings, site development plans, subdivision plans, plats.
Assist various employees with map production and analysis of spatial database information; provides technical support to train and assist system users in new and existing GIS applications.
Organizes, creates, manipulates, enters and retrieves GIS data for reporting, analysis, and presentation purposes.
Manage and coordinate GIS subconsultant work
Serve as GIS liaison for ADA and other related programs within the firm
Performs related duties as directed.
Education and Experience
Bachelor's Degree in Geography, Computer Science, Planning, Engineering, Surveying or related field. Minimum of five years experience in GIS; or an equivalent combination of education, training, experience.
Special Requirements:
A minimum of five years of experience in the use and Administration of Advanced GIS function including models, scripting and application development
Skill in researching, compiling, and summarizing statistical data and information materials.
Ability to effectively communicate both orally and in writing.
Ability to establish and maintain effective working relationships and communications with project consultants, private contractors, City employees, and the general public.
Ability to organize work, establish priorities, meet established deadlines, and follow up on assignments with a minimum of direction
Interested applicants should send resume and cover letter to hr@colestl.com
---
Information Technology Specialist (Systems Analysis) GS-2210-13
Posted 04/21/2015
FEMA Geospatial Working Group,
A new Recovery GIS position was just posted to USAJobs- please forward to your colleagues in the GIS community.
Information Technology Specialist (Systems Analysis) GS-2210-13
Dates Open: 4/21-27/15
https://www.usajobs.gov/GetJob/ViewDetails/401538000
Please note, announcements will close on the date specified, or when the 200th application is received (whichever comes first).
---
Engineering Tech I – GIS/CAD Tech
Posted 04/10/2015
The City of Saint Charles Public Works Department is currently recruiting for the position of Engineering Tech I. The purpose of this position is to operate and maintain the City's Geographic Information System (GIS), assist in the maintenance and improvement of the City's Enterprise Asset Management System (EAMS), assist in Computer-Aided Drafting (CAD) production on City public work projects, and provide technical engineering design information for plans, specifications and contract documents on City public work projects.
Essential Duties and Responsibilities
The following duties are normal for this position. These are not to be construed as exclusive or all-inclusive. Other duties may be required and assigned.
• Operate and maintain GIS information for infrastructure systems.
• Incorporate as-built information from private development constructed infrastructure into GIS.
• Assists in the design, preparation of plans, specifications, cost estimate and all other aspects of proposed improvement projects under the guidance of a Project Manager (Civil Engineer) or Sr. Project Manager.
• Manage contracts for the design of capital projects under the supervision of a Project Manager (Civil Engineer) or Sr. Project Manager, including the attainment and negotiation with design firm completing design.
• Prepares exhibits for right-of-way/easement acquisitions, public information, and project maps.
• Assists contractors/citizens in locating City facilities (including occasional utility locator duties).
• Responds to questions, comments and/or requests from citizens, contractors and staff that involve city infrastructure / facilities.
• Updates and maintains GIS Standards, Policies, and Procedures for perpetuating knowledge of the City's infrastructure GIS.
• Collects field survey data of infrastructure using surveying techniques and/or GPS.
• Manages interfacing between the EAMS and GIS.
• Administers and maintains database information within EAMS, assists in establishing EAMS workflows, performs various queries/analyses of GIS and EAMS data, and prepares requested performance and management reports from GIS and EAMS data.
• Assists other Departments and Divisions as necessary regarding GIS and EAMS practices.
• Performs plan reviews under the guidance of a Project Manager (Civil Engineer).
• Maintains licenses and software for GIS, EAMS, AutoCAD and Microstation.
• Maintain City details for infrastructure in CAD.
• Performs all job duties in compliance with the City of St. Charles Public Works Department's Project Management Manual (PMM).
Qualifications
Associate's degree in Geographic Information Systems or similarly related field. Two years experience with a civil engineering CAD software preferred. GIS Certificate from an accredited higher education institution or the ability to obtain such certification within one year with the intent to pursue certification as a GIS Professional (GISP) by the GIS Certification Institute (GISCI). Two years experience in public works inspection or project management is preferred. Ability to research and apply engineering specifications and standards to the technical review and execution of public works projects. Valid motor vehicle operator's license required. Proficient use of standard office software (MS Word, Excel, PowerPoint, etc.). Experience with MicroStation and Geopak or AutoCAD Civil 3D software for design of engineering projects preferred. Any combination of education and experience that provides equivalent knowledge, skills, registrations and abilities
Miscellaneous Information
Interested applicants should submit an application/resume by 5:00 pm on the closing date to: The City of Saint Charles Human Resources Department, Suite 301, 200 North Second Street, Saint Charles, MO 63301. Hours of operation are Monday through Friday 8:00 am to 5:00 pm. Employment applications can also be downloaded from the City's website and faxed to Human Resources at 636-940-4606 or e-mailed to : humanresources@stcharlescitymo.gov. Website address for the employment application is: www.stcharlescitymo.gov The City of Saint Charles is an Equal Opportunity Employer and participates in E-Verify
The City of St. Charles is an Equal Opportunity Employer. It is the policy of the city that all applicants for employment shall be given fair and equal consideration, regardless of race, religion, color, gender, age, sexual orientation, disability, veteran status or national origin, except that minimum age limits imposed by law are observed.
If selected for employment a prospective employee must provide satisfactory references for the city and meet our applicable pre-employment qualifications.
---
Web Administrator
Posted 04/08/2015
Deadline: Open until filled
Salary: Salary range annualy $42,865-$56,518
Description: The City of Lee's Summit is seeking qualified applicants for a Web Administrator in the ITS Division. Under limited supervision, this technical professional will administer all aspects of the City Internet/Intranet sites by performing complex and technical tasks involving systems analysis, research, design, programming, testing, implementation and maintenance of web-based applications and content management systems.  This includes performing and coordinating the design, creation and implementation of new Web pages and sites; integration of sites with back end applications; migrating legacy applications to the Web and performing day-to-day administration of the organization web application portfolio.  This position is within the City's Office of Information Technology.
Minimum requirements are a BS Degree in software engineering, information technology, or marketing or related field and a minimum of 3 years experience serving as the Web Administrator for a corporate, government, or non-profit.  Any combination of education and experience will be considered.   Strong knowledge of web technologies protocols and tools; including but not limited to HTML, XHTML, CSS, HTTP is preferred.  Knowledge of website content management systems such as DotNetNuke, Joomla, Drupal and other web platforms including Moodle, TikiWiki, etc is preferred.
Competitive salary plus excellent benefits package.
How to apply: An application form must be completed (please include detailed resume). Click here to download the Application Form. You can also obtain an application from Human Resources. The Application can either be faxed, mailed, or delivered in person.
Address:
Human Resources
City of Lee's Summit
220 SE Green
Lee's Summit, MO 64063
Fax:(816) 969-1055
Phone:(816)969-1040
EOE.
---
Systems Support Analyst Information Technology
Posted 04/08/2015
Responsibilities: This position is responsible for producing high quality maps to meet defined standards, utilizing the suite of Esri ArcGIS for desktop software; perform high-level analysis to support various mapping projects including editing, geocoding, data conversion, and error reconciliation; participate in designing and improving the GIS (Geographical Information Systems) database, coordinating updates and changes while ensuring accuracy and completeness, and maintaining awareness of current advances in technology as it relates to GIS; Perform a variety of professional level duties to support information technology systems and programs in assigned area; serve as liaison between system users and information systems staff in the development, implementation, administration, and maintenance of information systems, computer programs, and software applications. Respond to request from users regarding system operations; provide solutions to operations problems; refer users to appropriate staff member. Develop written technical documentation, internal operating procedures, and user manuals and instructions; develop instructional materials, and conduct training programs on software applications; update technical and training manuals as required. Install and maintain application software and computer hardware; provide technical assistance to system users in accordance with applicable information systems policies, procedures, methods and techniques; troubleshoot and rectify application software problems; evaluate new software/hardware and recommend changes as needed prepare and update user manuals and system documentation. Participate in the evaluation and testing of system upgrades; install or upgrade software applications as directed; troubleshoot hardware and software related problems; coordinate and document testing for new or revised software applications; assist in deployment of new applications in assigned areas.
Status: Full Time, Non-Exempt, Benefitted
Working hours: 8:00 am – 5:00 pm, Monday – Friday, with rotating on-call schedules
Qualifications: Current CompTIA A+ Certification or ability to obtain certification within six months; High School Diploma or GED and three years of computer systems analysis or programming experience; must have clear criminal record (excluding traffic violations.)
Starting Salary Range: $42,473.60 - $47,424.00

Deadline for Application: Applications will be accepted until the posting is removed.
Apply online at www.showmeboone.com or call (573) 886-4128 if you have questions. Please call in advance if special accommodations are required in order to apply. Benefits include 100% County paid medical and dental employee insurance premium, pre-tax savings program, 2 weeks vacation, 13 paid holidays, matching deferred compensation plan and retirement plans. To see a complete list of posted positions, submit an online application or to download the application, log on to www.showmeboone.com.
An Affirmative Action/Equal Opportunity Employer
---
GIS Specialist
Posted 03/24/2015
GIS Specialist, Missouri Department of Conservation
DUTIES AND RESPONSIBILITIES:
Under the supervision of the Resource Science Supervisor in the Resource Science Division, works with staff to support a number of geospatial information functions including spatial analysis and modeling, development and implementation of research projects, and creating and managing geospatial databases. Works with staff to design and implement advanced geospatial models to assist in the analysis of spatial data derived from staff research projects and to provide predictive analysis. Works with programmers to create and implement mobile GIS applications that assist with geospatial data collection. Assists in the Department's migration to an Enterprise Geospatial Solution, teaches staff how to use and implement the geodatabase. Works closely with Information Technology Section staff to ensure good coordination on Geospatial issues; serves as a co-investigator on research projects helping to integrate geospatial solutions. Project work can include the development and use of predictive spatial models, cartographic requests, writing project documents and/or documentation of information; designs, initiates and implements projects with input from staff to aid in their day to day activities; evaluates spatial data needs for a project (which may include utilization of existing data, acquisition of non-MDC data, or data creation.) Designs and builds custom GIS applications for Department staff using GIS functionality; duties include: creating custom graphical user interfaces (buttons and tools) to enhance the use of GIS in completing the assigned task; developing menu-driven systems to allow staff to access, attribute, query and update GIS data and external databases; writing programs in various languages (Python, Visual Basic) to automate GIS processes and simplify tasks for the end user.
Strong oral and written communication skills are essential.

QUALIFICATIONS:
Graduation from an accredited college or university with a Bachelor's Degree in GIS, Geography, Natural Resources or closely related field and three years of GIS experience with an emphasis on geospatial database design and implementation. Preference will be given to candidates with a strong background in fisheries, aquatic and terrestrial ecology and ecological principles, research study and sample design with emphasis on temporal and spatial sampling, computer science, GIS and statistics.
Educational background in both natural resources and GIS are highly desirable.
CORE COMPETENCIES AND SPECIAL ABILITY REQUIREMENTS:
Ability to:
Accept all responsibilities of the job and assigned tasks.
Use provided computer technology to enhance the quality of work and programs.
Keep focused on understanding, anticipating and responding to the needs of customers.
Administer financial resources in a manner which instills public trust and accomplishes the Department's mission.
Accept constructive criticism and supervisory oversight on projects that are multi-divisional and involve many stakeholders.
Accept change and new information and cope with job pressure and stress.
Identify internal and external politics that impact the work of the Department.
Define a problem, analyze relevant information, develop solutions and solve problems.
Maintain focus and intensity, and remain optimistic and persistent even under adversity.
Develop and sustain cooperative working relationships.
Demonstrate technical proficiency in areas of responsibility.
Create and sustain an atmosphere in which timely, quality information flows between self and others and express facts and ideas in a convincing manner whether one-on-one or within or before groups.
Take a long-term view of the Department's or Unit's direction and articulate a vision which integrates key program goals, priorities, values and other factors.
Demonstrate regular and predictable attendance.
Be proficient in technical and administrative competencies.
Operate a motor vehicle and have or obtain a valid Driver License.
Express oneself clearly and concisely, both orally and in writing.
Provide quality customer service in a courteous and professional manner.
Travel and stay overnight.
Exercise independent judgment and take action on it.
Be self-motivated.
Work in a team-oriented collaborative environment.
Exhibit excellent analytical, mathematical and problem-solving skills.
Effectively prioritize and execute tasks while under pressure.
CONDITIONS OF EMPLOYMENT:
This position has been determined to be exempt according to the Fair Labor Standards Act. Employees must agree to accept compensatory time off in lieu of cash payments in accordance with the Department's Compensatory Time Off and Overtime policy.
Smoking is prohibited in all owned, rented or leased Department of Conservation offices, buildings, and similar facilities, in Department aircraft, and in vehicles.
The Department of Conservation will hire only United States citizens and aliens authorized to work in the United States. All new employees will be required to complete an "Employment Eligibility Verification" (Form I-9) and produce requested documentation after employment.
Candidates seeking initial or re-employment must submit to a drug screen following offer of employment.
All persons employed with the state of Missouri shall file all state income tax forms and pay all state income taxes owed.
How to Apply:
All applications must be received by April 27, 2015. Apply online at https://mdc5.mdc.mo.gov/recruitment/JobDetail.aspx?intPstID=1627
---
Transportation Transit/Research Planner II
Posted 03/23/2015
The Mid-America Regional Council (MARC), the metropolitan planning organization and association of city and county governments serving the bi-state Kansas City region, is seeking a Transportation Planner II to emphasize in short- and long-range transit planning and analysis.
Description
In 2014, MARC was awarded a USDOT Transportation Investments Generating Economic Recovery (TIGER) grant to support implementation planning related to increased job access and transit in the Kansas City region. This Planner II position will directly support this complex project by performing a broad range of functions involving transit service analysis, transit service scenario development and testing, calculating transit operating and service costs, plan development, and other tasks as assigned.
The Planner II will also support ongoing stakeholder and community engagement and the development of the region's long-range transit plan. This position is two-year grant-funded position expected to last through Jan 31, 2017. This position may be renewed as funding is identified to support ongoing regional transit planning.
Illustrative examples of work
The following represents the essential functions of this position. Additional duties may also be assigned and be essential to the successful performance of this position.
Analyzing and effectively communicate transit needs and gaps at a regional and sub-regional level.
Developing transit service scenarios and analyze capital and operating financial needs to fill identified gaps.
Supporting the ongoing engagement of community and employer stakeholders.
Assisting in reviewing and managing consultant work related to regional transit planning, land use and housing policy development, and public engagement.
Writing technical and policy reports as required.
Supporting agency and community committees, boards, and groups as assigned.
Managing project work and the corresponding budget, schedule, communications, and invoicing responsibilities as required.
Compiling and presenting data on various aspects of transit and transportation planning using a variety of computer software including databases, spreadsheets, geographic information systems, graphics and statistical software.
Conducting research and policy analyses using multiple methods of inquiry and research techniques.
Responding to questions from internal staff, the general public, government employees, elected officials, committee and board members, and others regarding agency activities and initiatives.
Attending, participating in and organizing meetings during office hours, evenings and weekends as needed.
Representing MARC at local, regional and community meetings and functions.
Additional Functions Beyond Life of Grant
Supporting the management of regional transit committees and technical teams.
Supporting the implementation of the regional long-range transit plan.
Undertaking, with minimum supervision, major projects, such as passenger surveys, fare study analysis, transit service reviews, major corridor studies, and passenger amenity studies.
Providing technical assistance and represent the Authority's interests on BRT, streetcar, light rail, commuter rail and related transit studies.
Providing technical assistance on identifying, studying and coordinating transit center, park and ride lots, bus stop improvements and passenger amenity siting and deployment.
Providing community liaison for contract communities as assigned.
Researching service modification inquiries as assigned.
Assisting in ridership and revenue projections for budget purposes.
Qualifications
This position requires a master's degree in transportation planning, regional planning, geography, or closely related field and at least two years of related work experience. AICP certification preferred. This position requires an individual with competence in the following:
Knowledge of the principles and practices of: urban and regional planning, transportation planning, community planning, transit planning, transit service design, financial analysis, and knowledge of public transit operations.
Thorough knowledge of the principles of research, standard statistical procedures, sources of planning information, and techniques used in the preparation of materials for presentation.
Analytical abilities required to integrate and interpret data from various sources, to produce information and reports, and to develop, evaluate, and present planning information and analysis.
Interpersonal skills necessary to effectively interact and communicate with internal staff, the general public, outside organizations and stakeholders, and elected officials.
Excellent written and oral communication skills and an exceptional ability to interact positively with diverse residents and stakeholders.
Skills in operating computer programs using spreadsheet, database, word processing, and other planning-specific programs.
Skills and demonstrable experience in using geographic information systems.
Skills in managing projects and the corresponding budgets, schedules, and general communications.
Knowledge of federal and local processes, planning requirements and grant programs.
Ability to work without supervision on major studies or projects and meet deadlines.
Ability to work as part of a team-oriented environment.
Ability and experience in supporting and facilitating committees, boards, and project teams.
Skills in grant research and writing preferred.
How to Apply
Starting salary for a Planner II is $44,015 to $55,018, depending upon qualifications. MARC offers an attractive team-oriented work environment along with a competitive fringe benefit package. For more information about the program and to apply please visit our website at www.marc.org/jobs.
The Mid-America Regional Council is an Equal Opportunity Employer /M/F/V/D.
---
Summer 2015 Internships
Posted 03/16/2015
Internships at Renew Missouri provide students and community members with an inside look into how a non-profit works, while educating them on statewide and national energy policy. Internships are unpaid, however they have the opportunity to turn into part-time or full-time positions. Check out the descriptionsbelow and apply by emailing a resume, cover letter and writing sample in PDF format to apply@renewmo.org. The deadline is April 17, 2015.
•Event Organizer Internship
•Social Media Internship
•Public Relations Internship
•Finance Internship
•Non-Profit Development Internship
•Policy Internship •Legal Internship
More information http://www.renewmo.org/internships.html
---
Geographic Information System (GIS) Technician (Temporary)
Posted 03/09/2015
Alliance Water Resources is a professional contract operations, maintenance and management firm specializing in municipal and district water and sewer utilities in Missouri, Iowa, and Tennessee. As a part of our utility management services, we provide accounting, billing, and financial management services to our local operations and client communities. We are currently seeking applicants to assist with technical and training responsibilities for data acquisition and integration with in an enterprise GIS database at our St. Charles County, Missouri division. This position will be tasked with acquiring data utilizing a GPS field unit, data entry, and analysis. The successful candidate must possess a HS diploma or GED; and will be required to use and maintain tools, equipment and computers associated with the work. Preferred qualifications include knowledge of the principles and practices of Geographic Information Systems (GIS), Geography, Civil Engineering, or a closely related field; knowledge of computers and job related software programs (ArcMap, word processing, spreadsheet, and database applications); and the ability to read maps and navigate. Applicant must possess and maintain a valid Missouri driver's license.
This position is expected to start mid-May and end in mid-August. Salary is $13.00 per hour.
Application can be submitted on Alliance Water Resources' website at www.alliancewater.com/careeropportunities
---
GIS Programmer, Olin Library
Posted 03/09/2015
Location: Danforth - Main Campus. Job ID 30167
Essential Functions
Reporting to the Director of Data & GIS Services, this position is responsible for providing GIS programming and analysis support to the University community. Typical duties include scoping, designing, development and delivery of GIS solutions in support of faculty led research and student academics.
Perform assigned programming tasks, including working with faculty and staff on a variety of projects related to GIS implementation, projects range from coding to full programmatic implementation of applications and support.
Assist students, faculty and staff on GIS related projects.
Provide training and support to users. Instruct faculty and staff on how to use the software and how to utilize programming and GIS on their project.
Perform server Administration tasks including installation and maintenance of GIS server software, GIS webpage content updates, and working with University IT group on server related issue.
Works with development team in University Libraries on GIS and data related project tasks.
Required Qualifications
Bachelor's degree in information science, library systems, math, engineering, or closely related field; plus 2 years of demonstrated experience in GIS programming.
Experience in working with enterprise level database management systems.
Desire to work in professional service oriented role interacting with faculty and students on research projects.
Experience in contributing to fast paced teams and working with minimal direction. Ability to develop big picture ideas to concrete deliverables. Demonstrated success in complex systems and problem solving.
Energy, creativity, strong organizational skills, tolerance for occasional project ambiguity, and ability to work unsupervised or as a member of a team. Demonstrated ability to scope and meet project deadlines.
Preferred Qualifications
Advanced degree in in information science, library systems, math, engineering, or closely related field.
Demonstrated problem assessment, project scoping and operational problem solving skills, aptitude for assessing and incorporating new technologies.
Working knowledge of Windows, Linux, VMs, XML, Fedora, Python Javascript or similar environments a plus.
Salary Range
The hiring range for this position is $ 3,630 to $ 4,719 monthly.
Benefits
-Retirement Savings Plan
-22 vacation days
-8 Paid Holidays
-Sick Time
-Tuition benefits for employee, spouse and dependent children
-Free Metro Link/ Bus pass
-Free Life Insurance
-Health, Dental, Vision
-Health Savings Accounts (HSA)
-Long Term Disability Insurance
-Flex Spending Plan
-Other Benefits
Human Resources website (hr.wustl.edu)
EOE Statement
All qualified applicants will receive consideration for employment without regard to sex, race, ethnicity, protected veteran, or disability status.
---
GIS Coordinator / Manager of Technical Services
Posted 02/11/2015
The City of Topeka's Public Works Department, nationally recognized through accreditation by the American Public Works Association, strives to meet our current and future needs. A well-run organization consisting of Engineering, Internal Services, Mapping, and Utilities ensures public funds are spent on projects and services approved by Topeka citizens through their City Council representatives.
The City of Topeka is seeking qualified applicants for the Manager of the Technical Support division of the Public Works Department. The position is responsible for the overall performance, integrity and operations of the City's Geographic Information System (GIS) and the "Cityworks" Maintenance System and employees. Duties include supervising technicians, coordinating resources, designing and implementing programs, monitoring system performance, maintaining system security and utilizing system to produce related products as needed.
Minimum qualifications include graduation from an accredited four year college or university with a Bachelor's degree in Business, Geography, Engineering, Construction Science, Information Systems or a closely related field. Must have five years of specific experience in GIS and database administration with related experience in areas of information systems management, SQL server administration, UNIX and Microsoft Windows operating systems, ArcInfo and ArcGIS. Must have and maintain a valid driver's license and city insurable driving record.
Annual Entry Salary: $54,394 - $68,016 DOQ
Full position description: www.topeka.org/humanresources/jobs/MANAGER-TECH-SUPPORT-1-2015.pdf
Located 60 miles west of KCMO on I-70, the City of Topeka is the municipal government for the capital city of Kansas and the seat of Shawnee County.
Topeka offers a quality living experience at a below average cost. In 2010 Topeka was named in "Kiplinger's Personal Finance list of Top Ten Cities for the Next Decade", citing the quality of schools, good hospitals, and low housing costs among the reasons for Topeka being included. Topeka's cost of living is attractive when compared to other mid-western cities. www.topeka.org
Public works Dept. http://www.topeka.org/PublicWorks/
To be considered for this position, please complete a City of Topeka electronic employment application available at www.topeka.org/jobs.shtml. Position open until filled, interested persons are encouraged to apply immediately.
---