Jobs Page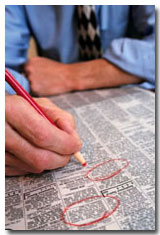 This page was last updated:
Free Ads: Any job announcements submitted to MSDIS directly from not for profit organizations, local/state/federal government and educational institutions will be added to this page free of charge.
Paid Ads: A listing fee of $40 per job ad applies to for profit organizations (private companies, recruitment agencies - or any third party acting as a recruitment agency on behalf of any organization eligible for free ads - and government or military subcontractors) to post a job vacancy on MSDIS jobs page. Paid job ads must be faxed to MSDIS using the official job ad order form (http://www.msdis.missouri.edu/community/jobadreq.pdf) . Only payment by credit card is accepted. Advertising on MSDIS jobs page is a great way to fill your vacancies. MSDIS jobs page receives 1500 - 2000 unique visitors per month and is consistently the 3rd most popular page on the MSDIS web site.
MSDIS RSS Jobs Feed and MSDIS Twitter Feed. For an additional fee of only $10 per service, for profit organizations posting paid job ads can opt to have their posting added to the MSDIS RSS Jobs feed or Twitter feed. If you would like to take advantage of these services just check the appropriate box(es) on the job ad request form.
We will not search the web, etc. for jobs. If you would like to take advantage of this medium, please submit your job announcements to:
MSDIS email:
Fax: 573-884-4239
Announcements with no closing date will remain on this page for three months from the posting date.
Announcements with a closing date will remain on this page until one week after the closing date.
Quick Jobs Index (click the title for detailed job description)
Available Positions



Position Title
Location
Organization
Salary Range
Closing Date
GIS Analyst
Gardner, KS
City of Gardner
$53,892 - $78,336
Until Filled
Mapping Technical Support
St. Louis, MO
Seiler Instrument & Mfg Co., Inc.
?
Until Filled
Fisheries Information Systems Manager
Jefferson city, MO
Missouri Dept. of Conservation
$40,140 to $70,812
11/30/14
Aquifer Data Management Supervisor
San Antonio, TX
Edwards Aquifer Authority
$65,795.60
11/07/14
GIS Analyst
Whiteman AFB, MO
National Security Solutions
?
?
Cartography Technician
Olathe, KS
Garmin International
?
Until Filled
GIS Technician
St. Charles, MO
St. Charles County
$32,692
Until Filled
Assistant Professor of Geographic Information Systems
Lawrence, KS
University of Kansas
?
12/01/2014
Programmer Analyst
Columbia, MO
University of Missouri, School of Health Professions
?
Until Filled
Database Programmer Analyst
Columbia, MO
University of Missouri
?
Until Filled
Other Employment Resources
The GIS Jobs Clearinghouse: http://www.gjc.org/
---
GIS Anayst
Posted 10/29/2014
Salary: $53,892 - $78,336/yr. – EXEMPT – Responsible for performing technical and professional level work maintaining and expanding the geographic information systems (GIS) databases, layers and linkages to various databases for the Public Works Department.  The GIS Analyst works under the direction of the City Engineer with a variety of responsibilities that include, but are not limited to: GIS program planning, management and coordination, GIS and infrastructure mapping and database management and maintenance of the GIS internet/intranet sites. Work involves creating and updating public and associated private infrastructure GIS datasets; map production using ArcGIS software suite; database manipulation and data entry; and maintaining records of installed infrastructure.  Bachelor's degree in geography, business or public administration, engineering, computer science, or related field, and a minimum of three (3) years of progressively responsible experience involving GIS operations, database design and maintenance, or related field, or any equivalent combination of education and experience that provides the required knowledge, skills, and abilities. Hours M-F; 8:00 AM – 5:00 PM.  Application Deadline:  Open Until Filled with First Review 11/17/14. 
Application and job description available at City Hall or on-line at
www.gardnerkansas.gov
Submit completed application to City of Gardner, HR Department, 120 E. Main, Gardner, KS, 66030.  All offers of employment are conditional upon the successful completion of a post offer physical exam, drug screen, and background check including driving record. EOE
---
Mapping Technical Support
Posted 10/29/2014
Seiler Instrument Company is seeking candidates who would be responsible for providing technical support to all Seiler Instrument mapping customers.  The primary responsibilities of the Mapping Technical Support position include:
Assist sales associates by providing technical support, installation, and short training courses to customers for pre and post sales of products.
Perform basic service repairs as well as coordinate with service technicians on other item repairs.
Provide customer service by following up on repairs, training customers on hardware and software, and coordinating with the customer and sales staff to rectify equipment problems. 
Handle high end support cases for the Trimble product line.
Lead training sessions to keep the Mapping team informed of product developments.
Assist in order processing
Candidate must have a Bachelors Degree in a GIS related field or a minimum of 4 years experience working with GIS/GPS technology.  ESRI knowledge is a plus and prior experience with construction project and sales processes, especially pertaining to general contractors and subcontractors, is preferred.  Candidates must be proficient in computer software including Microsoft Office products and Customer Relationship Management (CRM) products.  Excellent verbal and written communication, multi-tasking, and organizational skills are a must.  Candidates must have the ability to articulate technical material, define problems, and collect data.
Seiler Instrument Company offers a generous benefit package which includes medical, dental, life insurance, profit sharing and 401(k). 
If interested in this opportunity, please email your resume hr@seilerinst.com.
For additional information about Seiler Instrument, please visit our website at:  www.seilerinst.com
This Company is an Equal Opportunity Employer and shall abide by the requirements of 41 CFR §§ 60-1.4(a), 60-300.5(a) and 60-741.5(a). These regulations prohibit discrimination against qualified individuals based on their race, color, religions, sex, or national origin. Moreover, these regulations requires that covered prime contractors and subcontractors take affirmative action to employ and advance in employment individuals with regard to race, color, religion, sex, national origin, protected veteran status or disability.
This position requires access to export controlled articles, technical data, technology and services. U.S. citizenship, U.S. legal permanent resident status, protected person status under 8 U.S.C. § 1324b(a)(3), or a U.S. government export authorization is required. Any offer of employment is contingent upon Seiler Instrument & Manufacturing Co., Inc. obtaining the necessary export authorization, including, if required, an export license from the U.S. Department of Commerce, Bureau of Industry Security, the U.S. Department of State, Directorate of Defense Trade Controls, or other applicable government agency.
---
Fisheries Information Systems Manager
Posted 10/28/2014
LOCATION: Position is located at the Conservation Headquarters, Jefferson City, Missouri. Position is in the Fisheries Division.
SALARY RANGE: Annually $40,140 to $70,812
Estimated beginning salary will commensurate with work experience.
HOW TO APPLY: Apply on-line at: http://www.mdc.mo.gov/about/jobs
If you need assistance, please call (573) 751-4115, ext. 3687.
CLOSING DATE: You must apply by Sunday, November 30, 2014.
QUALIFICATIONS:
B.S. or B.A. in fisheries or other closely related field with substantial coursework or formal training in GIS and information systems or B.S. or B.A. in computer science, geography or other closely related field with substantial coursework or formal training in fisheries or other natural resource fields. (A Master's Degree in the above area will substitute for the two (2) years of experience.) Five years of related professional experience. Two years of experience in fisheries field work and two years of experience in spatial analysis is desirable.
Visit www.mdc.mo.gov/about/jobs for a full job description and other openings.
---
Aquifer Data Management Supervisor
Posted 10/28/2014
Position open to both Internal and External Applicants
Position Opens: 10/27/14
Position Closes: 11/07/14
Full -Time Position
Exempt Status
EDWARDS AQUIFER AUTHORITY
JOB POSTING - PVA# 12-14
POSITION: Aquifer Data Management Supervisor
REPORTING SUPERVISOR: Director
DIVISION: Aquifer Management Services
DEPARTMENT: Modeling & Data Management
ANNUALIZED SALARY: $65,795.60
BASIC FUNCTION:
Supervises and coordinates the data management activities that support scientific investigations and technical analyses of the Edwards Aquifer.
DESCRIPTION:
Coordinates the development and implementation of a data management program for data collected to support aquifer scientific studies and technical analyses, including aquifer water levels, well pumping volumes, water quality analyses, rainfall and weather station data, stream flows, spring flows, and geologic and geophysical data; interfaces with other departments to facilitate their access to high-quality data; coordinates with the Information Technology department to advise on computer hardware and software resources needed for effective data management; advises supervisor on best practices for data management and data quality; prepares technical reports and operating procedures; makes technical presentations to inform staff and the general public on data availability and access; develops database queries to access data in required format and content; uses geographic information systems (GIS) to evaluate and display data in a spatial context; may participate in field data collection, analysis, and interpretation; contributes to the annual planning and budgeting process; supervises staff; and performs other duties as assigned by the supervisor.
EDUCATIONAL/EXPERIENCE REQUIREMENTS:
Master's degree Computer Information Systems or Geographic Information systems, or closely related field; plus minimum of two years' experience in data management is required, of which one year must be in a supervisory capacity; or Bachelor's degree plus minimum of four years' experience in data management is required, of which one year must be in a supervisory capacity; knowledge and experience with SQL programming language is required; knowledge and experience using geographic information systems, preferably ArcGIS, to visualize, process, and evaluate data in a spatial context is also required; some familiarity in programming with HTML, PHP, or ASP.net to support data access through web interfaces or web services will be a strong plus; experience using other programming languages such as Visual Basic, C#, C++, or Python to process and evaluate data, and familiarity with real-time data collection systems are preferred; must possess excellent written, oral, time management and organizational skills and the ability to exercise initiative, independent judgment and responsibility; a valid driver's license; and ability to operate a motor vehicle.
PHYSICAL REQUIREMENTS:
Job performance may require: listening, seeing, sitting, talking; occasional reaching, grasping, lifting, handling, pulling or pushing, balancing and carrying of items such as boxes of materials, books, etc. with weights not exceeding 25 pounds; limited walking, standing, stooping, and bending; some irregular hours and long workdays and moderate levels of stress. Job is performed primarily in an office environment with infrequent trips to other offices and limited exposure to weather conditions.
Applications will be accepted through 4:30 p.m November 7, 2014. Completion of an application is required. Applications
may be obtained from our website, www.edwardsaquifer.org, at the Edwards Aquifer Authority located at 900 E. Quincy, San Antonio,
TX 78215 or by calling (210) 222-2204.
EOE/Drug Test Required
www.edwardsaquifer.org
---
GIS Analyst
Posted 10/15/2014
GIS Analyst (GeoBase) - Requisition ID 063264
https://l3com.taleo.net/careersection/l3_ext_us/jobdetail.ftl?job=063264
USA-Missouri-Whiteman AFB

Description
L-3 National Security Solutions is seeking an experienced GIS Analyst to support a government client at Whiteman AFB, MO.
We Are Seeking A Team Player with experience implementing Geospatial Solutions in support of military facilities, infrastructure, environment, and asset management missions to improve business processes and decision making capabilities.
•Experience with the Air Force GeoBase program and the Spatial Data Standards for Facilities, Infrastructure, and Environment (SDSFIE) is desired.
•The ideal candidate will have a minimum of five years of experience implementing GIS Solutions in an enterprise environment using Esri's Desktop and Server software in combination with Oracle or other relational database management software.
•The position requires current, intensive experience editing and managing Vector and Raster Data in a production enterprise Oracle/ArcSDE Geodatabase.
•Experience with Oracle Database Administration, Windows Server Administration, and web software development in combination with Esri's ArcGIS Server technology is strongly desired.
*LI-DD1

Qualifications

Required Qualifications:
•B.S. degree in a Scientific or Technical discipline.
•Five years of experience with the use and administration of Esri's ArcGIS Desktop and Server solutions.
•Experience with GIS data development and integrating enterprise geospatial applications into new and existing business processes.
•Excellent attention to detail, organizational, and interpersonal skills.
•Strong communication (written, verbal, public speaking) skills.
•Self-motivated and an ability to work with minimal supervision.
•CompTIA's Security+ certification or ability to obtain certification.
•Current US DOD SECRET security clearance.


Desired Qualifications:
•M.S. degree in a Scientific or Technical discipline.
•Experience with and knowledge of advanced relational database concepts.
•Previous Air Force or other military experience.
•Experience with the US Air Force GeoBase Program.
•Experience with Autodesk's AutoCAD 3D Map.
•Experience with Trimble's resource/mapping and survey grade GPS solutions.
•Knowledge of SDSFIE.
•Programming and scripting experience.

L-3 is a prime contractor in aerospace systems and national security solutions. L-3 is also a leading provider of a broad range of communication and electronic systems and products used on military and commercial platforms.
L-3 National Security Solutions (L-3 NSS) is one of four segments of L-3. L-3 NSS specializes in full-spectrum cyber operations, enterprise and mission IT, intelligence operations support, and operational infrastructure solutions.
We offer a competitive benefits package to include: paid holidays, paid time off, medical, dental, vision, flexible spending account, long and short term disability and company paid life insurance, 401 Employee Stock Purchase Plan, referral bonuses and tuition reimbursement.
L-3 NSS is an equal opportunity employer. We encourage minorities, women, protected veterans and disabled individuals to apply. We maintain a drug-free workplace and perform pre-employment substance abuse testing to include background checks.

EOE/Minorities/Women/Protected Veterans/Disabled

Turn your interest into action, apply today! If your background matches the requirements, you will be contacted by one of our Recruiters!
US Security Clearance Required: Secret
Schedule: Full-time
Shift: Day - 1st
Travel: Yes, 10 % of the Time
---
Cartography Technician
Posted 10/10/2014
Associates get the royal treatment at Garmin. Regardless if you're a newbie or a veteran, engineers dream it, design it and use it. Here, you will be surrounded by others who share the same passion about what they do every day. We offer a relaxed team environment (no dress code!) where advancement is found from sharing knowledge, not hiding it! While we promise you a lot of responsibility, you also will have the opportunity to have ownership over projects…oh, and we promise you there will be some fun mixed in there, too!
Left or right? East or west? Our cartography technicians have the know-how to make sure our products don't steer you wrong. Responsible for the attribution, maintenance and digitization of cartographic data, our technicians assist engineering in researching, defining, creating and evaluating all maps used in Garmin products. Heading out for a day on the water? Our technicians had a hand in creating that marine map. Going hiking in the Rockies? Yep, they did that too. Sightseeing on the streets of Paris? Ditto again. Our technicians maintain all of that geographic data using custom and 3rd party software so you always know where to go. Come on, what are you waiting for – are you ready to follow the leader?
We're seeking full time Cartography Technicians for our office in Olathe, KS, to partner with our engineering teams in the research, definition, creation and evaluations of maps produced for use in Garmin products.
Essential functions for this role include:
Edit, manipulate and maintain geographic data using custom and 3rd party software
Ensure the application of cartographic specifications to the data
Help evaluate and process database updates according to established methodology
Assist in map generation and product compilation
Conduct testing and evaluation of Garmin cartography products
Perform established operations for quality assurance
Continuous growth and evolve with engineering technology
Qualifications
A Bachelor's Degree in cartography or geography with a minimum 3.0 GPA or a minimum of 4 years experience performing a role substantially similar to the essential functions of this job description is required. Qualified candidates will possess a basic understanding of geo-databases and a working knowledge of cartography and geography relevant to Garmin's business needs. Proficient computer skills, including familiarity with PC applications and Windows Operating System (OS) and typing skills with the ability to type 30 wpm are also musts! Other required qualifications include:
Must be detail-oriented and have the ability to work proactively and effectively with minimal supervision
Ability to prioritize and multi-task in a flexible, fast paced and challenging environment
Demonstrated strong and effective verbal, written, and interpersonal communication skills
Ability to work and thrive in a sophisticated technical environment
Candidates who are familiar with ArcGIS or other GIS applications, GIS principles and methodologies, and/or possess experience using a GPS device are preferred. Bilingual skills are also a plus!
At Garmin, we like to laugh, have fun and work hard. It comes easily when you work on cool products with hard-working individuals who share the same passion. We offer numerous opportunities to get involved – kickball anyone? – and believe strongly in a work-life balance so your creativity can flow.
At Garmin, we like to laugh, have fun and work hard. It comes easily when you work on cool products with hard-working individuals who share the same passion. We offer numerous opportunities to get involved – kickball anyone? – and believe strongly in a work-life balance so your creativity can flow.
Garmin offers one of the most comprehensive compensation and benefit plans around. We offer extensive health care coverage with little to no contributions, depending on the plan. Plus, we offer dental insurance, an employee stock purchase plan, a Retirement Plan, and much more….trust us, it doesn't get much better than this. Unless of course, you want to talk table tennis, fitness spaces, product discounts….come on, what are you waiting for? Apply today.
EEO/AA/Minorities/Females/Disabled/Veterans
**To be considered please apply online at http://www.garmin.com/careers
---
GIS Technician
Posted 10/06/2014
This is a full-time, 40 hour per week position which includes a full range of benefits including Paid Time Off, Extended Medical Leave, Holidays, Employee health, dental, life, disability, retirement and tuition assistance programs.
JOB DESCRIPTION:
Performs visual and computer quality control checks on facility and/or land base data. Ensures map products reflect correct geographic location of facilities and have standard of cartographic quality. Creates, designs, maintains, and conducts quality control of the County database used in GIS to explain location and information of property attributes including utilities, trails, natural resources, park boundaries, and facilities. Using ESRI's editor tools, make corrections, close and map backlog work log. Plot maps for use in field locations. Collects data using GIS / GPS equipment. Creates maps, spreadsheets, charts and reports for use in land planning, property acquisitions, design and construction planning, lease agreements, facilities management, public information, and informational purposes. Collects, analyzes, interprets, and edits geographic information provided by GPS, surveys, aerial photography, and GIS. Designs, manages, and maintains quality assurance of GIS database. Responds to inquiries for needed mapping from county departments and the general public. Performs related work as required.
REQUIREMENTS:
Requires an Associate's degree in GIS or related field, and one year GIS experience. A combination of education and experience that provides equivalent knowledge, skills, and abilities may be considered. Working knowledge of ArcGIS software as well as experience with data collection using GPS equipment is preferred. Must be able to work independently. Must have excellent written and verbal communication skills. Must possess technical skills plus the ability to successfully interact with various constituents including elected officials, department heads, staff members, contractors, vendors as well as the general public.
TO APPLY: All applications must be submitted only through our Self-Service Website at
http://hr.sccmo.org/hr/ We do not accept faxed, e-mailed or print applications. For your convenience, if needed, terminals are available on site at the HR Dept., 201 N. Second St., Room 519, St. Charles, MO 63301 Monday – Friday 8:00 am – 5:00 pm.
Applications will be accepted on a continuing basis until the position is filled or a sufficient number of qualified candidates have applied.
St. Charles County is an Equal Opportunity Employer. In compliance with the Americans with Disabilities Act, the County will provide reasonable accommodations to qualified individuals with disabilities and encourages both prospective and current employees to discuss potential accommodations with the employer. St. Charles County is a drug and alcohol free work place. A pre-employment drug screen is required for all positions.
---
Assistant Professor (GIS)
Posted 10/02/2014
The Department of Geography at the University of Kansas invites applications for a tenure-track Assistant Professor position in Geographic Information Systems (GIS). The successful candidate should have a research focus in one or more of the following areas: geovisualization and visual analytics, spatial statistics and modeling, spatial optimization and algorithm development, or data mining and machine learning. The candidate also should be able to apply computational methods to one or more of the following areas of study: transportation and urban planning, population and public health/safety, social networks, and human-environment interactions. The candidate should be prepared to participate and develop research clusters in accordance with campus-wide strategic initiatives and to participate and develop new interdisciplinary degrees and certificate programs in GIS. The faculty member is expected to develop a successful, externally funded research program, and write and publish in the specialty of GIS; develop and teach courses at the undergraduate and graduate levels; serve on graduate student committees, direct theses and dissertations, and perform advising responsibilities; and serve on Departmental, College, and University committees.
The Geography department has M.A., M.S., and Ph.D. degrees and an Atmospheric Science program that has its own B.S. and M.S. degrees. The department has a Cartography Lab and several state-of-the-art computer labs for teaching and research. The department also maintains collaborations with other departments and KU research units such as the Kansas Biological Survey, Kansas Geological Survey, Biodiversity Institute, Center for Global & International Studies, Center for Transportation Research, and Information and Telecommunication Center. Refer to www.geog.ku.edu for additional information about the department and the University of Kansas.
Appointment is expected to begin as early as August 18, 2015. Ph.D. in Geography or a related discipline is expected by the start date. Additional qualifications include: (1) demonstrated preparation to teach beginning and advanced courses in GIS; (2) demonstrated ability to work in interdisciplinary and collaborative environments; and (3) demonstrated potential for excellence in research.
For a complete description and to apply on-line go to https://employment.ku.edu/academic/1913BR or https://employment.ku.edu/academic-jobs and search openings by keyword [GIS]. A complete application will include a letter of application, statements of research and teaching interests, a curriculum vitae, and the full names and contact information for three references. For further information please contact Xingong Li, Department of Geography, 213 Lindley Hall, University of Kansas, Lawrence, KS 66045 (tel: 1-785-864-5545 fax: 1-785-864-5378, e-mail: lixi@ku.edu). Initial review of applications will begin December 1, 2014, and will continue as long as needed to identify a qualified pool. The University of Kansas is especially interested in hiring faculty members who can contribute to the climate of diversity in the College of Liberal Arts and Sciences, including a diversity of scholarly approaches, and four key campus-wide strategic initiatives: (1) Sustaining the Planet, Powering the World; (2) Promoting Well-Being, Finding Cures; (3) Building Communities, Expanding Opportunities; and (4) Harnessing Information, Multiplying Knowledge. For more information see http://www.provost.ku.edu/strategic-plan/initiatives.
The University of Kansas prohibits discrimination on the basis of race, color, ethnicity, religion, sex, national origin, age, ancestry, disability, status as a veteran, sexual orientation, marital status, parental status, retaliation, gender identity, gender expression and genetic information in the University's programs and activities. The following person has been designated to handle inquiries regarding the non-discrimination policies and is the University's Title IX Coordinator: the Executive Director of the Office of Institutional Opportunity and Access, IOA@ku.edu, 1246 W. Campus Road, Room 153A, Lawrence, KS, 66045, (785) 864-6414, 711 TTY.
---
Programmer Analyst
Posted 09/24/2014
Summary: Develop and maintain the School of Health Profession's websites, internet, and intranet presence. Develop and maintain custom web applications that support departments in the division. Communicate and collaborate with faculty, staff and students from within the division, and other partners throughout the University.

Duties:
Program and analyze work to automate and improve operating processes, capture and report information, automate content integration, etc. using appropriate technology.
Apply judgment in devising custom programming by adapting standard procedures; resolve problems and deviations according to established practices and obtain advice when needed.

Assess complexity of user requests and prepare time estimates for project development. Conduct detailed feasibility studies, develop project plans and production schedules for approved requests. Prepare and maintain appropriate documentation on all programs and systems.

Create, maintain, monitor, update, write and respond with appropriate content in digital media and online media channels and strategically looks ahead for future channels and trends to enhance our brand. Ensure adherence to system graphic identity standards, editorial standards, copyright compliance, ADA compliance, HIPAA regulations and web accessibility standards. Ensure that all digital media content: is up-to-date and accurate; is well-crafted and engaging; Contribute to multimedia content such as video, photos, design files and copy for social media and websites. Collaborate with other staff as well as other departments for appropriate use of digital/social media with regard to events, advertising campaigns, and promotions.

Assist Web content owners on maintaining their Web pages in a manner that complies with established technical, navigational, imagery and aesthetic standards; coordinate content owner and technical support activities required to create and maintain information and processes authorized for inclusion in the MU Health Care Web pages.

Respond to the requirements of content owners by creating appropriate displays, text and imagery for the website, consistent with established guidelines. Support may include activities such as writing original text, editing text from content owners, creating website graphics, editing photographs, and creating and editing Web-based multimedia files.
Develop measurement and reporting that will enable tangible ROI analysis.
Train internal audiences on social media engagement and best practices.
Assist in crisis communications both in relevant digital/social media duties as well as other necessary functions as determined by Director of Communication.
Assist the Communications Director with digital communication efforts and other duties as assigned.
For more information and to apply: http://hrs.missouri.edu/find-a-job/staff/index.php (Job Opening 14114)
Cathi Veach
Human Resources Manager
School of Health Professions
University of Missouri
507 Lewis Hall
Columbia, MO 65211
(573)884-9495
MU School of Health Professions
---
Database Programmer Analyst
Posted 04/09/2014
We are seeking an individual to support computing resources and develop solutions to provide various statewide user groups access to data and other cyberinfrastructure deliverables of the Missouri Transect, a new five-year project supported by the National Science Foundation's Experimental Program to Stimulate Competitive Research (EPSCoR). Over 30 investigators from nine institutions across the state are collaborating to investigate the impact of climate variability on urban and rural communities, plant productivity and natural ecosystems. The research and education activities are focused on understanding, modeling, and predicting short- and long-term trends in temperature and water availability; evaluating the impact of these trends on the productivity of native flora and agricultural crops; and assessing how different stakeholder communities are likely to respond to changing climate. The Missouri Transect will also support workforce development in three areas: undergraduate and graduate education; bioinformatics training for women, minorities and people with disabilities; and job training.
 
The Database Programmer Analyst will work with a cyberinfrastructure team that includes researchers at the University of Missouri-Columbia, Washington University and the Danforth Plant Science Center, to develop computational tools and resources to support the entire Missouri Transect project. The team will focus on big data analytics to model high resolution climate, remote sensing, plant phenotype, imaging and genomics data. The computational resources will also be used to train students and researchers to creatively explore massive biological and environmental datasets, and to support outreach activities that inform the general public about climate variability and its predicted effects on agriculture and the environment. Responsibilities of the DB Programmer Analyst include 1) designing and developing web applications for access to Missouri Transect data, analytical tools and educational resources, 2) developing applications and standard operating procedures for research data submission and curation, 3) working with researchers to manage data, 4) implementing and maintaining an administrative reporting system, 5) developing tutorials and documentation for various user groups, 6) supporting course development and user training of CI solutions in conjunction with the principal investigators, 7) performing Linux system user administration and application support.
 
Qualifications:
Required: A bachelor's degree and at least three years of relevant employment experience, including web design, web application development and Linux system administration; excellent communication skills; experience with Linux, HTML5, Drupal, CSS, MySQL/PostgreSQL, PHP or other web language.
Preferred: Experience with LDAP, Linux security, MatLab, R and C programming.
 
For more information about the Missouri Transect:
http://munews.missouri.edu/news-releases/2014/0805-missouri-research-consortium-receives-20-million-grant-from-national-science-foundation-to-study-impacts-of-climate-variability
 
http://coas.missouri.edu/news/2014/transect-grant.shtml
 
To apply online:
See Job ID 14240 "DB Programmer Analyst" on the University of Missouri Human Resources website:
https://myhr.umsystem.edu/psp/tamext/COLUM/HRMS/c/HRS_HRAM.HRS_CE.GBL?Page=HRS_CE_JOB_DTL&Action=A&JobOpeningId=14240&SiteId=6&PostingSeq=1
---