Jobs Page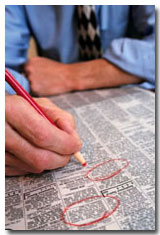 This page was last updated:
Free Ads: Any job announcements submitted to MSDIS directly from not for profit organizations, local/state/federal government and educational institutions will be added to this page free of charge.
Paid Ads: A listing fee of $40 per job ad applies to for profit organizations (private companies, recruitment agencies - or any third party acting as a recruitment agency on behalf of any organization eligible for free ads - and government or military subcontractors) to post a job vacancy on MSDIS jobs page. Paid job ads must be faxed to MSDIS using the official job ad order form (http://www.msdis.missouri.edu/community/jobadreq.pdf) . Only payment by credit card is accepted. Advertising on MSDIS jobs page is a great way to fill your vacancies. MSDIS jobs page receives 1500 - 2000 unique visitors per month and is consistently the 3rd most popular page on the MSDIS web site.
MSDIS RSS Jobs Feed and MSDIS Twitter Feed. For an additional fee of only $10 per service, for profit organizations posting paid job ads can opt to have their posting added to the MSDIS RSS Jobs feed or Twitter feed. If you would like to take advantage of these services just check the appropriate box(es) on the job ad request form.
We will not search the web, etc. for jobs. If you would like to take advantage of this medium, please submit your job announcements to:
MSDIS email:
Fax: 573-884-4239
Announcements with no closing date will remain on this page for three months from the posting date.
Announcements with a closing date will remain on this page until one week after the closing date.
Quick Jobs Index (click the title for detailed job description)
Available Positions



Position Title
Location
Organization
Salary Range
Closing Date
Cartography Technicians
Olathe, KS
Garmin International
?
?
GIS/Asset Management Analyst
Republic, MO
City of Republic
$18.29 - $20.00 per hour
07/29/2015
GIS Analyst
Des Moines, IA
City of Des Moines
$31.81 - $38.31 per hour
08/14/2015
GIS Planner
Concordia, MO
Pioneer Trails Regional Planning Commission
$27,000 - $29,000
08/07/2015
Geospatial Technical Support
St. Louis, MO
Seiler Instrument Company
?
Until Filled
GIS Manager
Kansas City, MO
Mid-America Regional Council (MARC)
$74,195 to $94,598
Until Filled
Other Employment Resources
The GIS Jobs Clearinghouse: http://www.gjc.org/
---
Cartography Technicians
Posted 07/24/2015
Associates get the royal treatment at Garmin. Regardless if you're a newbie or a veteran, engineers dream it, design it and use it. Here, you will be surrounded by others who share the same passion about what they do every day. We offer a relaxed team environment (no dress code!) where advancement is found from sharing knowledge, not hiding it! While we promise you a lot of responsibility, you also will have the opportunity to have ownership over projects…oh, and we promise you there will be some fun mixed in there, too!
Left or right? East or west? Our cartography technicians have the know-how to make sure our products don't steer you wrong. Responsible for the attribution, maintenance and digitization of cartographic data, our technicians assist engineering in researching, defining, creating and evaluating all maps used in Garmin products. Heading out for a day on the water? Our technicians had a hand in creating that marine map. Going hiking in the Rockies? Yep, they did that too. Sightseeing on the streets of Paris? Ditto again. Our technicians maintain all of that geographic data using custom and 3rd party software so you always know where to go. Come on, what are you waiting for – are you ready to follow the leader?
We're seeking full time Cartography Technicians for our office in Olathe, KS (Kansas City), to partner with our engineering teams in the research, definition, creation and evaluations of maps produced for use in Garmin products.
Essential functions for this role include:
Edit, manipulate and maintain geographic data using custom and 3rd party software
Ensure the application of cartographic specifications to the data
Help evaluate and process database updates according to established methodology
Assist in map generation and product compilation
Conduct testing and evaluation of Garmin cartography products
Perform established operations for quality assurance
Continuous growth and evolve with engineering technology
Qualifications
A Bachelor's Degree in cartography or geography with a minimum 3.0 GPA or a minimum of 4 years experience performing a role substantially similar to the essential functions of this job description is required. Qualified candidates will possess a basic understanding of geo-databases and a working knowledge of cartography and geography relevant to Garmin's business needs. Proficient computer skills, including familiarity with PC applications and Windows Operating System (OS) and typing skills with the ability to type 30 wpm are also musts! Other required qualifications include:
Must be detail-oriented and have the ability to work proactively and effectively with minimal supervision
Ability to prioritize and multi-task in a flexible, fast paced and challenging environment
Demonstrated strong and effective verbal, written, and interpersonal communication skills
Ability to work and thrive in a sophisticated technical environment
Candidates who are familiar with ArcGIS or other GIS applications, GIS principles and methodologies, and/or possess experience using a GPS device are preferred. Bilingual skills are also a plus!
At Garmin, we like to laugh, have fun and work hard. It comes easily when you work on cool products with hard-working individuals who share the same passion. We offer numerous opportunities to get involved – kickball anyone? – and believe strongly in a work-life balance so your creativity can flow.
Garmin offers one of the most comprehensive compensation and benefit plans around. We offer extensive health care coverage with little to no contributions, depending on the plan. Plus, we offer dental insurance, an employee stock purchase plan, a Retirement Plan, and much more….trust us, it doesn't get much better than this. Unless of course, you want to talk table tennis, fitness spaces, product discounts….come on, what are you waiting for? Apply today.
EEO/AA/Minorities/Females/Disabled/Veterans
**To be considered please apply online at http://www.garmin.com/careers
---
GIS/Asset Management Analyst
Posted 07/16/2015
Job Title: GIS/ASSET MANAGEMENT ANAYLYST
Opening Date: Wednesday July 15, 2015
Closing Date: Wednesday, July 29, 2015
Status: Regular, Hourly
Pay Range: Grade 6, Hourly rate $18.29 to $20.00/hour DOE
PRIMARY PURPOSE OF POSITION: Creates, develops and maintains geographic and asset databases for all city departments with a primary focus on public infrastructure . Manages the GIS system as a whole, facilitating GIS use both internal and external to the City.
DUTIES AND RESPONSIBILITIES: Operates GIS system and network for all city departments including the maintenance of all city databases. Maintains the public works infrastructure databases including edits current and new water, sanitary sewer, street and storm water data from construction drawings (digital and non-digital sources), to include field data collection and verification. Edits, updates, maintains and publishes the City's ArcGIS Online maps. Supervises and monitors City-wide GIS licensing, editing permissions and system architecture. Develops long term objectives for the application of GIS applications within the City, plans for the acquisition of related software and hardware to meet objectives. Monitors GIS system performance, installing software upgrades and maintaining current programs as required. Assists other GIS stakeholders with software updates and technical problems as needed. Conducts GPS/Survey field operations, including operation of GPS equipment, collection, processing, editing, and reporting data, as well as maintaining the equipment. Trains City staff on the proper use of GIS system and network, specifically trains Public Works staff in the proper use of GPS data collection equipment and prepares and processes geospatial data gathered by others. Operates the digital asset management system and network using highly technical database software. Develops and maintains links between GIS and digital asset management systems. Assists city departments and designated city staff with highly specialized asset management operations, with highly specialized GIS operations, with the preparation of development plats/maps, and with other documents related to departmental operations. Assists the Land Surveyor in the preparation of survey plats and easement illustrations using GIS or AutoCAD. Maintains, updates and publishes Public Works field map books using ESRI software. Interprets digital aerial photography. May include quality assurance, creation and maintenance of metadata. Performs special assignments as requested.
EDUCATION/EXPERIENCE: Must have High School diploma or equivalent. BS degree in GIS, Cartography, Geography, Planning, Computer Science or related field is required. Two years' experience with E Esri ArcMap and Web GIS preferred. A combination of applicable education and work experience may be considered. Experience with Microsoft Office Suite preferred. Experience with GPS receivers preferred. Experience with Cartegraph software preferred. Must be able to read and interpret engineering plans Applicant must successfully complete background investigation and pre-employment substance abuse testing and may be subject to random substance abuse testing.
Application available at www.republicmo.com. Application must be completed and submitted to HR, City Hall, 213 N. Main, Republic, MO 65738 by deadline.
THE CITY OF REPUBLIC IS AN EQUAL OPPORTUNITY EMPLOYER.
---
GIS Analyst
Posted 07/07/2015
THE POSITION
Develops, maintains and prepares Geographic Information Systems (GIS) maps, geodatabases, applications, and extract, load, and transfer scripts related to the implementation, deployment and use of a Regional GIS repository and related technologies; performs directly related work as required.
The principal function of an employee in this class is to support the City's use of GIS as a management and decisionsupport tool. The work is performed under the direct supervision of the GIS Manager but considerable leeway is granted for the exercise of independent judgment and initiative. This class is distinguished from the class of GIS Manager by the performance of duties related to ongoing citywide GIS projects such as application development, map and geodatabase maintenance and user support functions which enhance the City's Geographic Information Systems. The nature of the work performed requires that an employee in this class establish and maintain effective working relationships with GIS users in other City Departments, representatives of other public agencies, contractors, consultants and the public. The principal duties of this class are performed in a general office environment.
ACCEPTABLE EXPERIENCE AND TRAINING
· Graduation from an accredited college or university with a Bachelor's Degree in Geographic Information Systems, Geography, Planning, Computer Science or Public Administration/Business Management with Management Information System emphasis;
· Considerable experience in professional level GIS implementation, planning, design and development or a closely related area; or
· Any equivalent combination of experience and training which provides the knowledge, skills and abilities necessary to perform the work.
Educational transcripts verifying degree must be submitted with application.
REQUIRED SPECIAL QUALIFICATIONS
· Candidates for positions in this class must pass a post-employment offer physical examination and drug screen.
· Valid Iowa Driver's License or evidence of equivalent mobility.
SELECTION METHOD
Those applicants deemed most qualified based on an evaluation of educational and experience credentials will be considered for an interview. Qualified applicants who need a reasonable accommodation in order to interview must inform this office at (515) 283-4213 or TTY Iowa Relay at 711 or 1-800-735-2942, by the application date.
LEARN MORE ABOUT THIS POSITION AND APPLY ONLINE AT:
City of Des Moines Employment http://agency.governmentjobs.com/desmoines/default.cfm
---
GIS Planner
Posted 07/07/2015
The Pioneer Trails Regional Planning Commission - the RPC of Johnson, Lafayette, Pettis and Saline Counties of Missouri is seeking an experienced, energetic and innovative individual to preform Geographic Information System (GIS) mapping in support of various programs i.e. Transportation Planning,  City- County zoning, and utility mapping.
Candidates should have experience in Geographic Information System (GIS) mapping Individual must demonstrate strong interpersonal, communication and be a team player. A Bachelor's Degree with major emphasis in the related field is preferred. Salary range is $27,000 - $29,000 DOQ, with benefits negotiable. Residency within the four counties region is preferred.
Classification:  Exempt
Nature of Work
Under the supervision of the executive director, the GIS Planner is responsible for performing a variety of duties related to the maintenance and creation of Pioneer Trails Regional Planning Commission and Website, Hazard mitigation and Region F Solid Waste District's geographic Information System (GIS) highly specialized work which requires extensive follow-on training.
Responsibilities performed on a daily and/or weekly basis include:
Create new layers and maintain existing layers of information including:
presentation plots and maps;
creation of layers including asset data using COGO functions;
Enters system data i.e. water, sewer, storm drains, streets, zoning, properties
Prepare cost estimates for the development of each GIS project.
Assist in the Regional Transportation Plan Update and sidewalk assessment creation.
Create and update Regional Hazard Mitigation Plans across the region.
Effectively utilize the Arc View and Info Software
Effectively and courteously attend to Customer Services and telephone enquiries relating to GIS matters.
Ensure that the GIS computer network within the Organization functions adequately at all times.
 Assist in the maintenance of the GIS so that map layers are stored in an organized and efficient manner using ArcSDE and Server.
 Willing undertake training where necessary.
Researches records of plats and property descriptions to determine property location boundaries and size
Creates various maps for use by commission and/or other revenue streams such as Solid Waste, Transportation, Homeland Security, Zoning, Economic Development as requested
This job description is a general description of essential job functions.  It is not intended as an employment contract, nor is it intended to describe all duties someone in this position may perform.  All employees of the Pioneer Trails Regional Planning Commission are expected to perform tasks as assigned by executive director.  
Qualifications
A bachelor's degree from an accredited college or university with a major emphasis in geographical sciences, planning or related fields is preferred. Applicant must possess strong writing skills, an eye for detail, an ability to plan and coordinate a strong interest in environmental issues, an ability to work well with people and excellent communication skills.  Applicant must be self-motivated, cheerful, positive attitude. Must possess the ability to work well with co-workers, commissioners and the desire to work in a team atmosphere.  Must possess a valid driver's license.
Physical Requirements
Constant use of hands and arms to type and write in order to complete necessary paperwork.  Must be able to drive and/or ride long distance; nighttime driving is necessary.  Must be able to converse in English by phone and in person with the public.  Diction must be clear and audible for presentations.  Must be able to sit long periods of time.  Must be able to lift boxes and displays weighing approximately 35-40 pounds.  Must be able to visit and move about the multi-county region, gathering mapping data in all types of weather.
To be considered for the position, please submit a resume with three professional-related references, no later than Friday, August 7,2015 to:
Board of Directors c/o Randall B. White Exe Director
Pioneer Trails Regional Planning Commission
P.O. Box 123
Concordia, MO 64020
---
Geospatial Technical Support
Posted 06/01/2015
Seiler Instrument Company, headquartered in St. Louis, Missouri, is an authorized Trimble Reseller. We offer sales consulting, training and support for Trimble products and solutions.
We are currently seeking a motivated, success-oriented technician to provide support for our Geospatial/Survey Division in the St. Louis, MO area.
This position's primary responsibilities include providing technical support and training for Trimble Geospatial/Survey products and software solutions, such as Trimble Access and Trimble Business Center software, GNSS receivers, robotic total stations and digital levels. Duties include providing technical support, supporting the sales initiative, and teaching training classes as needed. Significant local travel and some long distance travel will be required for this position.
The candidate should have a background in Civil Engineering or Surveying with excellent customer service. Candidates should also possess strong computer skills with experience in tech support. Public speaking ability and organizational skills are a must for this position.
1-2 years experience in training and supporting Trimble Geospatial software and hardware is required and a Bachelor's Degree in a related field is strongly preferred. Experience with technical training and help desk experience a plus. Additionally, a strong background in the field usage of Trimble Geospatial products is preferred.
Seiler Instrument offers a healthcare plan, life insurance, dental insurance, 401(k), profit sharing, and more!
For more information on Seiler Instrument, please visit our website: www.seilerinst.com.
To play a key role in this exciting opportunity, please email your resume with salary requirements to hr@seilerinst.com or fax (314) 218-6192. If you need assistance applying for this position, you may also contact Kurtis Schaper at 314-968-2282.
Seiler Instrument is an Equal Opportunity Employer and shall abide by the requirements of 41 CFR §§ 60-1.4(a), 60-300.5(a) and 60-741.5(a). These regulations prohibit discrimination against qualified individuals based on their race, color, religions, sex, or national origin. Moreover, these regulations requires that covered prime contractors and subcontractors take affirmative action to employ and advance in employment individuals with regard to race, color, religion, sex, national origin, protected veteran status or disability.
This position requires access to export controlled articles, technical data, technology and services. U.S. citizenship, U.S. legal permanent resident status, protected person status under 8 U.S.C. § 1324b(a)(3), or a U.S. government export authorization is required. Any offer of employment is contingent upon Seiler Instrument & Manufacturing Co., Inc. obtaining the necessary export authorization, including, if required, an export license from the U.S. Department of Commerce, Bureau of Industry Security, the U.S. Department of State, Directorate of Defense Trade Controls, or other applicable government agency.
---
GIS Manager
Posted 05/22/2015
The Mid-America Regional Council (MARC), the association of city and county governments and metropolitan planning organization serving the bi-state Kansas City metropolitan area, is seeking a full-time GIS Manager to:
Lead the organization's work to identify GIS opportunities and solutions to meet the regional and local planning and policy needs.
Lead a five-person GIS team, providing strong project management, sound guidance and supporting professional development.
Be a key participant in an agency-wide leadership team in an on-going effort to better organize, streamline and make accessible the organization's data resources, both internally and externally, as well as improve access to and the usefulness of the tools needed to analyze, visualize, understand and communicate it.
Serve as expert to agency staff and managers on the uses of GIS technologies to enhance data access and improve analytical capabilities; and
Support and facilitate KC MetroGIS, the Kansas City area's consortium of local government GIS managers, and its associated projects.
Description
The delivery of GIS services is a key component of the Research Services department at MARC, requiring a manager with strong service-orientation who can consistently exceed expectations regarding the timely delivery of high-quality geographic data and analysis to MARC's other departments and the Greater Kansas City community. Work requires an expert knowledge of the uses and operations of GIS technology and solutions. Further, it requires the capacity to use this knowledge to develop and implement plans and procedures that meet user needs in a highly effective manner.
Illustrative examples of work
The following represents the essential functions of this position. Additional duties may also be assigned and be essential to the successful performance of this position.
Determines the geographic information needs of users and how best to meet them. Works closely with MARC's departments – especially the Community Development department (which includes 9-1-1 and Emergency Services) and the Transportation and Environment department – and external customers to identify specific requirements for projects and products and to establish project and assignment priorities; develops cost estimates for customer product and service requests. Works with departmental users and directors in planning, design, development, configuration, testing, implementation and maintenance of large-scale GIS applications and web portals, backend processing modules and associated data layers and databases. Serves as a technical expert to department directors and program managers and advises on the design and uses of GIS technologies and products that will enhance business processes and support for decision and policy-making.
Manages the delivery of geographic information and analysis to users. Manages the design, development, enhancement and delivery of GIS products and services to meet on-going and ad-hoc business and information needs. Oversees and participates in the design, development, integration and maintenance of GIS database architectures, data layers and databases; manages and participates in the design and development of GIS applications and tools to automate processes and facilitate analyses and reporting; performs highly complex analytical projects, including spatial and other analyses and forecast modeling; writes reports and prepares complex maps and other GIS products.
Supervises a team of GIS professionals to deliver high-quality geographic information and analysis. Supervises and oversees development, implementation and evaluation of programs, work processes, systems, policies and procedures to achieve annual goals, objectives and work standards. Manages a staff of four professionals to deliver spatial data and spatial analyses to satisfy the needs of MARC departments. With staff, develops, implements and monitors work plans to achieve goals and objectives; reviews the work of staff to ensure requirements and standards have been met; reviews GIS products for accuracy, completeness and aesthetics and for compliance with customer requirements.
Ensures staff is well trained. Guides and mentors other GIS professionals; develops training materials and conducts training for GIS professionals; May conduct technical training for GIS staff and other departmental or community users on the methods and operations of GIS systems and databases.
Develops and implements plans to improve MARC's GIS program. Analyzes, researches, develops, implements and maintains processes for enhancing the utilization of GIS technologies and solutions to support agency business requirements and GIS initiatives. Stays abreast of new and emerging GIS and data management technologies and participates in evaluating and recommending on their potential and compatibility with agency GIS needs and technology environment. Analyzes and evaluates technology solutions to ensure their consistency and integration with agency technology standards; participates in developing enterprise GIS policies, standards and procedures. Serves as an expert resource and provides advice to other departments or agencies on complex technical GIS issues.
Performs necessary program administration functions. Plans, organizes, controls, integrates and evaluates the work of the assigned division or section. Develops or contributes to development of the GIS budget and monitors expenditures against budget; participates in the development, implementation and evaluation of departmental goals and objectives. Prepares and evaluates proposals, bids, contracts and service agreements for GIS software, equipment and consulting services or participates in doing so; administers contracts.
Facilitates KC MetroGIS to promote progress on common GIS issues and opportunities faced by area local governments. Provides staff support to this consortium of GIS managers, including issue identification, work program development and meeting facilitation. May serve on steering committees and advisory groups to foster cooperation and ensure consistent and cost-effective practices for developing, storing and sharing of geospatial data.
Other Skills/Abilities
Excellent organizational, administrative skills; written and verbal communication skills
Extensive knowledge and experience using ArcGIS 10 product line including but not limited to ArcGIS Desktop, ArcGIS Server, and SDE.
Knowledge and experience managing multi-user geodatabases stored in MS SQL Server.
Knowledge of policies, procedures, and strategies important to the integration and implementation of GIS within an organization and among regional governments, organizations and agencies.
Ability to effectively manage and support committees and teams, and to plan, arrange, and conduct meetings.
Ability to travel throughout the KC metro region.
Qualifications
Minimum requirements are a Bachelor's degree in Geography, Urban Planning, Public Administration or related field plus 5-6 years of successful and progressively responsible related work, including supervisory experience. A Master's degree plus 4 years of successful, progressively responsible and related work including supervisory experience, is highly preferred.
Salary Range
Starting salary for the position is $74,195 to $94,598, depending upon qualifications. MARC offers an attractive team-oriented work environment along with a competitive fringe benefit package. EOE Employer /M/F/V/D
---