Jobs Page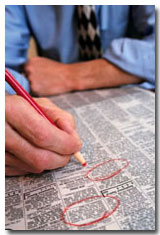 This page was last updated:
Free Ads: Any job announcements submitted to MSDIS directly from not for profit organizations, local/state/federal government and educational institutions will be added to this page free of charge.
Paid Ads: A listing fee of $40 per job ad applies to for profit organizations (private companies, recruitment agencies - or any third party acting as a recruitment agency on behalf of any organization eligible for free ads - and government or military subcontractors) to post a job vacancy on MSDIS jobs page. Paid job ads must be faxed to MSDIS using the official job ad order form (http://www.msdis.missouri.edu/community/jobadreq.pdf) . Only payment by credit card is accepted. Advertising on MSDIS jobs page is a great way to fill your vacancies. MSDIS jobs page receives 1500 - 2000 unique visitors per month and is consistently the 3rd most popular page on the MSDIS web site.
MSDIS RSS Jobs Feed and MSDIS Twitter Feed. For an additional fee of only $10 per service, for profit organizations posting paid job ads can opt to have their posting added to the MSDIS RSS Jobs feed or Twitter feed. If you would like to take advantage of these services just check the appropriate box(es) on the job ad request form.
We will not search the web, etc. for jobs. If you would like to take advantage of this medium, please submit your job announcements to:
MSDIS email:
Fax: 573-884-4239
Announcements with no closing date will remain on this page for three months from the posting date.
Announcements with a closing date will remain on this page until one week after the closing date.
Quick Jobs Index (click the title for detailed job description)
Available Positions



Position Title
Location
Organization
Salary Range
Closing Date
GIS/Demographics Analyst
Springfield, MO
O'Reilly Autoparts
?
Until filled
GIS Analyst Developer
Olathe, KS
Johnson County Kansas - AIMS
$25.86 - $35.56
Until filled
GIS Analyst
Jefferson City, MO
State of Missouri Office of Administration
$1682.50 - $2454.50 Bi-monthly
06/02/2016
GIS Coordinator
Conway, AR
City of Conway
$46,937
Until filled
IT Administrative Coordinator
Columbia, MO
Boone County
$15.57-$15.54 per hour
Until filled
GIS Intern
Springfield, MO
Ozarks Transportation Organization
$10 per hour
GIS Developer
Independence, MO
Jackson County, MO
$20.83/Hour
Until filled
Regional Planner / GIS Technician
Ashland, MO
MID-MO Regional Planning Commision
?
Until filled
GIS Specialist
Springdale, AR
Northwest Arkansas Regional Planning Commission
$46,000.00 - $69,000.00
?
IT / GIS Specialist
Springdale, AR
Northwest Arkansas Regional Planning Commission
$46K-$69K
?
Other Employment Resources
The GIS Jobs Clearinghouse: http://www.gjc.org/
---
GIS/Demographics Analyst
Posted 05/18/2016
O'Reilly Auto Parts has 58 straight years of continuous growth and over 71,000 team members at more than 4,500 stores and 26 distribution centers in 44 states. We are determined to be the Industry leader In the auto parts industry and believe that our team members are the most Important asset In our business.
Our Corporate Headquarters Office Is located In Springfield, Missouri. The dedicated team members who work at the Corporate Office are committed to offering support to the stores and distribution centers.
Whether you work at the corporate headquarters, a district or regional office, a distribution center, in the field. or a store. you are an integral part of Team O'Reilly.
The GlS/Demographics Analyst will provide demographic and geographic analysis of market areas using 01S and analytic software. They will oversee the production of demographic reports. improve process, and refine content. As well as assist other departments within the company on special projects and ongoing regular demographic needs.
This is a full-time opportunity, Monday-Friday, 8:00 a.m. ·5:00 p.m.
Skills/Qualification.
o Degree in Cartography, Geographic Information Systems (GIS), or similar with 3 to 5 years of experience
o Excellent verbal and interpersonal skills, business communication, and time management skills
o Ability to work Independently: organize and prioritize multiple assignments/projects
o Working knowledge of ArcGIS 10.3 or other ESRI software
o Knowledge of Python. SQL or VBA
Stay connected with O'Reilly Careers:
'Facebook: O'Reilly Auto Parts Careers
Twitter: @ORelllyCareers
LinkedIn: O'Reilly Auto Parts
Instagram: O'Reilly_Careers
O'Reilly Auto Parts is an equal opportunity employer. It Is the policy of the Company to treat all applicants for employment and all team members in a manner that does not discriminate against them because of their face. religion. color. national origin. sex. sexual orientation. pregnancy, age, military obligation. or disability.
---
GIS Analyst Developer
Posted 05/16/2016
Position Title: GIS Analyst Developer
Job Title: GIS Analyst Developer (Developer Analyst II)
Organizational Unit: Johnson County KS -> Department of Technology and Innovation -> DTI-Enterprise Services
Location: Johnson County - KS US
Johnson County Administration Building - Olathe, KS 66061 US (Primary)
Position Grade: 16.17 Exempt
Pay Range: $25.86 - $35.56
Employment Category: Fulltime-Regular (40 hrs, Full Benefits)
Work Schedule: Monday - Friday, 8:00 - 5:00
Job Description
The AIMS division of Johnson County Department of Technology and Innovation is seeking a qualified GIS Analyst Developer. Primary responsibilities include overall GIS project design, development and analysis of geographic data, map production, process/data automation and programming utilizing ESRI Inc. suite of GIS software. They will also perform business analysis for the integration of GIS to internal and external clients and provides training and problem-solving support to offices, agencies, and others using AIMS data and applications.
• Completes programming assignments, which may include process automation, enhancements, configurations or builds with limited oversight by a more experienced developer analyst; assists in ensuring high component availability while facilitating growth in usage and increased functionality by applying knowledge of multiple programming languages and techniques.
• Responds to end-user questions, inquiries, and ad-hoc requests to include report design; works directly with end-users in evaluating solutions, fulfilling requests, and resolving issues; recommends solutions to ensure system availability.
• Participates in system design reviews and communicates with technical and non-technical audiences.
• Creates, reviews, and maintains documentation related to system software use and support including procedures, processes, metadata.
• Collects, edits, and maintains data; ensures data is accurate, current, and complete through quality assurance procedures; develops new, and enhances existing, datasets through various techniques such as data mining, process automation, workflow modifications, and agency collaboration.
• Monitors and helps ensure system and subsystem availability and performance; analyzes and resolves problems; conducts tests and monitors activities; analyzes reports.
Job Requirements
Associate's degree in the following field(s) of study: Information Technology or related field and two years of experience in the Information Technology field are required. Must possess a proficient knowledge of GIS analysis techniques, geographic data collection and editing methods, cartography, and applied GIS skills. Must possess experience in querying and manipulating a relational databases, be able to develop applications for editing, browsing, or querying data, and be able to communicate effectively both verbally and in writing. Preference will be given to individuals with proven systems analysis and design skills.
Preferred qualifications: Bachelor's degree in Geography or Computer Science; one year of experience with GIS applications utilizing ESRI software; experience using Microsoft SQL server, Visual Studio, FME, Python, and the ESRI software suite.
Experience can substitute for education. Education can substitute for experience.
Driving Status: Occasional (less than 5%)
Category: Management, Administrative, Technology, and Financial Services
Apply Online https://jocogov.hua.hrsmart.com/hrsmart/ats/JobSeeker/applyTo/2598
---
GIS Analyst
Posted 05/13/2016
Job Posting Number: 3348-16.
Opening Date: 5/12/2016
Closing Date: 6/2/2016
Job Location: Jefferson City.
Merit Type: Merit.
Salary Range: $1,682.50 – $2,454.50 semi-monthly.
Benefits: Position receives State benefits including health care, retirement, and vacation
IT Specialty: GIS
Required Skills: Database Administration, Networking, Security Monitoring
Essential Functions and Responsibilities:
Maintain the Sales Tax Rate GIS (STRGIS) system for DOR based on documentation received from the following;
o Annexations
o Special Tax Districts
o Address Corrections
• Maps for Taxation – create and maintain maps of the special tax districts to show spatial location and where any overlaps may occur.
• Maps for Department of Revenue – maintain office locations and statistical analysis to provide maps as needed.
• Assist in determining requirements, designing procedures, and ensuring compliance with standards for GIS. Make recommendations for system and data development initiatives that utilize technologies and practices that maximize the enterprise integration of spatial and business data.
• Provide technical support for GIS users. Assess their training needs and provide recommendations to meet those needs.
• Install GIS and TomTom software on desktop computers.
• Select, prioritize, and attend relevant training opportunities including courses, seminars, and conferences. Review relevant publications to stay current with developments in GIS and GPS technologies.
• Understand how GIS is applied by the user and the underlying business.
Job Knowledge, Skills, and Abilities:
Comprehensive knowledge of principles, practices, terminology, and trends in GIS and related technologies.
Intermediate knowledge of cartographic principles and spatial analysis.
Intermediate knowledge of computer systems, database management, administration, security, networking, and telecommunication concepts.
Intermediate knowledge of geographic information applications, analysis, and the relationships between different types of spatial data.
To Apply Send Resume To:
Amanda Toebben
301 West High Street
Truman Building, Room 430
Jefferson City, MO 65101.
amanda.toebben@oa.mo.gov
Important Information
NOTE: YOU MUST INCLUDE A COPY OF YOUR TRANSCRIPTS and resume, and e-mail to address provided.
Please include the job posting number when applying for this position.
Review the required skills and qualifications before applying for this position. Candidates must also complete an on-line application which can be found at https://www.ease.mo.gov/Logon/RegisterOrLogon
Applicants need to be eligible to work in the United States.
http://oa.mo.gov/job-opportunity/3348-16/geographic-information-systems-analyst
---
GIS Coordinator
Posted 05/13/2016
Job Code: NU29
Job Description: The GIS Coordinator position is responsible for daily updating, coordinating, and maintenance of the City of Conway Geographic Information System data, under the direction of the Assistant Director of Planning and Development - GIS. Other responsibilities include general planning office activities as assigned.
Civil Service: No
Posted On: April 26, 2016
Category: Professional
Department: Planning & Development
Shift: Day
Job Type: Full Time
Education: See Required Skills
Annual Rate: $46,937
Background Investigation: Yes
Arkansas DL Required: Yes
CDL Required: No
Preferred Skills:
Prior experience within a planning office setting and use of Sketch-Up Software
Required Skills:
•Thorough knowledge of Geographic Information Systems and components.
•Knowledge of GIS Server and web mapping capabilities
•Knowledge of working in an enterprise level GIS Environment.
•Ability to express ideas clearly, both orally and written.
•Proficient in the use of MS Word, Excel, Outlook, Access, and PowerPoint
•Proficient in the use of ESRI software suite
•Ability to plan, organize, coordinate, and complete GIS/Planning functions in a planning office environment.
•Possession of a Bachelor's Degree in GIS, Geography,
•Computer Science, Public Administration or related field; five years of practical experience in a GIS Environment which would provide the required knowledge, skills, and abilities.
•Experience with ESRI software suite, prefer experience working within an Enterprise GIS setting using Postgres RDMS, knowledge of Open Source GIS Software, and GIS Terminology
Online Application || Print Application
---
IT Administrative Coordinator
Posted 05/04/2016
Responsibilities: Provides administrative support for the department; answers phones and responds to inquiries as appropriate; provides customer assistance; schedules meetings and appointments; prepares correspondence and reports; prepares minutes; maintains files. Performs accounting duties related to department budget; processes payroll, purchase orders, payment requisitions and timecards; balances budget statements; processes budget revisions, amendments, and journal entries; approves pay requisitions; processes cell phone bills and collects reimbursements; tracks fuel card usage. Purchases supplies and services; maintains inventory records; prepares and routes work orders; follows up to ensure timely completion of work; maintains annual bids; assists in preparation of bids and bids from vendors. Attends meetings and records information; distributes minutes to participants; follows up to provide information and coordinate further action; maintains communication throughout the department. Maintains employee files, processes new employees; processes all status changes; acts as a liaison between the department and the Auditor's Office, the Clerk's Office and Human Resources; tracks employee vacation and sick time; records skills based training; keeps records and enters new salary information and training to training center; processes all status changes due to skills completed.
Status: Full Time, Non-exempt, Benefited
Working hours: 8:00 am – 5:00 pm, Monday – Friday
Qualifications: High school diploma or GED and three years secretarial/office management experience; ability to type 50 wpm. Must meet minimum qualifications set forth by the FBI and MSHP CJIS Security policy.
Hourly Pay Range: $15.57-16.54
Deadline for Application: Applications will be accepted until the posting is removed.
Apply online at www.showmeboone.com or call (573) 886-4395 if you have questions. Please call in advance if special accommodations are required in order to apply. Benefits include 100% County paid medical and dental employee insurance premium, pre-tax savings program, 2 weeks vacation, 13 paid holidays, matching deferred compensation plan and retirement plans. To see a complete list of posted positions, submit an online application or to download the application, log on to www.showmeboone.com.
An Affirmative Action/Equal Opportunity Employer
---
GIS Intern
Posted 04/28/2016
Hourly Rate $10.00
Minimum Requirements:
Currently enrolled in or recently completed a college degree program leading to a degree in Geographic Information Systems, Geospatial Science or Cartography, or a GIS certificate.
Primary Purpose
Provides technical transportation planning support including research, data management and GIS database and mapping functions.
Supervision
Under direct supervision.
Knowledge
Possesses knowledge of the planning process.
Abilities
Effectively execute planning activities; conduct research; utilize a variety of computer software applications; effectively present data and information in visual aid form; assist in the operation of GIS; analyze and interpret information and translate that information into computer graphics and databases; assist in keeping all information current and accessible to the user; prepare and maintain accurate records, maps, and reports.
Physical Requirements
Performs bending, sorting and reaching from ground level to overhead; must be able to hold and grip objects; must have ability to operate a computer keyboard; must be able to push, pull, lift and carry up to 25 pounds for filing and other related tasks; subject to sitting for long periods of time.
Important Functions
1. Updates GIS records and produces maps as necessary. Prepares custom maps for display and distribution
2. Utilizes the GIS computer system to provide analysis of spatial and relational databases in a thematic mapping environment and produces cartographic reports and maps.
3. Maintains and creates GIS databases and coverages.
4. Provides technical support regarding transportation planning issues.
5. Performs assigned projects, tasks and duties related to plan preparation, maintenance and implementation as well as planning related research.
6. Researches records; collects and analyzes data; reads and interprets, and verifies legal descriptions, maps and aerial photographs, and conducts field surveys.
7. Compiles research information including gathering and tracking data through both manual and computerized systems; computer work involves both numerical and alphabetical data entry.
8. Maintains applicable legal and technical records and reference materials. Maintains GIS data.
9. Operates computers including utilization of a variety of software applications such as word processing, spreadsheet, graphics and database applications to produce reports, charts and graphs.
10. Performs minor office administration tasks such as copying, filing, faxing, etc.
11. Other duties as assigned.
To Apply: Send complete resume and application to sfields@ozarkstransportation.org. Application available at http://www.ozarkstransportation.org/About%20Us/Employment.html
---
GIS Developer
Posted 04/14/2016
Jackson County - Missouri
Location: Independence, MO
Department: Information Technology/GIS
Grade: g10
Salary: $20.83/hour
Job Duties:
Responsible for specific work includes support and management of the all GIS software and database.
Provides problem-solving support to users in GIS, involving decision on both hardware and software.
Works with the County Communications/eGovernment Coordinator and the Information technology (IT) department to coordinate content on the County's Internet site.
Responsible for developing and maintaining the GIS Departments' Internet and Intranet mapping services.
Minimum Qualifications:
Must have a Bachelor's Degree in Geography, Computer Science or related field, or an equivalent of four or more year's progressive experience using GIS Software, web development or database management or any combination of required qualifications.
Must submit to/pass pre-employment drug and background screen. Non-smokers preferred.
Apply: www.jacksongov.org/jobs
---
Regional Planner / GIS Technician
Posted 04/08/2016
The Mid‐Missouri Regional Planning Commission (Mid‐MO RPC) is seeking an individual to support current staff in providing assistance to its local government membership. The individual will assist in the development of regional and local studies, assisting with grant processes and applications, GIS mapping applications, and the development of local community projects.
Qualifications include graduation from an accredited college or university with preference given to major course work in the fields of planning, public administration, community development, or other related fields of study. One year of relevant experience is preferred. The preferred applicant will have knowledge and experience in the use of GIS mapping applications and possess the ability to work well with co‐workers in a team atmosphere. Salary based on qualifications.
Applicants must submit resume to: Edward Siegmund, Executive Director, Mid‐Missouri Regional Planning Commission, P.O. Box 140, Ashland, MO 65010 or mmrpc@mmrpc.org. Resumes will be accepted on a continuing basis until the position is filled or a sufficient number of qualified applicants have applied. EOE, MFH. A detailed job description and agency profile are available for viewing at the Mid‐MO RPC website‐ www.mmrpc.org.
---
GIS Specialist
Posted 03/29/2016
Northwest Arkansas Regional Planning Commission (NWARPC) has a job vacancy announcement for a GIS Specialist available at www.nwarpc.org.
See detailed job description here: http://www.nwarpc.org/pdf/Special%20Notices%20and%20Announcements/ITGIS%20SPECIALIST.pdf
Elizabeth Bowen, Project Manager
Northwest Arkansas Regional Planning Commission
1311 Clayton St
Springdale, AR 72762
Office: 479-751-7125
Fax: 479-751-7150
ebowen@nwarpc.org
www.nwarpc.org
---
GIS Services Manager
Posted 03/29/2016
Starting Salary: $59,255 to $88,883 per year dependent on qualifications. This is a full-time, 40 hour per week position which includes a full range of benefits including Paid Time Off, Extended Medical Leave, Holidays, employee health, dental, life, disability, retirement and tuition assistance programs.
JOB DESCRIPTION:
Develops, coordinates and administers all functions for County GIS operations. Coordinates GIS operations with management, staff and users from other county departments and municipalities. Plans, assigns and supervises personnel in the development, enhancement and maintenance of the County GIS system. Schedules projects, allocates personnel, coordinates activities and maintains standards and deadline compliance. Participates in the development, integration, and maintenance of the spatial database. Participates in determining user requirements, project planning, and development of applications to display and query spatial databases. Creates and provides GIS products for use by County Departments. Maintains and installs GIS software, hardware, and GPS Mapping equipment. Works with other government agencies and Information Technology groups to promote standards, and resource sharing. Keeps abreast of current GIS technology, and principles. Including software trends, equipment evolution, new computer-aided design principles and graphic software operations. Makes formal presentations, plans and organizes files and documentation. Performs other duties and responsibilities as assigned.
REQUIREMENTS:
Requires Bachelor's degree in planning, engineering, cartography, GIS or related or related field. Requires four to five years cartography and GIS experience or any combination of education and experience that provides equivalent knowledge, skills, and abilities. Supervisory experience preferred. Requires both technical skills and the ability to successfully interact with various constituents including elected officials, department heads, staff members, contractors, vendors as well as the general public.
TO APPLY:
All applications must be submitted only through our Self-Service Website at http://hr.sccmo.org/hr. We do not accept faxed, e-mailed or print applications. For your convenience, if needed, terminals are available on site at the HR Dept., 201 N. Second St., Room 519, St. Charles, MO 63301 Monday – Friday 8:00 am – 5:00 pm.
St. Charles County is an Equal Opportunity Employer. In compliance with the Americans with Disabilities Act, the County will provide reasonable accommodations to qualified individuals with disabilities and encourages both prospective and current employees to discuss potential accommodations with the employer. St. Charles County is a drug and alcohol free work place. A pre-employment drug screen is required for all positions
An Equal Opportunity Employer
---
IT/GIS Specialist
Posted 02/26/2016
The Northwest Arkansas Regional Planning Commission is accepting applications for a GIS Specialist. A Bachelor's degree in Geography, GIS, Planning, or related field required. Knowledge of servers, desktops, networks, ESRI ArcGIS Desktop Suite, ArcGIS Server, basic planning law and practices, and familiarity with northwest Arkansas is desired. Salary range: $46K-$69K. Submit resume to: Elizabeth Bowen, NWARPC, 1311 Clayton St, Springdale, AR 72762 or fax to: (479)751-7150 or email to ebowen@nwarpc.org. NWARPC complies with all civil rights provisions of federal statutes and related authorities that prohibit discrimination in hiring and employment practices and in programs and activities receiving federal financial assistance. An Equal Opportunity Employer Job description can be reviewed at http://nwarpc.org.
Elizabeth Bowen, Project Manager
Northwest Arkansas Regional Planning Commission
1311 Clayton St
Springdale, AR 72762
Office: 479-751-7125
Fax: 479-751-7150
ebowen@nwarpc.org
www.nwarpc.org
---