Jobs Page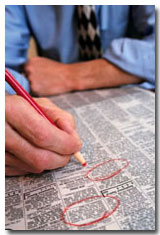 This page was last updated:
Free Ads: Any job announcements submitted to MSDIS directly from not for profit organizations, local/state/federal government and educational institutions will be added to this page free of charge.
Paid Ads: A listing fee of $40 per job ad applies to for profit organizations (private companies, recruitment agencies - or any third party acting as a recruitment agency on behalf of any organization eligible for free ads - and government or military subcontractors) to post a job vacancy on MSDIS jobs page. Paid job ads must be faxed to MSDIS using the official job ad order form (http://www.msdis.missouri.edu/community/jobadreq.pdf) . Only payment by credit card is accepted. Advertising on MSDIS jobs page is a great way to fill your vacancies. MSDIS jobs page receives 1500 - 2000 unique visitors per month and is consistently the 3rd most popular page on the MSDIS web site.
MSDIS RSS Jobs Feed and MSDIS Twitter Feed. For an additional fee of only $10 per service, for profit organizations posting paid job ads can opt to have their posting added to the MSDIS RSS Jobs feed or Twitter feed. If you would like to take advantage of these services just check the appropriate box(es) on the job ad request form.
We will not search the web, etc. for jobs. If you would like to take advantage of this medium, please submit your job announcements to:
MSDIS email:
Fax: 573-884-4239
Announcements with no closing date will remain on this page for three months from the posting date.
Announcements with a closing date will remain on this page until one week after the closing date.
Quick Jobs Index (click the title for detailed job description)
Available Positions



Position Title
Location
Organization
Salary Range
Closing Date
GIS Technician
Cape Girardeau, MO
Alliance Water Resources, Inc.
?
Until filled
Other Employment Resources
The GIS Jobs Clearinghouse: http://www.gjc.org/
GIS Technician
Posted 09/11/2013
Alliance Water Resources, Inc. has GIS Technician position available in the Cape Girardeau Division in Cape Girardeau, Missouri.
This position will have technical, training, and administrative responsibilities for assignments concerning the utilization of GIS software, databases and GPS equipment, and coordination with personnel from various departments conducting related work. This position shall have general supervision from the Customer Service Supervisor or Local Manager.
This position is responsible for the collection, integration, and use of GIS equipment, software, and data. Coordinates with field and office staff as their duties relate to the collection, organization, maintenance, and use of GPS equipment, GIS software, and data. Field work includes the collection of data, which may include manual labor and assisting in locating facilities from coordinates. Office work includes the administration of GIS data, utilization of GIS software, and preparing maps or other informational outputs for clients, co-workers, and the public. Normal working hours will be 7:30 am to 4:00 pm Monday through Friday.
Required Qualifications: Associate's degree and experience with geographic information systems or related fields or an equivalent combination of experience and education; proficient with computer software and database programs; and a valid driver's license.
Preferred Qualifications: Experience with ESRI-ArcView and ArcMap software; AutoCAD or other mapping software.
A job description and on-line applications are available under career opportunities at www.alliancewater.com or applications can be picked up at 2007 Southern Expwy, Cape Girardeau, Missouri, 63703.

---
---