Jobs Page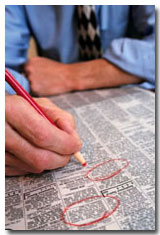 This page was last updated:
Free Ads: Any job announcements submitted to MSDIS directly from not for profit organizations, local/state/federal government and educational institutions will be added to this page free of charge.
Paid Ads: A listing fee of $40 per job ad applies to for profit organizations (private companies, recruitment agencies - or any third party acting as a recruitment agency on behalf of any organization eligible for free ads - and government or military subcontractors) to post a job vacancy on MSDIS jobs page. Paid job ads must be faxed to MSDIS using the official job ad order form (http://www.msdis.missouri.edu/community/jobadreq.pdf) . Only payment by credit card is accepted. Advertising on MSDIS jobs page is a great way to fill your vacancies. MSDIS jobs page receives 1500 - 2000 unique visitors per month and is consistently the 3rd most popular page on the MSDIS web site.
MSDIS RSS Jobs Feed and MSDIS Twitter Feed. For an additional fee of only $10 per service, for profit organizations posting paid job ads can opt to have their posting added to the MSDIS RSS Jobs feed or Twitter feed. If you would like to take advantage of these services just check the appropriate box(es) on the job ad request form.
We will not search the web, etc. for jobs. If you would like to take advantage of this medium, please submit your job announcements to:
MSDIS email:
Fax: 573-884-4239
Announcements with no closing date will remain on this page for three months from the posting date.
Announcements with a closing date will remain on this page until one week after the closing date.
Quick Jobs Index (click the title for detailed job description)
Other Employment Resources
The GIS Jobs Clearinghouse: http://www.gjc.org/
---
Long Range Planning Assistant Director
Posted 09/29/2015
The Tennessee Department of Transportation Long Range Planning Division is accepting applications for an Assistant Director – Data Management position in the Long Range Planning Division at Nashville Headquarters Building.
Application for an Assistant Director position requires completion and submission of the following three items:
1.Letter explaining applicant interest in the position.
2.Resume that is a maximum of two pages
3.Written responses to the four application questions on page 4
The three items should be emailed to Ms. Brianna Benson, Assistant to the Director, Long Range Planning, by 4:30 p.m. Central Daylight Time on Tuesday, October 20, 2015. Ms. Benson can be contacted at Brianna.Benson@tn.gov and 615-741-3421.
Please contact any of the following individual with questions about the position openings.
Ms. Tanisha HallDirector, Long Range Planning Division
Headquarters Office
615‐741-3421
Minimum Qualifications for Long Range Planning Assistant Director – Data Management
Bachelor of Science Degree in Planning, Civil Engineering, Geographic Information Systems, Business Management or related field from an accredited college or university and eight (8) years of experience.
or
Master's Degree in Planning Civil Engineering, Information Technology, Business Management or related field from an accredited college or university or related field and six (6) years of experience, transportation planning is preferred, but not required.
This is an Executive Service position.
Position Responsibilities:
The Long Range Planning Division Assistant Director – Data Management will assist in the oversight of the Division's collection, maintenance, analysis and geographic/graphic presentation of data to support the implementation of strategies that respond to the State's long-range transportation needs.
•Manages the transportation data team to collect, maintain, and analyze transportationdata to communicate system performance and accessibility using GIS and graphic designsoftware.
•Serves as the Acting Director in the absence of the Long Range Planning Directorincluding supervising Division personnel.
•Coordinates with the Assistant Director – Comprehensive Planning in the managementof Long Range Planning Division activities.
•Reviews new and established federal, state and local rules, guidelines, plans, policiesand best practices and makes recommendations for implementation.
•Establish regular collaborative opportunities with metropolitan transportation planningorganizations, rural transportation consultation organizations, cities, counties and otherlocal partners.
•Knowledge in Traffic Data Collection Programs, including classification counts, volumecounts, probe data, and travel speed data
•Knowledge of Adobe Creative Suite or comparable graphic design software
•Good understanding of statistical analysis and sampling methods is a plus
•Knowledge of the creation of maps or related reports using Geographic InformationSystems software or hardware.
•Knowledge of traffic data collection systems, software, graphic design, and analysis in aprofessional capacity.
•Knowledge of transportation planning legislation and general transportation planningconcepts
This position will require statewide travel.
Application Questions for Long Range Planning Assistant Director – Data Management
Please use a separate sheet for each question.
When answering the application questions, you should use examples of work related experiences. If you do not have appropriate work related examples, non‐work related examples are acceptable.
1.Give a specific example of a way you coordinated data management and planningfor an organization.
What type of data and tools did you use to perform your analysis?
How did you get troubleshoot for gaps in the data?
Did you develop a repeatable process?
What was your biggest challenge in coordinating data visualization and planning?
2.Give a specific example of a situation in which you developed and implemented adata-analysis process for an organization.
How did you deal with existing staff and changes in their work routine?
Were there any delays in implementation?
What steps did you take to offset the delay?
What was the final resolution of the situation?
3.Give a specific example of a situation in which you had to deal with conflict
resolution in a work environment.
Describe in detail how you handled both the person and the situation.
How did this affect the overall outcome of the situation or issue?
How did you document and communicate the outcome?
4.Explain in detail examples of professional and/or self‐improvement skills you
have developed or enhanced over the past two years.
Were these prerequisites of your current position?
How have they helped you to perform your job responsibilities?
---
Web Developer / Designer / Analyst IT
Posted 09/22/2015
Responsibilities: Maintain and enhance the Boone County web presence for all county offices and entities by coding, testing, documenting, upgrading applications and web pages for users. Perform software development, assist in feasibility studies, cost/benefit analysis and end user training in response to user requests. Manage deadlines; provide status reports; facilitate testing and project quality control. Define, analyze, design, develop, test and implement software applications with accuracy and timeliness; follow development standards, create application support documentation along with end user documentation. Ensure base level software applications are maintained as highest priority; assist in testing upgrades to existing applications; train users to publish their own department and office documents; Troubleshoot issues with web applications and provide timely solutions; assist in solving software failures. Analyze user department needs and assist in eliminating redundancy and improving efficiency and effectiveness of operations. Review literature and other resources in order to keep informed of new software/hardware products and technology advances that may have a positive/negative effect on base level support and/or development. Work extra hours when needed. Respond to on-call request as required.
Status: Full Time, Exempt
Working hours: Primarily Monday – Friday, 8:00 am – 5:00 pm
Qualifications: Bachelor's degree in Computer Science or related field with a minimum of three years experience in computer systems analysis and programming; or equivalent combination of education and experience.
Preferred Skills: Software development and project management. Experience or training in ASP, SQL, DB2, MSSQL, jQuery, JavaScript, HTML and CSS are all a plus.
Starting Annual Salary Range: $51,750.40 - $54,995.20
Deadline for Application: Applications will be accepted until the posting is removed.
Apply online at www.showmeboone.com or call (573) 886-4128 if you have questions. Please call in advance if special accommodations are required in order to apply. Benefits include 100% County paid medical and dental employee insurance premium, pre-tax savings program, 2 weeks' vacation, 13 paid holidays, matching deferred compensation plan and retirement plans. To see a complete list of posted positions, submit an online application or to download the application, log on to www.showmeboone.com.
An Affirmative Action/Equal Opportunity Employer
---
GIS Technician
Organization: Toth & Associates
Title: GIS Technician (Full-Time, Entry Level)
Location: Springfield, MO
Posted: 2015-08-21
Company Overview:
Toth and Associates, Inc. (TOTH) was incorporated in December 2003 as a full service engineering firm specializing in electric utility engineering, structural engineering, civil engineering, land surveying, and GIS/mapping. We serve a wide range of clients, including public and private utilities, municipalities, architects, and educational institutions across the country.
Job Brief:
TOTH has an immediate opening for an entry level GIS Technician. As a GIS Technician you are responsible for a variety of activities associated with the creation and maintenance of geospatial data. This position will be responsible for assisting the GIS department with daily GIS responsibilities such as GIS geodatabase editing, creating high quality cartographic products, and quality assurance/quality control.
We are searching for an energetic, resourceful team member who has the ability to multi-task, while remaining organized and can deal with many different priorities. This professional should be detail-oriented with a positive attitude and excellent work ethic. Strong computer skills and a capacity to learn new technologies is necessary.
Roles & Responsibilities
- Work with Esri ArcGIS 10.2.1 software, Google Earth Pro & ArcGIS Online
- Creation and maintenance of GIS geodatabases; editing tabular and geometric data
- Create high quality maps and other GIS-related products with ArcMap
- Correct errors within GIS data
- Performs high-level manual and/or visual review of preliminary data and final products to ensure usability and accuracy of all data entering the system
- Maintains accurate records and documentation of work performed
- Performs other related technical and administrative duties as assigned
Minimum Qualifications
- A Bachelor's degree in GIS or Geography or a related field
- Experience with Esri ArcGIS 10x
- Must demonstrate strong attention to detail
- Strong proficiency with the Windows operating system and Microsoft Office
Preferred Qualifications/Additional Useful Skills
- Familiarity with AutoCAD
- Knowledge of basic cartographic principles
- Experience using Google Earth
- Applied experience using SQL to query a geodatabase
- Experience with web based mapping, ArcGIS Online, ArcGIS for Server
- Basic relational database knowledge
- Knowledge of JavaScript, HTML5, Python/ArcPy
- Private sector GIS experience
- Experience with Trimble GPS units for data collection and Trimble Pathfinder Office for differential correction
- Working knowledge of electric or water/wastewater/storm water utility GIS models
- Knowledge of Milsoft Utility Solutions WindMil (Engineering Analysis) software
- Strong interpersonal skills; excellent written and oral communication skills
Benefits Package
- $15/hour
- Paid vacation
- Medical Insurance
- Sick Leave
- 401K
Visit our website at www.tothassociates.com to learn more about our company.
If interested, please send resume and cover letter to:
Andrea Bohn, GISP
GIS Coordinator
abohn@tothassociates.com
---
Cartography Technicians
Posted 07/24/2015
Associates get the royal treatment at Garmin. Regardless if you're a newbie or a veteran, engineers dream it, design it and use it. Here, you will be surrounded by others who share the same passion about what they do every day. We offer a relaxed team environment (no dress code!) where advancement is found from sharing knowledge, not hiding it! While we promise you a lot of responsibility, you also will have the opportunity to have ownership over projects…oh, and we promise you there will be some fun mixed in there, too!
Left or right? East or west? Our cartography technicians have the know-how to make sure our products don't steer you wrong. Responsible for the attribution, maintenance and digitization of cartographic data, our technicians assist engineering in researching, defining, creating and evaluating all maps used in Garmin products. Heading out for a day on the water? Our technicians had a hand in creating that marine map. Going hiking in the Rockies? Yep, they did that too. Sightseeing on the streets of Paris? Ditto again. Our technicians maintain all of that geographic data using custom and 3rd party software so you always know where to go. Come on, what are you waiting for – are you ready to follow the leader?
We're seeking full time Cartography Technicians for our office in Olathe, KS (Kansas City), to partner with our engineering teams in the research, definition, creation and evaluations of maps produced for use in Garmin products.
Essential functions for this role include:
Edit, manipulate and maintain geographic data using custom and 3rd party software
Ensure the application of cartographic specifications to the data
Help evaluate and process database updates according to established methodology
Assist in map generation and product compilation
Conduct testing and evaluation of Garmin cartography products
Perform established operations for quality assurance
Continuous growth and evolve with engineering technology
Qualifications
A Bachelor's Degree in cartography or geography with a minimum 3.0 GPA or a minimum of 4 years experience performing a role substantially similar to the essential functions of this job description is required. Qualified candidates will possess a basic understanding of geo-databases and a working knowledge of cartography and geography relevant to Garmin's business needs. Proficient computer skills, including familiarity with PC applications and Windows Operating System (OS) and typing skills with the ability to type 30 wpm are also musts! Other required qualifications include:
Must be detail-oriented and have the ability to work proactively and effectively with minimal supervision
Ability to prioritize and multi-task in a flexible, fast paced and challenging environment
Demonstrated strong and effective verbal, written, and interpersonal communication skills
Ability to work and thrive in a sophisticated technical environment
Candidates who are familiar with ArcGIS or other GIS applications, GIS principles and methodologies, and/or possess experience using a GPS device are preferred. Bilingual skills are also a plus!
At Garmin, we like to laugh, have fun and work hard. It comes easily when you work on cool products with hard-working individuals who share the same passion. We offer numerous opportunities to get involved – kickball anyone? – and believe strongly in a work-life balance so your creativity can flow.
Garmin offers one of the most comprehensive compensation and benefit plans around. We offer extensive health care coverage with little to no contributions, depending on the plan. Plus, we offer dental insurance, an employee stock purchase plan, a Retirement Plan, and much more….trust us, it doesn't get much better than this. Unless of course, you want to talk table tennis, fitness spaces, product discounts….come on, what are you waiting for? Apply today.
EEO/AA/Minorities/Females/Disabled/Veterans
**To be considered please apply online at http://www.garmin.com/careers
---