Jobs Page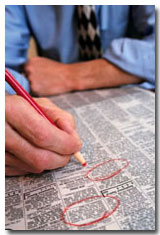 This page was last updated:
Free Ads: Any job announcements submitted to MSDIS directly from not for profit organizations, local/state/federal government and educational institutions will be added to this page free of charge.
Paid Ads: A listing fee of $40 per job ad applies to for profit organizations (private companies, recruitment agencies - or any third party acting as a recruitment agency on behalf of any organization eligible for free ads - and government or military subcontractors) to post a job vacancy on MSDIS jobs page. Paid job ads must be faxed to MSDIS using the official job ad order form (http://www.msdis.missouri.edu/community/jobadreq.pdf) . Only payment by credit card is accepted. Advertising on MSDIS jobs page is a great way to fill your vacancies. MSDIS jobs page receives 1500 - 2000 unique visitors per month and is consistently the 3rd most popular page on the MSDIS web site.
MSDIS RSS Jobs Feed and MSDIS Twitter Feed. For an additional fee of only $10 per service, for profit organizations posting paid job ads can opt to have their posting added to the MSDIS RSS Jobs feed or Twitter feed. If you would like to take advantage of these services just check the appropriate box(es) on the job ad request form.
We will not search the web, etc. for jobs. If you would like to take advantage of this medium, please submit your job announcements to:
MSDIS email:
Fax: 573-884-4239
Announcements with no closing date will remain on this page for three months from the posting date.
Announcements with a closing date will remain on this page until one week after the closing date.
Quick Jobs Index (click the title for detailed job description)
Other Employment Resources
The GIS Jobs Clearinghouse: http://www.gjc.org/
---
GIS Technician II
Posted 04/24/2014
The Assessor's Office in Clay County MO is currently seeking a qualified GIS Tech II.
Primary responsibilities:
Interpret recorded documents such as plats, deeds and surveys. Create and maintain parcel
related GIS data. Create tax maps using modern GIS software and computer-aided tools.
Essential duties and responsibilities:
Interpret plats, deeds, surveys, and legal descriptions. Compile, create and update parcel and
related data based on recorded and other official documents, using digitizing methods, coordinate
geometry and parcel fabric tools under an enterprise GIS environment. Abstract and extract
information from base data such as orthophotography and other documentation to create GIS
data layers. Conduct mapping research and data collection in the field and office. Generate tax
maps and other thematic maps by using spatial analysis skills and appropriate symbology.
Maintain quality assurance and accuracy of GIS data and maps. Assist customers. Other duties as
assigned and reasonably qualified to perform.
Knowledge, Skills and Abilities:
Ability to operate and use modern office equipment including a computer and word processor.
Knowledge of MS Office products and other office equipment including fax, copier, etc. Ability
to work independently and without constant supervision. Ability to operate large format
scanning/printing equipment and ability to lift 30 lbs. Excellent communication skills and
customer service skills.
Minimum qualifications:
An Associate's Degree in geography/geology, Engineering, Computer Science, or a related field.
Two years of computerized GIS/mapping experience, or any equivalent combination of related
education and experience.
Desired Qualifications:
Bachelors' degree in related field. Solid knowledge of geography, cadastral mapping principle
and concepts, and GIS data. One year prior GIS experience with ESRI ArcGIS software.
Knowledge of geodatabase and experience in enterprise GIS environment.
Starting Salary:
$29,789 - $44,678/year, plus Benefits.
Application deadline is 5:00 p.m. on Friday, May 2nd.
For more detail, refer to https://www.claycountymo.gov/jobs/.
---
Assistant GIS Analyst
Posted 04/14/2014
The Missouri Department of Conservation (MDC), Resource Science Division, has an exciting opportunity for individuals with GIS and natural resources experience.  One position is currently available at the Conservation Research Center in Columbia, MO.

As an Assistant GIS Analyst, you'll have the opportunity to work alongside a variety of MDC researchers to help support the department's mission of protecting and managing the forest, fish, and wildlife resources of the state. Good time management, organization, and team building skills are a necessity. Other responsibilities will include: project development and implementation; GIS data set development and maintenance; assembling metadata; attending meetings and conferences; GPS data collection; Raster Interpolation; Remote Sensing; and assisting with other duties as assigned.

The qualified applicant will be a self-motivated, conscientious individual who can work independently with minimal supervision, as well as communicate closely with Department Staff.   We are looking for a person with a background in GIS, telemetry, and knowledge of ESRI's ArcGIS software. A bachelor degree in Geography, Geospatial Science, or closely related field is required.  Personal interest with fish, forest, and wildlife management is preferred, but not required.

This position is allocated for up to 40 hours per week.  The hourly rate starts at $10.73.
No health benefits, vacation, or sick leave is allocated for this position.
CLOSING DATE:  When Filled
APPLICATION: Please submit your cover letter and resume to:

Tim Bixler
3500 East Gans Road 
Columbia, MO 65201 
573.815.7901 x3943
Tim.Bixler@mdc.mo.gov
---
Interdisciplinary Cartographer/Physical Scientist/Geographer
Posted 04/07/2014
Job Title: Interdisciplinary Cartographer/Physical Scientist/Geographer, GS-1370/1301/0150-11/12 PERM-DEU-CLR
Department: Department Of The Interior. Agency:Geological Survey
Job Announcement Number: ATL-2014-0369
SALARY RANGE: $57,982.00 to $96,960.00 / Per Year
OPEN PERIOD: Monday, March 31, 2014 to Friday, April 18, 2014
SERIES & GRADE: GS-0150/1301/1370-11/12
POSITION INFORMATION: Permanent - Full-Time
PROMOTION POTENTIAL: 12
DUTY LOCATIONS: 1 vacancy in the following location(s): Denver, CO or Rolla, MO
WHO MAY APPLY: United States Citizens
SECURITY CLEARANCE: Q - Nonsensitive
SUPERVISORY STATUS: No
JOB SUMMARY and online application: See https://www.usajobs.gov/GetJob/ViewDetails/365420200
---
Engineering Technician II
Posted 04/07/2014
Department: Public Works
Division: Water Pollution Control
New Position

Full-time, 40 Hrs./Week
Location of Position: Water Pollution Control
BRIEF JOB DESCRIPTION: Duties include data gathering from drawing interpretation and/or field surveying activities to provide verification and updates in GIS. Data entry is provided into GIS and/or asset database. Position produces electronic/paper maps for use by others. Must be able to read and interpret sewer plans and specifications. Field survey work may require activities in remote locations and exposer to wide range of terrain and weather conditions.
MINIMUM QUALIFICATIONS: Must be a high school graduate or equivalent or an equivalent combination of education and experience sufficient to successfully perform the essential duties of this position. Must have high school algebra and trigonometry with three years direct related experience; must be able to read/understand engineering drawings, maps, legal descriptions and plats. Knowledge of (and experience with) GPS surveying, GIS, and/or other CAD systems. Must exhibit ability to adapt to (and effectively use) advancing technologies.
SUCCESSFUL APPLICANT IS REQUIRED TO TAKE PRE-EMPLOYMENT PHYSICAL AND DRUG SCREEN.
Salary Range: $17.32/hr.
PI #3437
Class. Code 1105
How to Apply: http://www.wycokck.org/Internet2010Tab.aspx?id=6302&banner=27663&menu_id=960
It is the policy of the Unified Government not to discriminate against any employee or applicant for employment because of race, color, national origin or ancestry, religion or creed, sex, age or disability. All applicants for this position who do not presently hold a safety sensitive position with the Unified Government will be required to submit to a drug test after successful bid and before actual appointment.
MUST BE A RESIDENT OF WYANDOTTE COUNTY OR WILLING TO RELOCATE.
PUBLIC LAW REQUIRES ALL NEW APPOINTEES TO SUBMIT PROOF OF IDENTITY AND EMPLOYMENT ELIGIBILITY
EOE
---
GIS Analyst Developer (Developer Analyst II)
Posted 03/21/2014
Position Title: GIS Developer Analyst II
Job Title: GIS Analyst Developer (Developer Analyst II)
Organizational Unit: Johnson County KS -> Department of Technology and Innovation -> DTI-Enterprise Services
Location: Johnson County Administration Building - Olathe, KS 66061 US (Primary)
Johnson County - KS US
Position Grade: 16.17 Exempt
Pay Range: $24.23 - $34.49
Employment Category: Fulltime-Regular (40 hrs, Full Benefits)
Work Schedule: Monday - Friday, 8:00 - 5:00
Job Description
The AIMS division of Johnson County Department of Technology and Innovation is seeking a qualified GIS Analyst Developer. Primary responsibilities include overall GIS project design, development and analysis of geographic data, map production, process/data automation and programming utilizing ESRI Inc. suite of GIS software. They will also perform business analysis for the integration of GIS to internal and external clients and provides training and problem-solving support to offices, agencies, and others using AIMS data and applications.
Completes programming assignments, which may include process automation, enhancements, configurations or builds with limited oversight by a more experienced developer analyst; assists in ensuring high component availability while facilitating growth in usage and increased functionality by applying knowledge of multiple programming languages and techniques.
Responds to end-user questions, inquiries, and ad-hoc requests to include report design; works directly with end-users in evaluating solutions, fulfilling requests, and resolving issues; recommends solutions to ensure system availability.
Participates in system design reviews and communicates with technical and non-technical audiences.
Creates, reviews, and maintains documentation related to system software use and support including procedures, processes, metadata.
Collects, edits, and maintains data; ensures data is accurate, current, and complete through quality assurance procedures; develops new, and enhances existing, datasets through various techniques such as data mining, process automation, workflow modifications, and agency collaboration.
Monitors and helps ensure system and subsystem availability and performance; analyzes and resolves problems; conducts tests and monitors activities; analyzes reports.
Job Requirements
Associate's degree in the following field(s) of study: Information Technology or related field and two years of experience in the Information Technology field are required. Must possess a proficient knowledge of GIS analysis techniques, geographic data collection and editing methods, cartography, and applied GIS skills. Must possess experience in querying and manipulating a relational databases, be able to develop applications for editing, browsing, or querying data, and be able to communicate effectively both verbally and in writing. Preference will be given to individuals with proven systems analysis and design skills.
Preferred qualifications: Bachelor's degree in Geography or Computer Science; one year of experience with GIS applications utilizing ESRI software; experience using Microsoft SQL server, Visual Studio, FME, Python, and the ESRI software suite.
Experience can substitute for education. Education can substitute for experience.
Driving Status: Occasional (less than 5%)
Category: Management, Administrative, Technology, and Financial Services
Aplly on line: http://www.jocogov.org/dept/human-resources/career-opportunities/jobs-open-public
---