Jobs Page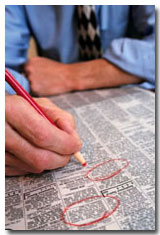 This page was last updated:
Free Ads: Any job announcements submitted to MSDIS directly from not for profit organizations, local/state/federal government and educational institutions will be added to this page free of charge.
Paid Ads: A listing fee of $40 per job ad applies to for profit organizations (private companies, recruitment agencies - or any third party acting as a recruitment agency on behalf of any organization eligible for free ads - and government or military subcontractors) to post a job vacancy on MSDIS jobs page. Paid job ads must be faxed to MSDIS using the official job ad order form (http://www.msdis.missouri.edu/community/jobadreq.pdf) . Only payment by credit card is accepted. Advertising on MSDIS jobs page is a great way to fill your vacancies. MSDIS jobs page receives 1500 - 2000 unique visitors per month and is consistently the 3rd most popular page on the MSDIS web site.
MSDIS RSS Jobs Feed and MSDIS Twitter Feed. For an additional fee of only $10 per service, for profit organizations posting paid job ads can opt to have their posting added to the MSDIS RSS Jobs feed or Twitter feed. If you would like to take advantage of these services just check the appropriate box(es) on the job ad request form.
We will not search the web, etc. for jobs. If you would like to take advantage of this medium, please submit your job announcements to:
MSDIS email:
Fax: 573-884-4239
Announcements with no closing date will remain on this page for three months from the posting date.
Announcements with a closing date will remain on this page until one week after the closing date.
Quick Jobs Index (click the title for detailed job description)
Available Positions



Position Title
Location
Organization
Salary Range
Closing Date
GIS Analyst
Columbia, MO
City of Columbia
$43,510 - $53,300
08/11/2014
GIS Technician
Columbia, MO
City of Columbia
$34,379 - $42,114
08/11/2014
GIS Specialist
St. Louis, MO
Missouri Botanical Garden
?
July 31, 2014
Engineering Tech I – CAD Tech
St. Charles, MO
City of St. Charles
$41,717.50
August 14, 2014
GIS Technician
St. Louis, MO
Thouvenot, Wade & Moerchen, Inc.,
?
Until Filled
Division Director Development Review
St. Charles, MO
St. Charles County
$76,353
Until Filled
GIS Specialist
Independence, MO
Jackson County
$15.00 to $23.27/Hr
Until Filled
Assistant GIS Analyst
Columbia, MO
Missouri Dept. of Conservation
$10.73/Hr
?
Other Employment Resources
The GIS Jobs Clearinghouse: http://www.gjc.org/
---
GIS Analyst
Posted 07/25/2014
Perform professional work designing, developing, maintaining, and providing training on specialized GIS data systems, procedures, applications, and data solutions to support and improve situational awareness and City business processes and efficiencies for management, supervisors, operations staff, and the public.
Salary Range: $43,510 - $53,300 Minimum-Midpoint, Commensurate with training and experience.
Closing Date for Applications: 08/11/2014
For Full posting and to apply online please visit: https://www.gocomojobs.com/postings/9932
---
GIS Technician
Posted 07/25/2014
Provide cartographic services, spatial analysis, training, technical support, and management of geospatial datasets and customer services to internal and external customers.
Salary Range: $34,379 - $42,114 Minimum-Midpoint, Commensurate with training and experience
Closing Date for Applications: 08/11/2014
For Full posting and to apply online please visit: https://www.gocomojobs.com/postings/9933
---
GIS Specialist
Posted 07/24/2014
Summary:
This position is responsible for skilled mapping support for the garden-wide Geographic Information System (GIS).  Preparing maps of the Garden grounds and field work sites, showing plant, utilities and other infrastructure locations, and training and supervising volunteers for related work.
Essential Duties and Responsibilities: 
Collect, enter, and maintain GIS data for MBG, SNR, other properties and field sites, including basemaps, plants, utilities, irrigation systems, sculptures, benches, habitats, soils, etc.
Manage the operation of GIS equipment, software, data, and products.
Analyze GIS data to identify spatial relationships or display results of analyses, using maps, graphs, or tabular data.
Assist in developing the living collections using GIS techniques to analyze tree canopy, phenology, soils, climate, and sourcing plants from the wild.
Develop GIS maps and conduct analysis for horticulture field work related to plant conservation and restoration activities
Produce maps for staff, , collaborators, and others as needed
Work with other divisions to assess data, and develop inter-departmental protocols to enter and maintain data.
Collaborate with Center For Conservation and Sustainable Development (CCSD) staff for the use of GIS resources on specific projects
May be responsible for interacting with the media (TV, radio, newspaper, etc.), working with Public Relations to provide information about the horticultural content of their respective work.
Adherence to all health and safety regulations
Provide training and technical support to staff, volunteers, and interns regarding data collection, entry, and maintenance of GIS databases, equipment, or applications, and develop workflows and standards
Review existing or incoming data for currency, accuracy, usefulness, quality, or completeness of documentation.
Manage existing geodatabases, including schema, permissions, maintenance, relationships, domains, topologies, networks, and routing.
Develop web-based mapping applications for data entry and viewing.
Work with Information Technology department on desktop, server, and mobile installations, settings, and updates.
Qualifications/Experience:
Minimum 2-3 years related experience
Strong interest in scientific principles of plant conservation, science, and the environment helpful
Proficient PC ability
Independent self-starter, creative, flexible, and possess the ability to effectively multi-task
The requirements and duties listed here are representative and not exhaustive of the knowledge, skill, and/or abilities required.
Education: 
Bachelor's degree in geographic information systems  or related field required
An equivalent combination of skills, education, and experience may be considered.
Computer Skills:
Proficient experience navigating through various PC applications including, but not restricted to, Microsoft Office suite (i.e., Outlook, Access, Excel, Word)
Experience with ESRI ArcGIS desktop software and creating and maintaining geodatabases and associated GIS data.
Experience with ESRI ArcGIS Server, ArcPad, and Spatial Analyst.
Experience with AutoCAD.
Experience with GPS equipment and peripherals preferred.
Physical Demands:  
Ability to lift and carry up to 20 lbs. (i.e., move signage supplies and equipment)
May be required to perform tasks at varying heights (i.e., climb ladders, etc.)
Must be able to work outdoors year- round.
Ability to walk about facility frequently throughout work day; requires standing, walking, bending, stooping and reaching for extended periods of time-- 90% or more of the workday is standing on feet.
Ability to wear Garden issued Personal Protective Equipment, including a full face respirator.
Ability to utilize computer keyboard (typing).
Work Environment:
80% office work at a computer, in a shared office area; 20% working outside mapping features.
Comfortable working in immediate proximity to general public, in a safe and friendly manner, answering questions regarding horticulture collection.
Ability to work outdoors in all weather conditions (i.e., in temperatures over 100°F as well as temperatures below 0°F, in rain, snow and other inclement weather conditions as needed)
Apply online http://missouribotanicalgarden.applicantpro.com/jobs/113231.html
---
Engineering Tech I – CAD Tech
Posted 07/22/2014
The City of Saint Charles Public Works Department is currently recruiting for the position of Engineering Tech I. The purpose of this position is to assist in Computer-Aided Drafting (CAD) production on City public work projects, provide technical engineering design information for plans, specifications and contract documents on City public work projects, and operate and maintain the City's Geographic Information System (GIS).
Essential Duties and Responsibilities
The following duties are normal for this position. These are not to be construed as exclusive or all-inclusive. Other duties may be required and assigned.
Operate and maintain GIS information for infrastructure systems.
Incorporate as-built information from private development constructed infrastructure into GIS.
Assists in the design, preparation of plans, specifications, cost estimate and all other aspects of proposed improvement projects under the guidance of a Project Manager (Civil Engineer) or Sr. Project Manager.
Manage contracts for the design of Capital Improvement projects, including the attainment and negotiation with design firm completing design.
Prepares exhibits for right-of-way/easement acquisitions and concept project maps.
Assists contractors/citizens in locating City facilities (including part-time utility locator duties).
Responds to questions, comments and/or requests from citizens, contractors and staff that involve city infrastructure / facilities.
Updates and maintains GIS Standards, Policies, and Procedures for perpetuating knowledge of the City's infrastructure GIS.
Collects field survey data of infrastructure using surveying techniques and/or GPS.
Manages interfacing between the Enterprise Asset Management System (EAMS) and GIS.
Administers and maintains database information within EAMS, assists in establishing EAMS workflows, performs various queries/analyses of GIS and EAMS data, and prepares requested performance and management reports from GIS and EAMS data.
Assists other Departments and Divisions as necessary regarding GIS and EAMS practices.
Performs plan reviews under the guidance of a Project Manager (Civil Engineer).
Maintains licenses and software for GIS, EAMS, AutoCAD and Microstation.
Maintain City details for infrastructure in CAD.
Performs all job duties in compliance with the City of St. Charles Public Works Department's Project Management Manual (PMM).
Minimum Training and Experience Required to Perform Essential Job Functions
Associate's degree in Civil Engineering Technologies or similarly related field. Two years experience as a civil engineering CAD technician. GIS Certificate from an accredited higher education institution or the ability to obtain such certification within one year with the intent to pursue certification as a GIS Professional (GISP) by the GIS Certification Institute (GISCI). Two years experience in public works inspection or project management is preferred. Ability to research and apply engineering specifications and standards to the technical review and execution of public works projects. Valid motor vehicle operator's license required. Proficient use of standard office software (MS Word, Excel, PowerPoint, etc.) as well as experience with MicroStation and Geopack or AutoCAD software for design of engineering projects. Any combination of education and experience that provides equivalent knowledge, skills, registrations and abilities.
Contact Information
Interested applicants should submit an application/resume by 5:00 pm on the closing date to: The City of Saint Charles Human Resources Department, Suite 301, 200 North Second Street, Saint Charles, MO 63301. Hours of operation are Monday through Friday 8:00 am to 5:00 pm. Employment applications can also be downloaded from the City's website and faxed to Human Resources at 636-940-4606. Website address for the employment application is: www.stcharlescitymo.gov
The City of Saint Charles is an Equal Opportunity Employer and participates in E-Verify
---
GIS Technician
Posted 06/05/2014
Thouvenot, Wade & Moerchen, Inc., one of the largest civil engineering firms in the St. Louis area, is currently taking applications for a GIS Technician position.  This position is responsible for creating, editing, providing and maintaining spatial data and cadastral mapping using ESRI's ArcGIS Software in the Swansea, IL office of Thouvenot, Wade & Moerchen, Inc.  Position will support TWM's GIS Specialist.
EXAMPLES OF DUTIES
Performs various geoprocessing activities within the ArcGIS platform.
Contributes to development and implementation of GIS data and its organizational structure/database environment. When needed, analyzes and interprets spatial data used in the production of maps, reports, and other products.
Consults with Project Managers in the development of their GIS plans, goals, and objectives.
Maintains current knowledge of trends and developments in the geographic information systems field for application to responsibilities under charge.
Retrieves, processes, and analyzes archived spatial data.
Provides training and "help desk" assistance for any other staff in the use of GIS.
May help provide GIS presentations to clients and potential clients.
Assists in coordinating database and host server activities with IT staff.
Troubleshoots issues and schedules and coordinates software patches, updates, and upgrades.
Assists in developing scripts used in geoprocessing and maintenance tasks.
Helps to ensure proper functionality of hosted GIS services.
Performs additional duties as required.
Must possess a Bachelor's degree in Computer Science, Geography, or a related field, and / or direct working experience in GIS systems.  Preferred applicants will possess thorough knowledge of ArcGIS for Desktop and ArcGIS for Server software as well as experience working with Geodatabase maintenance and replication, spatial data, cadastral mapping, and SQL Server database maintenance.  Candidates should have knowledge of Visual Basic and Python scripting, along with experience in CAD and GIS conversion.  Experience in information technology, network administration, and virtualized server technologies a plus.
Competitive salary and fringe benefits with exceptional bonus incentives. Starting salary dependent upon personal knowledge, skill and ability. Regular salary reviews and Employee Stock Ownership Plan.
To apply, go to our How to Apply page for instructions on submitting a complete application package.  Use the application for GIS and Planning positions. Indicate "Application – GIS Technician" in the subject of your email.  Your transcript can be emailed or sent under separate cover.
If your software does not support this download, call
(618) 624-4488 and ask that an application form be mailed to you. No other phone calls, please.
Apply early. Position will be filled as quickly as possible.
TWM is an EEO/AA employer.
---
Division Director Development Review
Posted 05/13/2014
Starting Salary: $ 76,353 per year.
This is a full-time, 40 hour per week position which includes a full range of benefits including Paid Time Off, Extended Medical Leave, Holidays, Employee health, dental, life, disability, retirement and tuition assistance programs.

JOB DESCRIPTION: Manages and monitors all aspects of the department's design review duties, involving proposed developments including drainage, grading and roadway improvements. Supervises a staff of engineers and technicians and oversees field inspections related to Division responsibilities. Provides technical guidance in civil engineering related to various aspects of development and serves as liaison with other permitting agencies such as the Corps of Engineers. Coordinates proposed developments with the Highway Department and works with other county departments in technical reviews and design assistance. Works with public, consultants, developers, and staff to resolve design issues related to developments. Reviews and proposes modifications to County design specifications on an on-going basis in consultation with construction and maintenance divisions. Schedules and conducts meetings as needed with public, consultants, developers, municipalities, and other county departments. Performs other duties as assigned.
REQUIREMENTS: Requires B.S. in Civil Engineering, with six years of related, progressively responsible design and/or design review experience. Certification as a Professional Engineer by the Missouri State Board of Registrars for Architects and Professional Engineers desirable. An equivalent combination of education and experience will be considered. Requires thorough knowledge of road design, storm water hydrology/hydraulics, general site engineering, surveying and underground utility design. Knowledge of the principles, practices, methods, and techniques of civil engineering. Skill in the review of plans for compliance with technical specifications and good engineering practice is essential. Skill in the reading and interpreting of technical manuals, specifications, laws and ordinances, and similar materials. Ability to effectively lead and communicate with staff members, consultants, developers, elected and appointed officials, engineers, contractors and the general public. Excellent written and verbal communication skills. Must possess valid driver's license and a satisfactory driving record.
TO APPLY: All applications must be submitted only through our Self-Service Website at http://hr.sccmo.org/hr. We do not accept faxed, e-mailed or print applications. For your convenience, if needed, terminals are available on site at the HR Dept., 201 N. Second St., Room 519, St. Charles, MO 63301 Monday – Friday 8:00 am – 5:00 pm.
Applications will be accepted on a continuing basis until the position is filled or a sufficient number of qualified candidates have applied.

St. Charles County is an Equal Opportunity Employer. In compliance with the Americans with Disabilities Act, the County will provide reasonable accommodations to qualified individuals with disabilities and encourages both prospective and current employees to discuss potential accommodations with the employer. St. Charles County is a drug and alcohol free work place. A pre-employment drug screen is required for all positions.
---
GIS Specialist
Posted 05/06/2014
Location: Independence, MO
Job Id: 316
# of Openings: 1
Department: Information Technology/GIS
Grade: g07
Salary: $15.00 - $23.27/hour
Job Duties:
Responsible for creating, updating and maintaining all GIS data, performing GIS analysis as requested, creating cartographic products and working as part of the GIS team to ensure exceptional customer service for both County Departments and the taxpayers.
Responsible for working with other GIS stakeholders to coordinate and implement complementary County GIS activities.
Minimum Qualifications:
Must have a Bachelor's Degree in Geography or social/physical sciences or a related field, and one to five years of experience in GIS or related field.
Must submit to/pass pre-employment background and drug screen. Non-smokers preferred.
http://www.jacksongov.org/content/3310/3344/3652/default.aspx
---
Assistant GIS Analyst
Posted 04/14/2014
The Missouri Department of Conservation (MDC), Resource Science Division, has an exciting opportunity for individuals with GIS and natural resources experience.  One position is currently available at the Conservation Research Center in Columbia, MO.

As an Assistant GIS Analyst, you'll have the opportunity to work alongside a variety of MDC researchers to help support the department's mission of protecting and managing the forest, fish, and wildlife resources of the state. Good time management, organization, and team building skills are a necessity. Other responsibilities will include: project development and implementation; GIS data set development and maintenance; assembling metadata; attending meetings and conferences; GPS data collection; Raster Interpolation; Remote Sensing; and assisting with other duties as assigned.

The qualified applicant will be a self-motivated, conscientious individual who can work independently with minimal supervision, as well as communicate closely with Department Staff.   We are looking for a person with a background in GIS, telemetry, and knowledge of ESRI's ArcGIS software. A bachelor degree in Geography, Geospatial Science, or closely related field is required.  Personal interest with fish, forest, and wildlife management is preferred, but not required.

This position is allocated for up to 40 hours per week.  The hourly rate starts at $10.73.
No health benefits, vacation, or sick leave is allocated for this position.
CLOSING DATE:  When Filled
APPLICATION: Please submit your cover letter and resume to:

Tim Bixler
3500 East Gans Road 
Columbia, MO 65201 
573.815.7901 x3943
Tim.Bixler@mdc.mo.gov
---