Jobs Page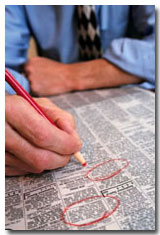 This page was last updated:
Free Ads: Any job announcements submitted to MSDIS directly from not for profit organizations, local/state/federal government and educational institutions will be added to this page free of charge.
Paid Ads: A listing fee of $40 per job ad applies to for profit organizations (private companies, recruitment agencies - or any third party acting as a recruitment agency on behalf of any organization eligible for free ads - and government or military subcontractors) to post a job vacancy on MSDIS jobs page. Paid job ads must be faxed to MSDIS using the official job ad order form (http://www.msdis.missouri.edu/community/jobadreq.pdf) . Only payment by credit card is accepted. Advertising on MSDIS jobs page is a great way to fill your vacancies. MSDIS jobs page receives 1500 - 2000 unique visitors per month and is consistently the 3rd most popular page on the MSDIS web site.
MSDIS RSS Jobs Feed and MSDIS Twitter Feed. For an additional fee of only $10 per service, for profit organizations posting paid job ads can opt to have their posting added to the MSDIS RSS Jobs feed or Twitter feed. If you would like to take advantage of these services just check the appropriate box(es) on the job ad request form.
We will not search the web, etc. for jobs. If you would like to take advantage of this medium, please submit your job announcements to:
MSDIS email:
Fax: 573-884-4239
Announcements with no closing date will remain on this page for three months from the posting date.
Announcements with a closing date will remain on this page until one week after the closing date.
Quick Jobs Index (click the title for detailed job description)
Available Positions



Position Title
Location
Organization
Salary Range
Closing Date
Assistant GIS Analyst
Columbia, MO
Missouri Dept. of Conservation
$10.73/Hr
?
Interdisciplinary Cartographer/Physical Scientist/Geographer
Denver, CO or Rolla MO
U.S. Geological Survey
$57,982.00 to $96,960.00
04/18/2014
Engineering Technician II
Kansas City, KS
Wyandotte County
$17.32/hour
04/16/2014
GIS Analyst Developer II
Olathe, KS
Johnson County
$24.23 - $34.49/hour
?
GIS Intern
Columbia, MO
Boone County
$10.01/hour
Until filled
GIS Specialist
St. Louis, MO
Missouri Botanical Gardens
?
?
GIS Enterprise Systems Administrator
Columbia, MO
City of Columbia
$53,966 - $67,458
04/04/2014
GIS Coordinator
Platte City, MO
Platte County
?
?
Community Information Project Specialist
St. Charles, MO
City os St. Charles Police Dept.
$38,950.00 – 53,693.00
Until filled
GIS Analyst
Lenexa, KS
GBA Companies
?
?
Other Employment Resources
The GIS Jobs Clearinghouse: http://www.gjc.org/
---
Assistant GIS Analyst
Posted 04/14/2014
The Missouri Department of Conservation (MDC), Resource Science Division, has an exciting opportunity for individuals with GIS and natural resources experience.  One position is currently available at the Conservation Research Center in Columbia, MO.

As an Assistant GIS Analyst, you'll have the opportunity to work alongside a variety of MDC researchers to help support the department's mission of protecting and managing the forest, fish, and wildlife resources of the state. Good time management, organization, and team building skills are a necessity. Other responsibilities will include: project development and implementation; GIS data set development and maintenance; assembling metadata; attending meetings and conferences; GPS data collection; Raster Interpolation; Remote Sensing; and assisting with other duties as assigned.

The qualified applicant will be a self-motivated, conscientious individual who can work independently with minimal supervision, as well as communicate closely with Department Staff.   We are looking for a person with a background in GIS, telemetry, and knowledge of ESRI's ArcGIS software. A bachelor degree in Geography, Geospatial Science, or closely related field is required.  Personal interest with fish, forest, and wildlife management is preferred, but not required.

This position is allocated for up to 40 hours per week.  The hourly rate starts at $10.73.
No health benefits, vacation, or sick leave is allocated for this position.
CLOSING DATE:  When Filled
APPLICATION: Please submit your cover letter and resume to:

Tim Bixler
3500 East Gans Road 
Columbia, MO 65201 
573.815.7901 x3943
Tim.Bixler@mdc.mo.gov
---
Interdisciplinary Cartographer/Physical Scientist/Geographer
Posted 04/07/2014
Job Title: Interdisciplinary Cartographer/Physical Scientist/Geographer, GS-1370/1301/0150-11/12 PERM-DEU-CLR
Department: Department Of The Interior. Agency:Geological Survey
Job Announcement Number: ATL-2014-0369
SALARY RANGE: $57,982.00 to $96,960.00 / Per Year
OPEN PERIOD: Monday, March 31, 2014 to Friday, April 18, 2014
SERIES & GRADE: GS-0150/1301/1370-11/12
POSITION INFORMATION: Permanent - Full-Time
PROMOTION POTENTIAL: 12
DUTY LOCATIONS: 1 vacancy in the following location(s): Denver, CO or Rolla, MO
WHO MAY APPLY: United States Citizens
SECURITY CLEARANCE: Q - Nonsensitive
SUPERVISORY STATUS: No
JOB SUMMARY and online application: See https://www.usajobs.gov/GetJob/ViewDetails/365420200
---
Engineering Technician II
Posted 04/07/2014
Department: Public Works
Division: Water Pollution Control
New Position

Full-time, 40 Hrs./Week
Location of Position: Water Pollution Control
BRIEF JOB DESCRIPTION: Duties include data gathering from drawing interpretation and/or field surveying activities to provide verification and updates in GIS. Data entry is provided into GIS and/or asset database. Position produces electronic/paper maps for use by others. Must be able to read and interpret sewer plans and specifications. Field survey work may require activities in remote locations and exposer to wide range of terrain and weather conditions.
MINIMUM QUALIFICATIONS: Must be a high school graduate or equivalent or an equivalent combination of education and experience sufficient to successfully perform the essential duties of this position. Must have high school algebra and trigonometry with three years direct related experience; must be able to read/understand engineering drawings, maps, legal descriptions and plats. Knowledge of (and experience with) GPS surveying, GIS, and/or other CAD systems. Must exhibit ability to adapt to (and effectively use) advancing technologies.
SUCCESSFUL APPLICANT IS REQUIRED TO TAKE PRE-EMPLOYMENT PHYSICAL AND DRUG SCREEN.
Salary Range: $17.32/hr.
PI #3437
Class. Code 1105
How to Apply: http://www.wycokck.org/Internet2010Tab.aspx?id=6302&banner=27663&menu_id=960
It is the policy of the Unified Government not to discriminate against any employee or applicant for employment because of race, color, national origin or ancestry, religion or creed, sex, age or disability. All applicants for this position who do not presently hold a safety sensitive position with the Unified Government will be required to submit to a drug test after successful bid and before actual appointment.
MUST BE A RESIDENT OF WYANDOTTE COUNTY OR WILLING TO RELOCATE.
PUBLIC LAW REQUIRES ALL NEW APPOINTEES TO SUBMIT PROOF OF IDENTITY AND EMPLOYMENT ELIGIBILITY
EOE
---
GIS Analyst Developer (Developer Analyst II)
Posted 03/21/2014
Position Title: GIS Developer Analyst II
Job Title: GIS Analyst Developer (Developer Analyst II)
Organizational Unit: Johnson County KS -> Department of Technology and Innovation -> DTI-Enterprise Services
Location: Johnson County Administration Building - Olathe, KS 66061 US (Primary)
Johnson County - KS US
Position Grade: 16.17 Exempt
Pay Range: $24.23 - $34.49
Employment Category: Fulltime-Regular (40 hrs, Full Benefits)
Work Schedule: Monday - Friday, 8:00 - 5:00
Job Description
The AIMS division of Johnson County Department of Technology and Innovation is seeking a qualified GIS Analyst Developer. Primary responsibilities include overall GIS project design, development and analysis of geographic data, map production, process/data automation and programming utilizing ESRI Inc. suite of GIS software. They will also perform business analysis for the integration of GIS to internal and external clients and provides training and problem-solving support to offices, agencies, and others using AIMS data and applications.
Completes programming assignments, which may include process automation, enhancements, configurations or builds with limited oversight by a more experienced developer analyst; assists in ensuring high component availability while facilitating growth in usage and increased functionality by applying knowledge of multiple programming languages and techniques.
Responds to end-user questions, inquiries, and ad-hoc requests to include report design; works directly with end-users in evaluating solutions, fulfilling requests, and resolving issues; recommends solutions to ensure system availability.
Participates in system design reviews and communicates with technical and non-technical audiences.
Creates, reviews, and maintains documentation related to system software use and support including procedures, processes, metadata.
Collects, edits, and maintains data; ensures data is accurate, current, and complete through quality assurance procedures; develops new, and enhances existing, datasets through various techniques such as data mining, process automation, workflow modifications, and agency collaboration.
Monitors and helps ensure system and subsystem availability and performance; analyzes and resolves problems; conducts tests and monitors activities; analyzes reports.
Job Requirements
Associate's degree in the following field(s) of study: Information Technology or related field and two years of experience in the Information Technology field are required. Must possess a proficient knowledge of GIS analysis techniques, geographic data collection and editing methods, cartography, and applied GIS skills. Must possess experience in querying and manipulating a relational databases, be able to develop applications for editing, browsing, or querying data, and be able to communicate effectively both verbally and in writing. Preference will be given to individuals with proven systems analysis and design skills.
Preferred qualifications: Bachelor's degree in Geography or Computer Science; one year of experience with GIS applications utilizing ESRI software; experience using Microsoft SQL server, Visual Studio, FME, Python, and the ESRI software suite.
Experience can substitute for education. Education can substitute for experience.
Driving Status: Occasional (less than 5%)
Category: Management, Administrative, Technology, and Financial Services
Aplly on line: http://www.jocogov.org/dept/human-resources/career-opportunities/jobs-open-public
---
GIS Intern
Posted 03/20/2014
JOB OPPORTUNITY #: 764-1176
GEOGRAPHIC INFORMATION SYSTEM INTERN
GEOGRAPHIC INFORMATION TECHNOLOGY DEPT
Responsibilities:
Under limited supervision by the GIS Manager, this position will be responsible for, but not limited to; updating select GIS layers, performing spatial analysis, and developing custom map products.
Status: Temporary, Non-benefited
Working Hours: 20-40 hours/week, Mid April through December 2014 (flexible)
Hourly Rate: $10.01
Qualifications:
Successful candidates should have experience with ESRI's ArcView, Arc Editor and/or ArcInfo 10.x Desktop and experience with aerial photo interpretation. A good understanding of Microsoft Windows is preferred but not required.
Deadline for Application: Applications will be accepted until posting is removed.

Apply online at www.showmeboone.com or in person at the Human Resources Department, 613 E. Ash Street, Boone County Annex Building, Columbia, MO 65201, or call (573) 886-4395 if you have questions. Please call in advance if special accommodations are required in order to apply. To see a complete list of posted positions, submit an online application or to download the application, log on to www.showmeboone.com.
An Affirmative Action/Equal Opportunity Employer
---
GIS Specialist
Posted 03/13/2014
Unique career opportunities with one of the world's top botanic institutions!
Missouri Botanical Garden's 79 acres of splendid horticultural displays include the vibrant tropical rainforest that thrives inside the Climatron® conservatory. The Japanese Garden covers 14 acres, making it one of the largest Japanese strolling gardens in North America. More than 4,800 trees live on the grounds, including some unusual varieties and a few stately specimens dating back to the 19th century, when Garden founder Henry Shaw planted them. The Nursery accommodate plant propagation, plant production for indoor and outdoor use, research plants and special collections such as orchids, cacti and succulents, tropical plants and aquatics.
GIS Specialist (Full‐time)
This position is responsible for skilled mapping support for the garden‐wide Geographic
Information System (GIS). Preparing maps of the Garden grounds and field work sites, showing
plant, utilities and other infrastructure locations, and training and supervising volunteers for
related work.
Qualifications/Experience:

•Bachelor's degree in geographic information systems or related field required.
•Minimum 2‐3 years related experience.
•Strong interest in scientific principles of plant conservation, science, and the environment
helpful.
•Proficient PC ability.
•Independent self‐starter, creative, flexible, and possess the ability to effectively multi‐task.

How to Apply:
To review the comprehensive posting and to apply, please visit our website at
http://www.mobot.org/jobs/mbgjobs_mrl.asp#N019
Missouri Botanical Garden is an Equal Opportunity/Affirmative Action Employer.
---
GIS Enterprise Systems Administrator
Posted 03/10/2014
Posting Number
0526P
Position Title
GIS Enterprise Systems Administrator
Department
Public Works
Job Code
02150
FLSA Status
Exempt
Union Code/Affiliation
Unrepresented
Division
CITYWIDE SERVICES/CITY GIS OFFICE
Job Description Summary

Administer the City's Enterprise GIS System, including granting database access, designing database improvements, implementing changes to the systems to improve effectiveness, working with other departments to promote use and ownership of data within the City, and designing end user applications to collect/display data to appropriate users across the enterprise.

Essential Job Functions

•Provide administration of the City's ArcSDE and ArcGIS servers, including security access, performance tuning, capacity planning, optimization, and deployment of user GIS applications, and ensuring recoverability procedures are in place.

•Ensure appropriate permissions, security, and access of data layers and products in ArcSDE and ArcGIS server environments, as determined by data owners, stakeholders, and City policy.

•Coordinate use of ArcGIS server technology, deployment, and development across the City, including ArcGIS APIs, and ArcGIS mobile technologies.

•Define, analyze, design, develop, test, and implement GIS applications with accuracy, timeliness, and responsiveness to GIS stakeholders, following development standards.

•Support GIS interest and use in departments and business units across the City. Provide technical information, feasibility studies, cost/benefit analysis, GIS application development, user training, solutions, explanations, and advice in response to user requests.

•Consult on and support software and solution procurement and implementation involving geospatial data and technology.

•Perform team leader functions for projects involving multiple developers: manage deadlines, provide status reports, and facilitate final testing and project sign-off.

•Work with junior level staff to assist with assigned projects and further their professional development.

•Develop procedures for applying service packs, upgrades, and migrating to standard releases for all Esri software. Assist in testing upgrades to existing applications and assist teams in solving software failures.

•Coordinate with Information Technologies staff on infrastructure, networking, security, development, mobility, and support issues.

Ancillary Job Functions

•Prepare and present oral and written reports, presentations, and recommendations.

•Monitor, document, and analyze system performance and make or recommend adjustments as necessary.

•Review literature and other resources in order to keep informed of new technology advances that may affect base level support and/or development toolkit.

•Troubleshoot ArcSDE and ArcGIS servers for connectivity, access, performance, and other issues.

•Perform other related duties as assigned.

Education and Experience - An equivalent combination of education, training and experience will be considered

•Bachelor's degree or higher in Geography or related field.

•Minimum of ten years relevant experience.

Knowledge, Skills and Abilities which may be representative, but not all-inclusive of those commonly associated with this position

•Thorough knowledge of the principles and practices of GIS data resources and systems management.

•Developed understanding of spatial data and its modeling and use in GIS software, ArcGIS, ArcSDE, ArcGIS Server, VBScript, Python, ArcObjects, MS SQL Server, JavaScript, and Flex.

•Awareness and knowledge of different and transitioning Enterprise GIS governance and implementation models.

•Ability to coordinate contracts for services and to prepare and recommend long-range plans and policies.

•Ability to proactively identify inefficient processes and to make recommendations for increasing efficiency and/or effectiveness of operations.

•Excellent oral and written communication skills.

•Ability to establish and maintain effective working relationships with other City employees and the general public.

Work Environment – Environmental or atmospheric conditions commonly associated with the performance of the functions of this job

•General office conditions.

•Quiet noise levels.

Physical Abilities that are commonly associated with the performance of the functions of this job. The physical demands described below are representative of those that must be met by an employee to successfully perform the essential functions of this job. Reasonable accommodations may be made to enable individuals with disabilities to perform essential functions

•Must be able to sit for extended periods of time.

•Regularly required to talk and listen.

•Must be able to stand, walk, drive, and reach with hands/arms.

•Must be able to have repetitive wrist, hand and/or finger movement to type and work on computer.

•Must have clarity of vision and ability to identify and distinguish colors.

•May be required to lift up to 40 pounds.

•Regular attendance is a necessary and essential function.

Hours/Days

City GIS Office is staffed Monday-Friday 8-5. The nature of the position requires some work to be completed outside of this range.

Supervision Exercised

None.

Starting Salary
$53,966 - $67,458
Pay Grade
C8
Number of Positions Available
1
Deadline to Apply
04/04/2014
Open Until Filled
No
Special Instructions to Applicants
See posting and apply on City HR web site here
https://www.gocomojobs.com/postings/9385
Notice to Applicants
Individuals needing accommodation to apply may call

573.874.7235


TTY: 711 (MO RELAY)

THE CITY OF COLUMBIA IS A MERIT, AFFIRMATIVE ACTION, EQUAL OPPORTUNITY EMPLOYER: MALE / FEMALE

THE CITY OF COLUMBIA REQUIRES PRE-EMPLOYMENT DRUG TESTING

The City of Columbia participates in the federal E-Verify work authorization program
---
GIS Coordinator
Posted 03/04/2014
Department: Planning and Zoning
Reports To: Director of Planning and Zoning
Summary: Creates and maintains the County GIS mapping system. Prepares data and maps for many county offices and the public.
Essential Duties and Responsibilities include the following. Other duties may be assigned.
• Analyzes data, source maps and aerial photographs, and other records.
• Studies legal records to visually display boundaries of properties, political subdivisions, and other areas.
• Creates data sets and maps as needed to assist in decision making.
• Coordinates data systems within the County.
• Maintains software and other mapping technology.
Supervisory Responsibilities
This job has no supervisory responsibilities.
Essential Skills
- Able to read and map legal descriptions
- Working knowledge of coordinate systems and projections
- Ability to run an enterprise ArcGIS 10.0 environment with SDE and ArcGIS Server
- Knowledge of ArcPad 7 and Trimble GeoXT GPS for mobile solutions
- Know how to use 3D Analyst Extension to create topography from Digital Elevation Models
- Be able to communicate with citizens and other department users for GIS data requests
- Knowledge in joining and extracting data from database tables to display in ArcMap
Preferred Skills
- Project management for Platte County aerial imagery acquisition
- Completion of FEMA ISO 100, 200, 800 and 900 level courses for GIS response in Emergency Management ESF 5
- Ability to manage and coordinate GIS Internship program
- Background knowledge in languages such as SQL, Javascript, VB or HTML 5 a plus
Experience/Qualifications
- Bachelor's Degree in Geography, Information Technology or GIS
- 2+ Years Related Experience
- 5 to 7 Years Working with ESRI products (preferred)
Application Instructions http://www.co.platte.mo.us/employment.html
---
Community Information Project Specialist
Posted 1/27/2014
Department: Police Department
Closing Date for Resumes/Applications: Open until filled
Salary Range: Grade L Range $38,950.00 – 53,693.00
Exempt/Non-exempt: Non-exempt
Status: Full time
The City of Saint Charles Police Department is currently recruiting for the position of Community Information Project Specialist. The purpose of this position is to provide support to the St. Charles Police Department by performing duties associated with crime data analysis and police community services.
Essential Duties and Responsibilities
The following duties are normal for this position. These are not to be construed as exclusive or all-inclusive. Other duties may be required and assigned.
 Develops the capability to internally identify emergent crime patterns and series. Analyzes these tactical activities and contributes to intervention efforts.
 Develops the capability to internally measure and forecast long-term public safety related activity, as well as the capability to analyze this activity for the purpose of contributing to problem solving, intervention, and reduction efforts.
 Write, edit, design, layout and produce various reports, including Comp Stat and other reports.
 Coordinate and conduct programs and meetings in accordance with the Department's mission
Minimum Training and Experience Required to Perform Essential Job Functions
Bachelor's degree preferred. One to two years experience in public relations, communication, crime analyst or information or any combination of education and experience that provides equivalent knowledge, skills, and abilities. Computer skills in Adobe Suite, Microsoft Suite, GIS software application and Pen Link desired. Must have a valid driver's license.
Contact Information
Interested applicants should submit a resume or application to: The City of Saint Charles Human Resources Department, Suite 301, 200 North Second Street, Saint Charles, MO 63301. Hours of operation are Monday through Friday 8:00 am to 5:00 pm. Employment applications can also be downloaded from the City's website and faxed to Human Resources at 636-940-4606. Website address for the employment application is: www.stcharlescitymo.gov
The City of Saint Charles is an Equal Opportunity Employer and participates in E-Verify
---
GIS Analyst
Posted 1/22/2014
GBA is currently seeking a GIS Analyst proficient in geospatial analysis and database management reporting for the Lenexa, KS office. The GIS Analyst will use geographic information system applications (ArcGIS for Desktop) to perform billable services to satisfy internal and external client needs.  This will be a multi-disciplinary position –primarily responsible to the GIS supervisor but also responsible to project managers from various departments within GBA.
Position Responsibilities
This GIS Analyst will utilize GIS techniques to provide a better understanding of certain variables in a given geographic location:
Extract data from GIS software and use varying analysis methods to arrive at results,
Provide maps and data sets to clients to supplement analysis
Create custom presentation maps and map figures for reports
Revise existing GIS layers and create new layers using aerial photography
Correct geospatial location of features such as bridges, signs, manholes, catch basins, and pipe segments, etc.
Update attributes of assets from various sources including paper forms, ArcPad/Trimble data collectors, MS Access databases, etc.
Develop and apply GIS system and cartographic mapping elements
Respond to inquiries from end-users regarding GIS skills and requirements
Maintain metadata and best practices to support systems and data
Prepare technical documentation of project requirements, procedures, execution, and implementation plans
Applicants must have good communications skills and have demonstrated ability to manage multiple tasks and perform work on time and within budget.  The successful applicant should demonstrate;
Attention to details and experience with QA/QC and data analysis
Excellent analytical /problem-solving skills
Ability to work in a team-oriented environment
Knowledge of local government and sanitary/storm water systems
Presentation skills, including ability to clearly communicate GIS technologies
Other Beneficial Capabilities
This GIS Analyst position will work in conjunction with CADD drafters and technicians so a working knowledge of AutoCAD will be beneficial.  We are also interested in an applicant that has an understanding of enterprise systems and ArcGIS for server implementation, functionality, and development capabilities including many of the following skills. 
Experience with implementing and managing ArcGIS for Desktop and ArcGIS for server in a multi-user SDE environment
Ability to design, interpret, and implement data model functionality
Working knowledge and/or experience with asset management systems
Design and develop GIS database models and templates
Successfully implement, maintain, and support internal and external databases
Working knowledge of software development methodologies experience in web development, SQL Server, ArcGIS for server, and ArcGIS Online
Write, edit, install, and verify programs for debug and edit programs for accessing, maintaining, linking, and populating databases
Familiarity with Programing languages Python and JavaScript
Develop "Apps" for data collection using laptops, smartphones, and tablets
Position Requirements
Education:  BS/BA in Geography, Planning, Computer Science, Engineering, GIS, Geology, or related field.
Experience: 2+ years of using Esri ArcGIS / ArcServer software or other enabling technologies, current Windows OS, and web-enabling technologies or related experience
Other: Experience working with RDBMS -SQL Server 2005 or later preferred
GBA offers the opportunity for growth based on performance, a competitive salary, and an excellent benefits package. To be considered for this position, please visit http://gbateam.com/about-careers.html to download an application. The completed application including salary requirements, cover letter and resume should then be submitted online as instructed on the website. If unable to submit online, please mail to Human Resources, GBA, One Renner Ridge, 9801 Renner Blvd., Lenexa, KS 66219. EOE/M/F/D/V
GBA Companies provide innovative, sustainable engineering, architectural, and construction management solutions for high-profile projects throughout the region. GBA and its subsidiaries, GBA Builders, LLC, GBA Systems Integrators, LLC, and ViroCon, Inc. serve primary markets including transportation, traffic integration, water environment, building design, civil/site development, commissioning, sustainable design, and surveying. GBA Companies employ a staff of 190 located in Lenexa, Kansas, and offices in Missouri, Nebraska, Illinois and Colorado. Members of GBA's multi-disciplined staff work closely with clients to accomplish the firm's core purpose – "creating remarkable solutions for a higher quality of life." To learn more about GBA and the GBA Companies, visit our website
http://gbateam.com
and blog
www.gbateam.blogspot.com
, or follow us on Twitter @GBATeam.
---