Jobs Page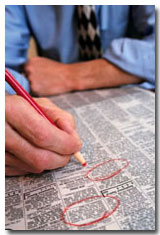 This page was last updated:
Free Ads: Any job announcements submitted to MSDIS directly from not for profit organizations, local/state/federal government and educational institutions will be added to this page free of charge.
Paid Ads: A listing fee of $40 per job ad applies to for profit organizations (private companies, recruitment agencies - or any third party acting as a recruitment agency on behalf of any organization eligible for free ads - and government or military subcontractors) to post a job vacancy on MSDIS jobs page. Paid job ads must be faxed to MSDIS using the official job ad order form (http://www.msdis.missouri.edu/community/jobadreq.pdf) . Only payment by credit card is accepted. Advertising on MSDIS jobs page is a great way to fill your vacancies. MSDIS jobs page receives 1500 - 2000 unique visitors per month and is consistently the 3rd most popular page on the MSDIS web site.
MSDIS RSS Jobs Feed and MSDIS Twitter Feed. For an additional fee of only $10 per service, for profit organizations posting paid job ads can opt to have their posting added to the MSDIS RSS Jobs feed or Twitter feed. If you would like to take advantage of these services just check the appropriate box(es) on the job ad request form.
We will not search the web, etc. for jobs. If you would like to take advantage of this medium, please submit your job announcements to:
MSDIS email:
Fax: 573-884-4239
Announcements with no closing date will remain on this page for three months from the posting date.
Announcements with a closing date will remain on this page until one week after the closing date.
Quick Jobs Index (click the title for detailed job description)
Available Positions



Position Title
Location
Organization
Salary Range
Closing Date
GIS Specialist
Jefferson City, MO
Missouri Army National Guard
$3951 - $4053 per month
10/07/2014
Programmer Analyst
Columbia, MO
University of Missouri, School of Health Professions
?
Until Filled
GIS Analyst
Davenport, IA
Scott County
$46,010.00 - $54,142.00
09/26/2014
Database Programmer Analyst
Columbia, MO
University of Missouri
?
Until Filled
GIS Manager
Columbia, SC
University of South Carolina
?
Until Filled
Other Employment Resources
The GIS Jobs Clearinghouse: http://www.gjc.org/
---
GIS Specialist
Posted 09/24/2014
The Office of the Adjutant General, State Resources is currently accepting applications for a Geographic Information Systems (GIS) Specialist at the Ike Skelton Training site, Environmental Management Office, 6819B North Boundary Road, Jefferson city, Missouri.
Starting Salary: $3951 to $4053 per month.
Closing date for applications: 10/07/2014
See full announcement (Adobe PDF)
---
Programmer Analyst
Posted 09/24/2014
Summary: Develop and maintain the School of Health Profession's websites, internet, and intranet presence. Develop and maintain custom web applications that support departments in the division. Communicate and collaborate with faculty, staff and students from within the division, and other partners throughout the University.

Duties:
Program and analyze work to automate and improve operating processes, capture and report information, automate content integration, etc. using appropriate technology.
Apply judgment in devising custom programming by adapting standard procedures; resolve problems and deviations according to established practices and obtain advice when needed.

Assess complexity of user requests and prepare time estimates for project development. Conduct detailed feasibility studies, develop project plans and production schedules for approved requests. Prepare and maintain appropriate documentation on all programs and systems.

Create, maintain, monitor, update, write and respond with appropriate content in digital media and online media channels and strategically looks ahead for future channels and trends to enhance our brand. Ensure adherence to system graphic identity standards, editorial standards, copyright compliance, ADA compliance, HIPAA regulations and web accessibility standards. Ensure that all digital media content: is up-to-date and accurate; is well-crafted and engaging; Contribute to multimedia content such as video, photos, design files and copy for social media and websites. Collaborate with other staff as well as other departments for appropriate use of digital/social media with regard to events, advertising campaigns, and promotions.

Assist Web content owners on maintaining their Web pages in a manner that complies with established technical, navigational, imagery and aesthetic standards; coordinate content owner and technical support activities required to create and maintain information and processes authorized for inclusion in the MU Health Care Web pages.

Respond to the requirements of content owners by creating appropriate displays, text and imagery for the website, consistent with established guidelines. Support may include activities such as writing original text, editing text from content owners, creating website graphics, editing photographs, and creating and editing Web-based multimedia files.
Develop measurement and reporting that will enable tangible ROI analysis.
Train internal audiences on social media engagement and best practices.
Assist in crisis communications both in relevant digital/social media duties as well as other necessary functions as determined by Director of Communication.
Assist the Communications Director with digital communication efforts and other duties as assigned.
For more information and to apply: http://hrs.missouri.edu/find-a-job/staff/index.php (Job Opening 14114)
Cathi Veach
Human Resources Manager
School of Health Professions
University of Missouri
507 Lewis Hall
Columbia, MO 65211
(573)884-9495
MU School of Health Professions
---
GIS Analyst
Posted 09/10/2014
Closing Date/Time: Friday, 9/26/14 @ 4:30 PM Central Time
Salary: $46,010.00 - $54,142.00 Annually
Job Type: Full-time
Location: Davenport, Iowa
Job Summary:
The Incumbent will be part of a professional and conscientious team whose focus is to build, maintain and continuously improve the Scott County Geographic Information System for its intended purpose of delivering quality County services and improving the efficiency of County business practices. The incumbent will be involved in many aspects of GIS stewardship including data development, software support, application development, mobile and web based GIS, data analysis and distribution, research, and the production of reports, maps and other GIS outputs. The incumbent will work very closely with individual County departments and offices to meet their specific GIS needs.
Please visit the following link for additional information or to apply: http://www.scottcountyiowa.com/hr/
---
Database Programmer Analyst
Posted 04/09/2014
We are seeking an individual to support computing resources and develop solutions to provide various statewide user groups access to data and other cyberinfrastructure deliverables of the Missouri Transect, a new five-year project supported by the National Science Foundation's Experimental Program to Stimulate Competitive Research (EPSCoR). Over 30 investigators from nine institutions across the state are collaborating to investigate the impact of climate variability on urban and rural communities, plant productivity and natural ecosystems. The research and education activities are focused on understanding, modeling, and predicting short- and long-term trends in temperature and water availability; evaluating the impact of these trends on the productivity of native flora and agricultural crops; and assessing how different stakeholder communities are likely to respond to changing climate. The Missouri Transect will also support workforce development in three areas: undergraduate and graduate education; bioinformatics training for women, minorities and people with disabilities; and job training.
 
The Database Programmer Analyst will work with a cyberinfrastructure team that includes researchers at the University of Missouri-Columbia, Washington University and the Danforth Plant Science Center, to develop computational tools and resources to support the entire Missouri Transect project. The team will focus on big data analytics to model high resolution climate, remote sensing, plant phenotype, imaging and genomics data. The computational resources will also be used to train students and researchers to creatively explore massive biological and environmental datasets, and to support outreach activities that inform the general public about climate variability and its predicted effects on agriculture and the environment. Responsibilities of the DB Programmer Analyst include 1) designing and developing web applications for access to Missouri Transect data, analytical tools and educational resources, 2) developing applications and standard operating procedures for research data submission and curation, 3) working with researchers to manage data, 4) implementing and maintaining an administrative reporting system, 5) developing tutorials and documentation for various user groups, 6) supporting course development and user training of CI solutions in conjunction with the principal investigators, 7) performing Linux system user administration and application support.
 
Qualifications:
Required: A bachelor's degree and at least three years of relevant employment experience, including web design, web application development and Linux system administration; excellent communication skills; experience with Linux, HTML5, Drupal, CSS, MySQL/PostgreSQL, PHP or other web language.
Preferred: Experience with LDAP, Linux security, MatLab, R and C programming.
 
For more information about the Missouri Transect:
http://munews.missouri.edu/news-releases/2014/0805-missouri-research-consortium-receives-20-million-grant-from-national-science-foundation-to-study-impacts-of-climate-variability
 
http://coas.missouri.edu/news/2014/transect-grant.shtml
 
To apply online:
See Job ID 14240 "DB Programmer Analyst" on the University of Missouri Human Resources website:
https://myhr.umsystem.edu/psp/tamext/COLUM/HRMS/c/HRS_HRAM.HRS_CE.GBL?Page=HRS_CE_JOB_DTL&Action=A&JobOpeningId=14240&SiteId=6&PostingSeq=1
---
GIS Manager
Posted 07/31/2014
The Department of Geography at the University of South Carolina seeks applications for the
position of GIS Manager. The successful applicant will: 1) provide technical and administrative
support for GIScience software and their applications, including the licensing, installation,
usage, and troubleshooting of geospatial technology and software, 2) assist in technical and
managerial aspects of research projects with a geospatial computing component, and 3) serve as
the information gateway for digital spatial resources in the Geography Department and across
the university campus. The successful applicant will be responsible for implementing and
managing cloud‐computing and web‐based GIS platforms for providing GIS services and
administering relevant spatial‐ and non‐spatial databases. The individual should also be
comfortable developing and providing training and instruction in geospatial concepts,
technology, integration and software skills.
Minimum qualifications: Masterʹs degree in geography or related field and 4 years related
experience, or bachelorʹs degree in geography or related field and 6 years related experience.
Applicants should also have extensive experience in Geographic Information Systems
(especially with Esri products) and computer environments; a strong background in Windows
OS and server computing environments; experience in database design, implementation, and
maintenance; and strong interpersonal, organizational, and communication skills, including the
ability to clearly communicate GIS technologies.
Preferred qualifications include: Experience implementing and managing ArcGIS for Server;
experience with the administration of spatial‐ and non‐spatial databases; experience with
various programming, scripting, and coding methodology supportive languages/technologies;
familiarity with cloud‐computing and web‐based GIS platforms for providing GIS services;
familiarity with various geospatial and remote sensing‐related software. A professional
certification, such as the GISP, is desirable.
Review of applications will begin July 23, 2014 and continue until a suitable candidate is
selected. For more information, please contact Dr. John Kupfer, Chair, Dept. of Geography,
University of South Carolina, Columbia, SC; email: kupfer@sc.edu; phone: 803‐777‐5234.
To apply, please go to: https://uscjobs.sc.edu and enter Requisition Number 007716 (Job Title:
GIS Manager I). Please check the status of your application regularly and contact Dr. Kupfer if
you have any questions.
The University of South Carolina is an affirmative action, equal opportunity employer. Women
and minorities are encouraged to apply.
---